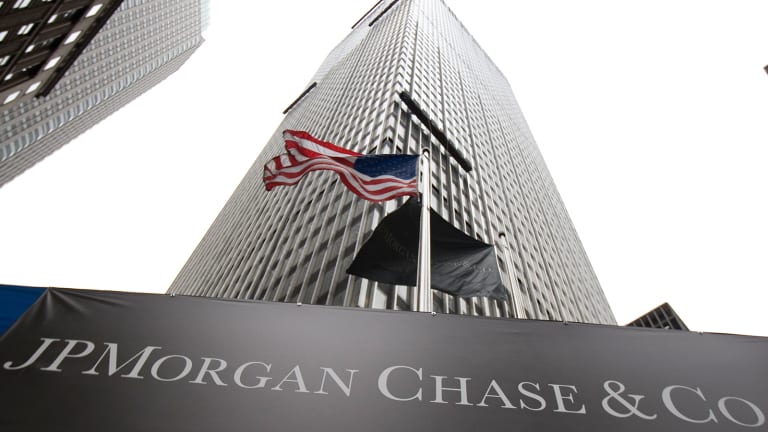 How the Three Largest U.S. Banks Got So Big -- And What's Next
Mega mergers helped the three largest U.S. banks by assets get as large as they are today. How did that happen? And what does it mean going forward?
While the Federal Reserve and other regulatory bodies aren't allowing any more mega bank mergers for now, the nation's largest banks got to where they are by combining. In fact, assets are more concentrated now at the nation's largest banks than they were before the financial crisis.
Acquisitions can bolster productivity, assets and revenues, but they can also create challenges as companies seek to avoid redundancy in operations and services, or if business slows. Moreover, growth that lags a company's infrastructure can lead to deep-rooted, long-term problems.
The rise in mergers and acquisitions has occurred despite increasing concerns that the banking industry has reached the same state that preceded its nearly cataclysmic fall of 2008. Critics of the U.S. banking system say that the too-big-to-fail (TBTF) phenomenon is primed for a repeat. They say that legislation designed to limit banking activities and size, and to minimize risk have not been effective. 
Some banking officials say the proliferation of mega banks was an inevitable result of the therapy that rescued the banking industry from its perilous drop eight years ago. In a speech at the Brookings Institution, Minneapolis Fed President, Neel Kashkari said that in 2008, "We were even forced to support large bank mergers, which helped stabilize the immediate crisis, but that we knew would make TBTF worse in the long term."
To be sure, the three largest commercial banks are hardly teetering. Share prices are off slightly. But the current conditions are so volatile that banking observers worry that a significant, economic event could create a crisis. 
So let's consider the path of the three largest U.S. banks and how each has grown significantly in assets through mergers. 
1. JPMorgan Chase (JPM) - Get JPMorgan Chase & Co. Report
In 2015, JPMorgan Chase became the country's largest commercial bank in the United States. This has resulted from a number of consolidations.
The history of the merged firm, JPMorgan Chase dates to the 2000 purchase of JPMorgan and Co. by Chase Manhattan bank. The all-stock deal was valued at $30.9 billion, and with $650 billion in assets, the merged firm became the banking industry's second largest firm.
In 2004, JPMorgan Chase acquired Bank One, the nation's fifth-largest bank and hired the current CEO of JPMorgan Chase, Jamie Dimon.
But some of the biggest mergers by JPMorgan Chase happened around the time of the 2008 financial crisis. They included the $1.1 billion purchase of Bear Stearns. Later it acquired the banking operations of Washington Mutual for $1.9 billion from the government. This deal made JPMorgan Chase the largest bank for nationwide deposits and expanded its operations. Both Bear Stearns and Washington Mutual had already collapsed by the time JPMorgan Chase arrived. 
2. Bank of America (BAC) - Get Bank of America Corp Report
Bank of America ranks second to JPMorgan Chase in assets.
In 1998, Bank of America acquired Nations Bank for $60 billion.
In 2004, Bank of America merged with FleetBoston Financial in a 47 billion transaction. 
Between 2005 and 2007, the bank bought credit card giant MBNA for $35 billion, U.S. Trust for $3.3 billion, and LaSalle Bank for $21 billion.
During the Great Recession, Bank of America acquired Countrywide Financial, the nation's largest originator of home mortgages before the crisis and Merrill Lynch for $4.1 billion and $50 billion, respectively.
Wells Fargo is a holding in Jim Cramer's Action Alerts PLUS Charitable Trust Portfolio. See how Cramer rates the stock here. Want to be alerted before Cramer buys or sells WFC? Learn more now.
3. Wells Fargo (WFC) - Get Wells Fargo & Company Report
Wells Fargo is the country's third largest commercial bank in assets and has the most branches (6223). Its present size is the product of numerous acquisitions over the past two decades. 
In 1986, Wells Fargo doubled its size by merging with Crocker National Bank in a $1.07 billion deal. 
In 1996, Wells Fargo merged with First Interstate. The 11.6 billion, hostile takeover expanded the bank into 10 western states. The 1996 acquisition was the most ever paid for any American Bank at the time. Wells Fargo became the country's eighth-largest bank.
In 1998, the merger of Wells Fargo and Norwest was valued at $34 billion. CNN Money, called it "a merger of equals" since it created the nation's sixth largest bank operating in 21 states and with assets worth $191 billion.
In 2000, Wells Fargo acquired Alaska's largest bank, National Bank of Alaska ($907 million). In the same year, it acquired Michigan Financial and First Security to expand its reach to Michigan and Northern Rockies states.
In 2003, the leading bank added 57 banking locations by acquiring Seattle-based Pacific Northwest Bank for $623 billion.
By 2008, Wells Fargo purchased Wachovia for $14.8 billion. This expanded Wells Fargo's reach to Eastern and Southern States.
In 2014, Wells Fargo became the country's highest earning bank, largely due to the Wachovia acquisition. 
This article is commentary by an independent contributor. At the time of publication, the author held no positions in the stocks mentioned.