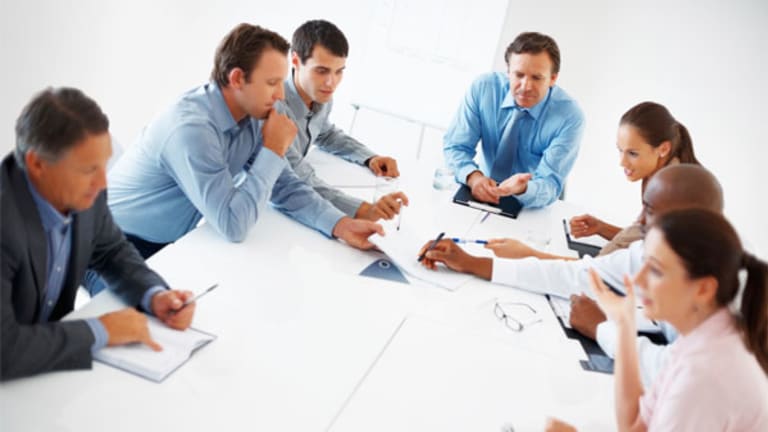 How the NHL Lockout Can Make You a Better Investor
Time to spend less on sports and invest in ourselves.
NEW YORK (TheStreet) -- If it were appropriate to name call, I would pepper National Hockey League commissioner Gary Bettman with every stick and stone in the urban dictionary.
I will be in Manhattan next month. And if I run into that twirp (OK, just one name), I will treat him like George Costanza did George Steinbrenner during their first face-to-face encounter.
My October visit to New York City kicks off a busy travel schedule, at least for me.
Let us consider the revenue the NHL and its partners will miss out on not only as I journey, but when I remain anchored to my Southern California home base. As a saver and investor, I view the NHL's unfortunate and inept reality as opportunity.
Oct. 17: New York Rangers at New Jersey Devils. I would have gone straight from the airport to the game. I would have spent about $120 on a ticket and around $40 at the game. Revenue lost: $160.
Nov. 17: Detroit Red Wings at Minnesota Wild. Fellow TheStreet contributor Robert Weinstein lives an hour away from Minneapolis-St. Paul. I will be visiting Bob in November. We plan on going to the game. Two tickets, $200 plus roughly $80 between the two of us at the game, not to mention pre-game dinner somewhere near the arena. Revenue lost: $280-plus.
Nov. 23: Colorado Avalanche at Phoenix Coyotes. We're spending Thanksgiving in Phoenix this year. The plan, which Bettman will likely kill, is to take my daughter to her first live NHL game. Three tickets, $350 plus probably $100 between the three of us (wife, self, daughter) at the game. Phoenix still gets the derivative revenue because we'll make the trip with or without hockey. Revenue lost: $450.
My standard two trips to Downtown Los Angeles to see the Kings play, $250 plus an additional $30 per game. Revenue lost: $310.
And that list does not include any other impromptu hockey trips. I have been known to jet off to Toronto for the weekend to see the Leafs on impulse.
It also does not include the lost revenue I scratched the surface on earlier this week when I lamented the lockout on
TheStreet
.
Here's a more complete list of who takes it on the chin revenue-wise thanks to Gary Bettman and a hardline circle of large market owners.
DirecTV (DTV) : Access to every NHL game via satellite on DIRECTV, $179. I had also planned to subscribe to Time Warner's (TWX) HBO for a few months to catch 24/7, the critically acclaimed reality show that even non-hockey fans loved. It's scheduled to feature the Leafs and Red Wings this season. $14.99 per month for three months. Revenue lost: $224.
Amazon.com (AMZN) - Get Amazon.com, Inc. Report: I was about to pull the trigger on a new television set, solely in anticipation of the hockey season. Revenue lost: $500.
Molson Coors (TAP) - Get Molson Coors Brewing Company Class B (TAP) Report: It's no joke. I tend to only drink Molson Canadian in Canada and during hockey season. I buy about two 12-packs per month at $12.99 each. Over the course of the entire hockey season that adds up to ... Revenue lost: $208.
I'm probably forgetting something. But, you see the point. There's at least $2,132 in revenue the NHL and its direct and indirect partners will not see and split this season, from one guy, assuming the players and owners do not come to an agreement soon. And I am a small fish.
Forget the obvious stuff, such as season ticket revenue. It's that additional revenue, some of which falls through the cracks, that matters.
Of course, because it's hockey, it will not take down or even ding the economy (probably not even in Canada, outside of Winnipeg). DTV, AMZN and TAP run no risk of going out of business. But, it's still revenue lost. And it means quite a bit to the National Hockey League, which, despite record revenue growth in recent years, plays fourth fiddle in the United States.
The impacted companies will find ways to easily make up the lost revenue. If hockey disappeared forever, they would create and innovate new revenue streams to offset any noticeable drag on the top line.
Hockey is in no position to do this. Without the players on the ice, it's got nothing. And, even if there was some magical formula, the bunch in charge, led by Bettman, likely does not have the capacity to crack it.
However, as fans -- as
saver/investor fans
-- we can respond like sharp, well-run businesses.
When I look at what I was about to spend, at minimum, on hockey, I feel like the idiot.
$2,100
. I don't care if you make $250,000, $25,000, $5,000 or $2,500 a month; $2100 is a nice chunk of cash.
On one hand, I spend, somewhat freely, because I like to live. I like to do things for myself and my wife. And vice versa. And we both like to provide our daughter with worthy experiences.
So, we travel frequently, but never at the meaningful expense of anything important. At least I don't think so.
But, man, looking at it another way -- I am going to Manhattan, Phoenix and Wisconsin whether they play hockey there in October and November or not. As much as I love hockey, these trips will hardly suffer without it.
That extra $2,100 could go toward travel-related upgrades, but it likely makes more sense to put it in the bank. Or in a stock.
If I had invested $2,100 in
Apple
(AAPL) - Get Apple Inc. (AAPL) Report
around this time last year, I would be up approximately 84%. Using $380 as an entry price, my 5.5 shares would be worth $3,850 with AAPL at $700 a share. That calculation doesn't even take the dividend into account.
Right. So then, why would I allow a game, run by freaking Gary Bettman, to impact my future in any way, shape or form? With this time to reflect during the lockout, I really cannot come up with a suitable answer.
At the time of publication, the author held no positions in any of the stocks mentioned in this article
.
This article is commentary by an independent contributor, separate from TheStreet's regular news coverage.
Rocco Pendola is a private investor with nearly 20 years experience in various forms of media, ranging from radio to print. His work has appeared in academic journals as well as dozens of online and offline publications. He uses his broad experience to help inform his coverage of the stock market, primarily in the technology, Internet and new media spaces. He has taken a long-term approach to investing, focusing on dividend-paying stocks, since he opened his first account as a teenager. Pendola, 37, is based in Santa Monica, Calif., where he lives with his wife and child.