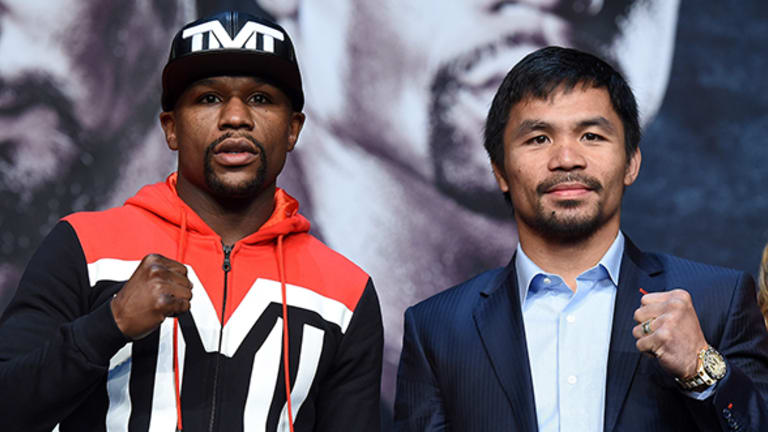 How the Mayweather-Pacquiao Fight Helped AT&T, MGM, CBS and Other Stocks Soar
The Floyd Mayweather-Manny Pacquiao was a financial slam dunk across the board as the "Fight of the Century" added billions to shareholder value in the aftermath of the event.
The Floyd Mayweather-Manny Pacquiao was a financial slam dunk across the board as the "Fight of the Century" added billions to shareholder value in the aftermath of the event.
NEW YORK (TheStreet) -- It was billed as the "Fight of the Century." Two months later, it's become the score of a lifetime -- for both the fighters and investors. 

As originally forecasted by TheStreet, the welterweight championship unification showdown between Floyd Mayweather and Manny Pacquiao ended up out-grossing the Super Bowl by a significant margin. Immediately after winning the fight, Mayweather -- nicknamed "Money" -- received a $100 million check (his take could grow close to $300 million once all pay-per-view receipts are tallied), crushing his own previous $41.5 million purse record set in Sept. 2013 against Mexico's Saul Canelo Alvarez.
But Mayweather wasn't the only one who cashed out. Owners of stocks associated with the event did very well, too.
"There are huge benefits for so many companies from large to small, who are directly and indirectly involved with the sporting event like Mayweather-Pacquiao fight or the Super Bowl," CNBC contributor and CEO of hedge fund Vaspula Capital Jeff Tomasulo said. "For companies like Comcast, DirecTV (DTV) , CBS (CBS) - Get Report, and MGM (MGM) - Get Report and the others, a lot comes down to brand recognition and what their brand represents and is associated with. DirecTV, sold 1.15 million pay-per-views, which is huge. But again, it is the longer term benefits for DirecTV: brand recognition, and being the provider of great events."
On May 12, Showtime (owned by CBS) and HBO (owned by Time Warner (TWX) ) announced that the pay-per-view had sold a staggering 4.4 million, crushing the previous record of 2.5 million buys set by the Mayweather vs. Oscar De La Hoya fight in 2007. And at $100 each for individual viewing packages, a relatively high number for any pay-per-view event, the take was enormous, the lion's share of the $600 million the event brought in altogether. 
Still, that number is nothing compared to the bump many companies saw in their market caps the day the news hit. 
AT&T (T) - Get Report  -- With around 40% of PPV renues, cable and satellite distributors of the PPV broadcast were able to collect sizable profits. AT&T's U-verse division was one of the main carriers. With the huge success of the event, U-verse continues to produce huge numbers for the AT&T brand, sustaining the momentum from 2014.On May 12, AT&T was trading at $33.66 per share, good for a market cap of $174.80 billion. One day later, it bumped to over $176 billion, peaking at $181.08 on May 18 -- a total company value increase of nearly $7 billion. 
MGM Resorts -- The MGM Grand served as the host location for the fight. The arena was sold out, producing a record gate of $72 million -- about $52 million more than the previous record. "In return for hosting that event," Tomasulo said, "17,000 people came to watch in person in the MGM arena and all those people spent money at the casino and hotel, from gambling, to buying drinks and eating, to possibly staying at the hotel." On May 12, MGM was trading at $19.12 per share, good for a $10.77 billion market cap. The next day, the stock climbed to $19.36 before surging to $20.51 a little over a week later, good for a $780 million increase (7.27%) in overall stock value.
CBS -- CBS, the parent company of Showtime, has Mayweather under contract. In addition to the increased attention, the media giant split 7.5% of the total pie with Time Warner and HBO. After trading and closing at $59.72 May 12 and 13, the stock shot up immediately, reaching $60.78 the same week and peaking at $62.65, an increase of 4.91%.
Time Warner/Time Warner Cable -- Time Warner collected handsomely on the revenue end. With CBS and Showtime jointly having paper on Mayweather, Time Warner's HBO represented the other side of the equation with its exclusive deal with Pacquiao. Premium cable broadcasters typically collect 5% of the PPV pot. In this case, HBO collected 3.75%, with the total easily shattering any previous record by the network.The company's stock was sitting at $83.41 on May 13 and climbed to $85.29 just two days later, peaking at $85.71 on May 19. This increase was over $2 billion in market cap.
DISH (DISH) - Get Report -- Dish was a heavy participant in the PPV frenzy. The stock was trading at $65.92 per share on both May 12 and May 13 but shot to $68 on May 15, boosting the company's market cap to $31.47 billion from $30.51 billion, good for nearly an extra billion in overall value.
Verizon (VZ) - Get Report -- Verizon carried the fight on its FIOS services, racking in a combined 600,000 buys with AT&T's U-verse. On May 12, Verizon's stock closed at $49.62. As the news spread, the stock rose 1.41% the next day before peaking $49.81 -- good for a solid $1.43 billion value spike. (Verizon's momentum was short lived, however, as the stock plummeted when news emerged that DISH was in line to acquire T-Mobile U.S. (TMUS) - Get Report.)
Cablevision (CVC) -- One of the biggest cable providers, Cablevision saw to make a big score off the fight through its Optimum PPV services. On May 12, the stock traded at $19.92. Sure enough, the stock rose gradually over the coming days before skyrocketing to $24.69 per share a week May 20, good for a 23.93% increase since May 12.
Charter (CHTR) - Get Report-- With 5.9 million customers across 29 states, Charter Communications is the third-largest cable provider in the country. May 12, Charter closed at $177.34, a market cap of $19.87 billion. Three days later, the stock jumped to $181.20, amounting to a $430 million jump in market value.
DirecTV -- Among PPV providers carrying #MayPac, DirectTV pulled the biggest score, amassing an astronomical 1.15 million subscriptions. On its own, pre-Mayweather-Pacquiao, the revenues from that PPV alone -- 1.15 million at $100 a pop -- would be enough to crack the Top 3 pay-per-views of all time. (Third place was held by Mike Tyson's 2002 $112 million blockbuster vs. Lennox Lewis.) The day the news broke, the DirecTV stock climbed to $90.61 after closing at $89.38 the day before. On May 13, as the news made the rounds, the stock continued to climb before reaching $92.10 per share May 18 - good for 3.04% increase in less than a week. 
Comcast (CMCSA) - Get Report -- Comcast likewise carried the fight on PPV. May 13, the day after the pay-per-view numbers were announced, the stock, trading $56.26, saw an instant jump and its market cap went to $143.18 billion from $142.53 billion, good for a cool $650 million jump in just one day.
"When we were going through it, seemed like a nightmare," Top Rank, Inc.'s chairman Bob Arum said of the difficult negotiations that resulted in the fight, as well as the rumored unprecedented 60%to-40% split between the promoters and the pay-per-view providers. "But we did OK, didn't we?"
Part of the bump stocks got following the event was in part due to the number of PPV buys exceeding expectations. Experts had originally predicted the event to draw 2.5-to-3 million buys.
"We did not anticipate this number of buys," HBO's head of PPV operations Mark Taffet told the Associated Press. "I thought we would be doing very well if we got to 3 million buys, which would have broken the record by 20 percent," added executive VP and GM of Showtime Sports Stephen Espinoza.
"Stocks are always about an expectation," said David Nelson, investment commentator and Chief Strategist of Belpointe Asset Management, a multi-family office. "Whenever you beat an expectation, you get a bump."
To be sure, many other factors impacted the stock price of these large companies, even in the direct aftermath of the fight. 
"This is not a double blind study," hedge fund manager Bret Ackerman said. "That being said, a large unexpected capital infusion from an event such as this would of course lead to increased attention and demand for these equities, which in turn would increase valuation."
Altogether, the publicly traded players listed above saw almost $20 billion increases in overall stock value in just a few days following the announcement.
Investors weren't the only other stakeholders to make big money. According to numbers released late last month, Nevada hotels raked in $1 billion from the A-listers and high rollers in town, the highest mark in a year.
This article is commentary by an independent contributor. At the time of publication, the author held no positions in the stocks mentioned.