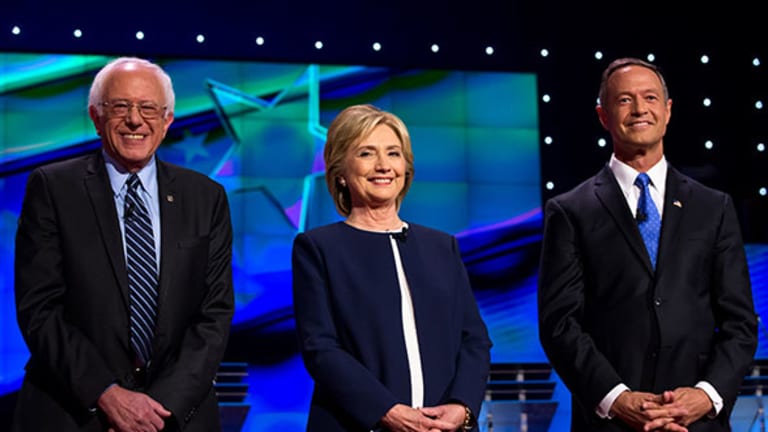 How the Democrats Are Being Stupid by Trying to Be Smart
Didn't realize there was a presidential debate is this weekend? It's because the Democratic Party didn't want you to -- a strategy that may come back to haunt it.
There's a presidential debate this weekend, but you probably didn't know about it. It's because the Democratic Party may not have wanted you to -- a strategy that may ultimately hurt the party more than it helps.
The Democratic National Committee's scheduling of the party's primary debates has caused quite the kerfuffle among Dems. Not only are the events limited in number -- there are just six of them, compared to a dozen for the Republicans -- but they also appear to be arranged to ensure minimum viewership.
Saturday's debate in Des Moines, Iowa will start at 9:00 p.m. EST -- an hour after the kick-off of the undefeated Iowa Hawkeyes' football game against the Minnesota Golden Gophers in Iowa City. The next showdown is slated for December 19, the Saturday before Christmas. And the one after that will be held on Sunday, January 17 -- the day before Martin Luther King, Jr. Day and in the middle of what for many will be a three-day weekend.
The scheming hasn't gone unnoticed.
Vermont Senator Bernie Sanders said in a statement when the schedule was announced in August that he was "disappointed, but not surprised" by the DNC's decision.
Former Maryland Governor Martin O'Malley has slammed the maneuver as well. "Think about it, the Republicans stand before the nation, they malign our President's record of achievements, they denigrate women and immigrant families, they double down on trickle-down, and tell their false story," he said at the committee's summer meeting. "And we respond with crickets, tumbleweeds and a cynical move to delay and limit our own party debates."
Hawaii Representative and DNC vice chairwoman Tulsi Gabbard was disinvited from the first Democratic debate after publicly calling for more face-offs. (She was confirmed as invited to this upcoming debate, a source who didn't want to be named told me.) Lawrence Lessig, a Harvard professor running for the Oval Office on a platform of getting rid of money in politics, was never invited in the first place (he has since dropped out of the race).
Frontrunner Hillary Clinton has had no qualms with the limited debate schedule, which makes sense given that the strategy has likely been devised to benefit her. (It is quite a reversal for the former Secretary of State, who in 2008 was the one gunning for more debates against then-Illinois Senator Barack Obama.)
"While the Republicans are openly attacking each other and commanding most of the public attention, the Democrats seem to be on the path to a consensus nominee," said Mark Rozell, professor of public policy at George Mason University.
"What we're seeing with the debates is the Democratic Party making a strategic choice," said Emily Ekins, research fellow at libertarian think tank the Cato Institute. She later added, "Every time these candidates go into a debate, they put themselves into a situation where they could say something that could hurt them in the general elections and turn off voters. There's very little upside for [Clinton]."
While true, it also means that they can say something to a national audience that fuels the political conversation. 
In essentially keeping debates as far away from public view as possible, the Dems are allowing Republicans to set the tone and dominate the conversation. Instead of talking about typical progressive issues, the media -- and most Americans -- are focusing on what is most important to the GOP.
"We spent a month or two talking about who should pay for a border fence to keep out immigrants. If the Democratic debate had been first, we would have been talking about should college be free or not," said Doernberg.
The Peoria Project, ongoing research out of George Washington University in partnership with Zignal Labs, quantifies how voters receive and react to candidates' messages on the campaign trail. What it has found thus far is that while individually Democratic candidates are holding their ground in the conversation, the party is getting about half of the attention as the Republicans are on a whole.
Unsurprisingly, Trump dominates the discussion, garnering 9.1 million mentions on social media or in the media from September 11 to November 1. Clinton and Sanders are the next two most-mentioned contenders, at 4.7 million and 3.9 million, respectively, followed by Carson, Cruz and Bush, each of whom were mentioned over a million times.
But in total, Republican candidates got 16.8 million mentions over the period, or about 410,000 a day. Democrats got just half that amount, at 8.7 million in total, or around 210,000 daily.
"The biggest problem for the Democrats in not really having a competitive race is that their ideas are not necessarily being contested in the public space," said Lara Brown, associate professor at GWU's Graduate School of Political Management and one of the researchers conducting the project.
Important issues within the party are being ignored as well. By downplaying competition and keeping debates out of the public eye, the Democrats may be sweeping under what some say is an important rift within the party: How far to the left should the Dems lean?
"This is actually indicative of a bigger battle going on in the Democratic Party, playing out between Hillary Clinton and Bernie Sanders over the role of government. Capitalism and socialism, are both of those compatible with each other, or are they at odds?" Ekins said. "Unfortunately for the Democratic Party, I don't think downplaying it is going to make it go away."
Further, the party could be damaged outside of the contest for the White House.
"It will come back to bite whoever the Democrat's nominee is, and even more so down ticket. A 'Hillary Clinton,' a 'Bernie Sanders' may still be able to generate some interest later on in the process, but these are just months and months and months of attention on the Republican Party that are going to hurt nominees for lieutenant governor, state representative. These things do have an impact," said Ben Doernberg, the founder of #AllowDebate, a grassroots group pushing the DNC to drop a rule banning candidates from participating in unsanctioned debates.
To be sure, there is no clear consensus as to whether debating is actually beneficial to the democratic process. It's hard to say what, if anything, of substance has come out of the plentiful Republican debates so far, or whether the rest on the schedule are even worth holding. And compared to other countries, the U.S. can overdo it on the debate front. For example, Argentina is about to see its first presidential debate of its election season, and the contenders only agreed to do any debating at all when after two elections top candidates realized they were headed for a runoff. At one point, one candidate suggested another might prefer to debate via Skype.
"Political scientists are kind of divided on whether divisive and competitive primaries are helpful to candidates. One line of thought says that they're harmful, and this might not be helpful to Clinton, because competitive primaries bring out negative mudslinging, and you end up with a nominee who is politically damaged," said Hans Hassell, assistant professor of politics at Cornell College. "The other line of thought is that competitive primaries are helpful, because it drives more media attention, it drives more media coverage. People are more familiar with the candidates."
Join TheStreet on Saturday, November 14 for live coverage of the second Democratic presidential primary debate. The debate will be televised live on CBS. You can follow all the action, with updates and commentary, on Twitter @TheStreet.
This article is commentary by an independent contributor. At the time of publication, the author held no positions in the stocks mentioned.