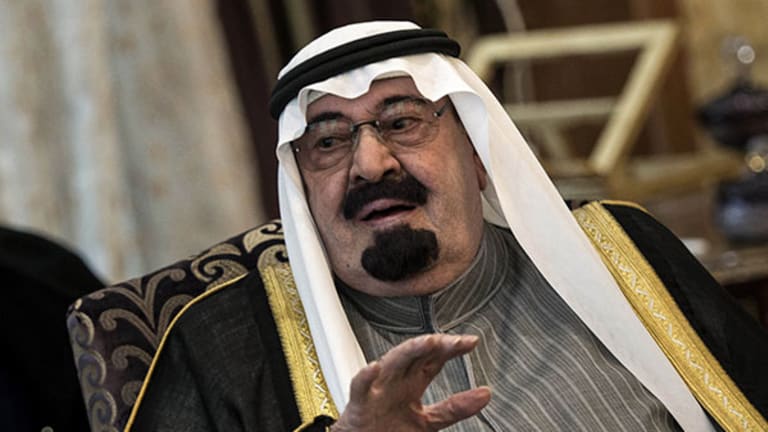 How the Death of Saudi King Abdullah Could Affect Oil Prices
There should be no alterations in oil policy from Saudi Arabia, but be cognizant of any cabinet changes, specifically oil minister Al-Naimi.
There should be no alterations in oil policy from Saudi Arabia, but be cognizant of any cabinet changes, specifically oil minister Al-Naimi.
NEW YORK (TheStreet) -- The death of Saudi Arabia's King Abdullah, at age 90, caused oil prices to surge overnight. Analysts expect the market to be volatile in the near term amid uncertainty over the OPEC leader, a country that holds 16% of the world's oil reserves.
Abdullah's half brother, Crown Prince Salman bin Abdulaziz, will succeed Abdullah and in turn now has considerable sway over a cartel that is responsible for roughly 40% of the world's oil output.
Though prices are expected to trend higher for now,  any dramatic changes in policy from the Saudis is unlikely. The kingdom, the largest exporter of crude in the world, spearheaded the OPEC decision near Thanksgiving 2014 to maintain production levels and has voiced adamantly that it will not scale back production no matter what the price per barrel.
The newly appointed king has vocalized no dissent with current Saudi policy, and even issued a statement Jan. 6 on behalf of the king that Saudi Arabia will remain resilient in its output despite the glut of oil in the market and the lack of demand to offset it.
Whether that policy will last depends on whether the current oil minister Ali al-Naimi is kept on board. Al-Naimi is one of the most influential figures in the energy industry and has been the de facto leader of OPEC since 1995. He has asserted that oil could fall to $20 a barrel and they would not cut production -- out of concern of ceding market share. Al-Naimi's departure, or even retirement considering he is 80 years old, may portend a shift in Saudi oil output.
Beyond the change in leadership is the growing unrest in the Middle East.  The deceased king placed paramount importance on shielding Saudi Arabia from the notoriously violent regional conflicts.
Stability was often Abdullah's chief concern. His monarchy despised Islamist revolutions and the violence that always ensued and was quite effective at insulating the kingdom from their path, ensuring stable oil output as a result.
Watch for any hostile rhetoric from the new leadership, especially toward Iran, as it could spark renewed Sunni-Shia violence in the area, which could impact the price of oil, if production is disrupted.
So while formally there should be no alterations in policy from the kingdom, be cognizant of any changes in the Saudi cabinet, specifically oil minister Al-Naimi. Additionally, keep watch on conflict in the region or aggression from the new leadership, as any geopolitical strife will have a material impact on oil prices.
This article is commentary by an independent contributor.