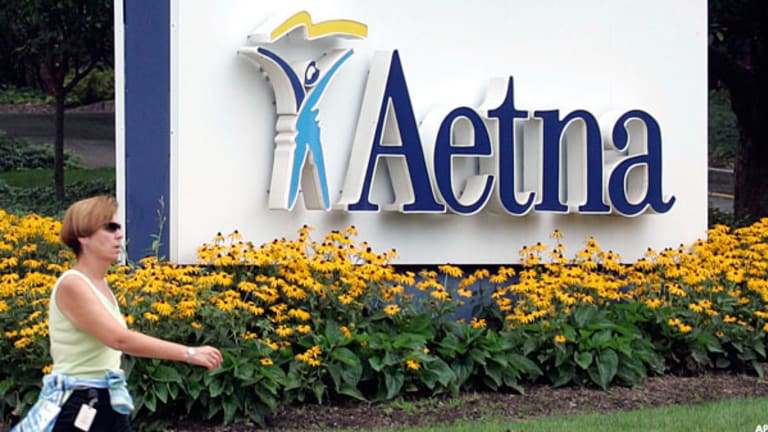 NEW YORK (TheStreet) -- The recent deal between Aetna (AET) and Humana (HUM) - Get Humana Inc. (HUM) Report is the largest deal ever in the insurance industry. Is this an isolated event the first wave of a tsunami of deals? Let's take a closer look at the factors that sparked this groundbreaking deal and then discuss what it could mean for future mergers and acquisitions in this changing industry. 
First, was the recent Supreme Court ruling in King v. Burwell, where the Court upheld federal tax credits to lower- and middle-income people purchasing insurance in states that did not set up their own online health care exchanges. The credits were an important part of the Affordable Care Act.
The Supreme Court decision provides certainty to insurers that the act won't unravel and change the landscape for them. Now, deal flow in this industry is likely to make a big jump.
Obamacare has been a real mixed bag for insurance companies. Since more Americans now have health coverage, the insurers are raking in more business, but this lower-margin business is putting some pressure on profits. The way to make more money on lower-margin business is to increase volume, and insurers feel more confident in stepping on the M&A gas pedal after this ruling.
The gas pedal hasn't been floored for about four years now, as the industry waited to see whether challenges to the Affordable Care Act would succeed. During this time, while other industries went on a rampage of huge deals, insurance companies watched their stocks rise while they hoarded tons of cash. Can you feel the ground shaking?
Aetna has been waiting to make a splash in the state and federally funded market for some time now, and here's why: Aetna had typically focused on employer-sponsored health plans. These plans never received a big uptick from the Affordable Care Act, and today, fewer than half of private-sector workers are covered by employer-sponsored insurance.
Aetna sees that the industry is changing. The ground is shaking, and the wave of change is taking shape right now. The industry is shifting from selling policies to businesses to selling them to individuals. The quickest way to get 3 million customers is to marry someone that already has them.
These companies had to make a move in light of the Supreme Court's decision. It's now an all-out feeding frenzy for market share.
These firms need to show their investors some growth, and they are battling it out with every other company for their piece of the fastest-growing customer segment in this industry. And what perfect timing, as deals that get done soon will be able to get in front of the next enrollment period for Obamacare in November.
The major benefits of most M&A deals are economies of scale and improved operating efficiencies. Aetna and Humana estimated their marriage will achieve $1.25 billion in annual cost savings by 2018. Mark Bertolini, chairman and CEO of Aetna, said that the deal will "strengthen partnerships with providers." It should certainly help them negotiate more effectively with enormous health systems that have undergone some major consolidations of their own in recent years.
The big guns in this industry understand that getting bigger is the name of the game. It allows for more aggressive pricing tactics that can squeeze out smaller players, and the larger you become, the more doctors you attract. This just adds even more fuel to the fire. And although some experts will say that economies of scale in a deal of this size will be relatively modest, it sure won't stop other insurers from trying to join forces. Only the regulators can do that.
The antitrust authorities will look closely at how big deals such as the one between Aetna and Humana will affect competition. These two companies operate in nine of the same states, and they would practically own the entire state of Kansas with an 88% market share there. If this deal is approved, will the regulators make them take steps to help maintain more competitive markets where they have heavy overlap of clients?
One can't provide an answer to that, but it's clear that this a growing market that is already very concentrated. In 17 states, more than 90% of people in Medicare Advantage plans are covered by one of three firms, and if more of these mega deals take place, there will be even more concentration. But the Aetna-Humana deal may just pass the regulators' sniff test, as a deal between Humana and a company like UnitedHealth (UNH) - Get UnitedHealth Group Incorporated Report could have been an even greater concern for regulators because both companies dominate the Medicare market.
More importantly, it could pay off for Aetna and Humana to be the first companies to strike a deal. Regulators are likely to limit the number of major health insurance mergers, but this one could get the green light before regulators start tightening down on others.
Critics will say that less competition will lead to higher premiums, or higher out-of-pocket costs for covered services. But the argument for massive premium increases here don't make much sense, as the customers could just move back over to traditional Medicare.
The wide variety of Medicare Advantage plans can be confusing for some seniors. Today, on average, most people have 18 Medicare Advantage Plans to choose from. But a lot of these firms have varied how they price their offerings in different markets. They offer wider provider networks for higher premiums and limited benefits for lower premiums.
So, the debate on whether bigger is better or worse for consumers will rage on. We should see health insurers begin to buy into other areas of the health system, and this will trickle down into some lower and middle-market transactions, where deals will gain fewer, if any, headlines. These will include technology platforms, consumer engagement systems, pharmacy managers and a host of add-ons that will allow large insurers to operate more efficiently, attract new customers and reduce costs.
This article is commentary by an independent contributor. At the time of publication, the author held no positions in the stocks mentioned.