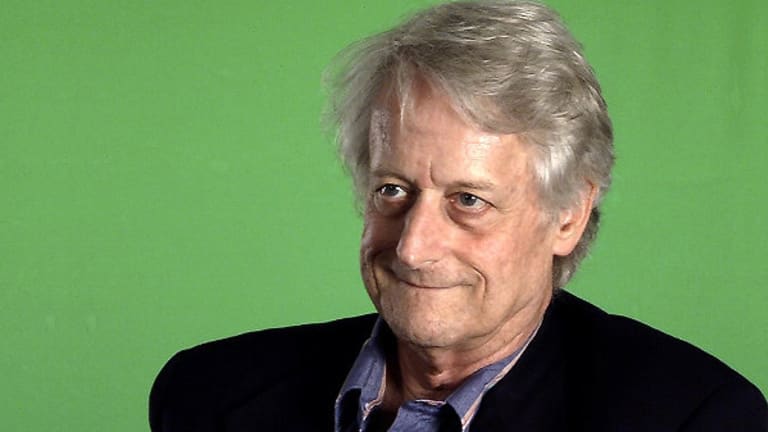 How Ted Nelson Changed the Journalism Business
Journalism is now a dialogue, and sites that understand this can prosper.
NEW YORK (TheStreet) -- Some 35 years ago, I was far from the most popular graduate student at Northwestern's Medill School of Journalism.
I'm sure the faculty voted me "least likely to still be at this 35 years from now." I suspect they passed me through only because they feared I'd just re-enroll.
It seems I was an arrogant know-it-all. But at the heart of my argument with authority was a question that has played out throughout my career: Is the online world a net benefit to journalism, or does it destroy journalism?
Yes, we could see it coming, at the dawn of the PC era. It may please my teachers' spirits to know I've since been fired from every regular gig I've ever had, mainly due to insubordination. I am an arrogant know-it-all, still, albeit a persistent one. The difference is that I know that now.
But the question remains: Is this medium a net positive or a net negative for the employment of journalists?
I got my answer a few years after graduation. I was at Comdex, a now-extinct computer show now best known as the start of Sheldon Adelson's fortune. I was at a small party helping "close" the old CP/M operating system with my wife and two editors with whom we'd become friendly.
Then our party got a special guest. His name was
Ted Nelson.
My wife was thrilled. She'd found a copy of his 1974 book
"Computer Lib/Dream Machines," in the basement of a house we'd rented. She was enthralled by his concept of hypertext, the idea of meta-code hidden behind words that could, with a click, take you to another page, even another computer, maybe on another continent.
He liked that we had been in Evanston in 1977, where Northwestern is located, because he had been running a computer store there, called the Itty Bitty Machine Co. (
IBM
(IBM) - Get International Business Machines (IBM) Report
, get it?)
But what impressed both of us was his take on the nature of knowledge, that it could be built from the bottom up, that it wasn't about top-down authority, that we should interact and learn things together. That's the heart of the word Internet -- interactive.
This means any publisher, or authority figure, who thinks they can stand above this medium soon learns better. In the mid-1990s, at the Atlanta Press Club, I heard
Cox Enterprises
Chair James Cox Kennedy predict he'd win the Web by simply "repurposing" existing content. I had to hide my laughter behind a pillar.
If you think journalism means writers, editors or publishers can dictate to the market, any market, then the Internet has been a horror show. If you think a journalism job is a sinecure, that it confers status, that being a talking head makes you better than anyone around you, the Internet has been your comeuppance.
This medium levels the playing field. It destroys hierarchies. It rejects authority. At its very heart is the idea you can fly away from this page at the touch of your hand, or turn a nobody into somebody by "word of mouse."
Want to make money online? Build community. Nurture linking, nurture the people who link to you, build a community around a shared industry, place or lifestyle. Don't just talk, listen.
That's why sites like
The Huffington Post, now part of
AOL
(AOL)
, and
Seeking Alpha are doing so well, sometimes even at the expense of companies we love like
TheStreet.Com
(TST) - Get TheStreet, Inc. Report
.
When you put barriers in front of comments or access, as so many print newspapers do, you lose. So the number of jobs goes up, just their locations change. Notice the affiliations claimed by the talking heads you see on TV. Most are now working at Web sites that encourage community.
This remains hard for old-style print journalists to get their arms around. They assume that because we're filling Web pages with words we should be the final authority, that if we make a mistake it's an unpardonable sin. But we all make mistakes, and the beauty of this medium is how easily mistakes can be corrected, how many fact-checkers there are, and how grateful we -- the writers -- need to be to them.
To you.
You're not just readers. You're not just users. You have the power here. Even 35 years on, it drives publishers and editors crazy. But if you can understand that the crazy commenters are just hurting their own causes and that the others are offering you free wisdom, it's wonderful.
Let me summarize. This is not a column. This is a blog post. A column is the final word about something. A blog post is the start of discussion, an invitation for you to engage, with me, with the story, with one another, providing a whole that is much greater than the sum of its parts.
So when someone asks me who taught me journalism, I just say Ted Nelson, and smile.
At the time of publication, the author had no investments in companies mentioned in this article.
.
This article is commentary by an independent contributor, separate from TheStreet's regular news coverage.