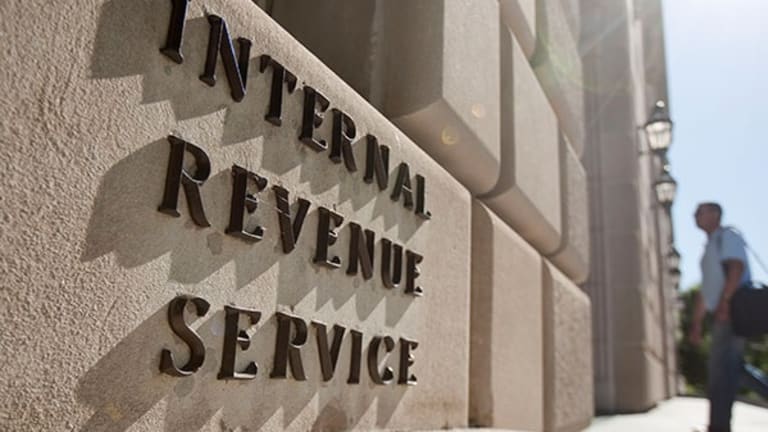 How Tax Preparation Software Is Being Updated for the New Year
If you're among the 40% of taxpayers who use special software to prepare your income tax returns, expect new features that aim to make the process easier.
If you're among the 40% of taxpayers who use special software to prepare your income tax returns, there are several changes coming in the New Year. 
Here is a quick rundown on what to expect:
H&R Block
H&R Block (HRB) - Get H&R Block Inc. Report  is offering two notable changes to its tax preparation software. One new feature allows users to prepare their tax return on a mobile device with a browser, or a smartphone, said Eric Roebuck, H&R Block's digital products manager.
A second new feature is called Refund Reveal. It's designed to help taxpayers understand what's affecting their return. In the past, the software would simply calculate the amount of the refund, or amount owed, without explaining why. Now, the software will reveal why the tax return changed from the previous year. For example, it may note that the amount changed due to a child tax credit, or because too much money was taken out in taxes throughout the year.
H&R Block also has a new promotion called Refund Bonus. Users can apply their refund to a gift card and the tax preparation company will match 10% of the amount on the card for those customers using its Deluxe or Premium products. For those customers using its other products, it will match 5 percent on the card.
H&R Block carries four products: Free; Basic, $19.99; Deluxe, $29.99; and Premium $49.99.
Turbo Tax
Turbo Tax, which is part of Intuit (INTU) - Get Intuit Inc. Report , has a number of changes in store for next year, one of which includes its Turbo Tax app. The app is designed to allow users to shift from one mobile device to another, as they prepare their return. It also provides a way to import images from a camera on a smartphone or tablet computer and transfer them into the software. Customers can input such information as their W-2 forms by taking a photo of it.  
Turbo Tax plans to unveil the majority of its new features in the early part of next year. Software updates will be uploaded to customers' mobile devices between the time of purchase and filing taxes.
Intuit also offers four versions of its tax preparation software: Free for federal returns; Deluxe, $29.99; Premiere, $49.99; and Home and Business; $74.99.
TaxACT
TaxACT, which is part of Blucora (BCOR) - Get Blucora Inc. Report , plans to finalize its 2014 version of its tax preparation software next month. The updated version will feature a TaxACT Express app, which will allow users to prepare and check the status of their return. There is also additional functionality being built into TaxACT's mobile donation tracker app Donation Assistant. This app allows users to track their cash and non-cash donations as they are given. Starting early next month, the donation data can be directly imported into TaxACT Deluxe and Ultimate products. Donation Assistant includes more than 1,300 audit-backed, fair market values for clothing, furniture, electronics, appliances and other household items to help maximize deductions.
TaxACT Online customers can also manage their returns and information from one secure account, accessible through any Web browser on any device. Customers will gain access to all of their 2014 tax returns, as well as future returns, and can see the status of their returns and federal refunds after filing electronically. It will also integrate all the TaxACT mobile app functions.
For those still figuring out the new Affordable Care Act (ACA) rules, the company has its ACA Accelerator. The accelerator has been updated to reflect new ACA rules, changes, credits, subsidies and applications.
TaxACT has four levels of service available: Free; Deluxe Federal, $12.99; and Ultimate Bundle, which adds a state return, $17.99.

Jackson Hewitt 
Jackson Hewitt Online has revamped its user interface, making it easier for customers to file their return online. For those users who wish to switch to Jackson Hewitt from another competing software brand, such as TurboTax or H&R Block, Hewitt now allows tax data information to be ported into its system from other tax preparation vendors.
Users are able to file Federal returns for free and the firm has trained tax professionals online and ready to help filers via chat. Jackson Hewitt also offers a free ACA Accelerator Jackson Hewitt Accelerator tool, which is updated to reflect new ACA rules, changes, credits, subsidies, and applications. Since the company also has offices around the country, customers who run into a problem handling their taxes on their own can walk into an office for additional help.
Jackson Hewitt has four products: Free to handle simple returns; Basic, $19.95; Deluxe, $34.95; and Premium, $49.95. Each product comes with unlimited email access for general inquiries, unlimited live online chat support; and the ability to upgrade anytime.
This article is commentary by an independent contributor. At the time of publication, the author held no positions in the stocks mentioned.