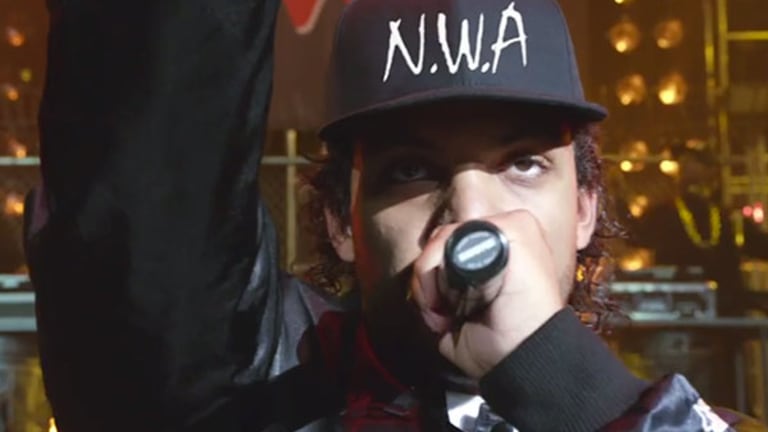 How 'Straight Outta Compton' Scored Another Huge Win for Comcast
The N.W.A. biopic debuted as No. 1 at the box office, and has already doubled its reported $30 million production budget in one of the year's biggest surprises for Universal.
LOS ANGELES (TheStreet) -- In a year when big-time franchises have propelled Comcast's (CMCSA) - Get Comcast Corporation Class A Report Universal to a record box office haul, it was a low-cost biopic about a short-lived hip-hop group that may have been its most revealing surprise.
Straight Outta Compton's $60.2 million first-place opening weekend -- revised upward from Sunday's initial $56.1 million estimate -- has already doubled its reported $30 million production budget, allowing it to stake its claim as the seventh-best debut for an R-rated film domestically, according to Boxofficemojo.com.
It's another box office crusher for Universal, a studio once stuck in neutral with few tent-pole franchises that now is likely to surpass the all-time record for annual box office of $2.1 billion -- and do so in under eight months on the back of mega hits Jurassic Park, Fast and Furious 7 and Minions, three of the year's top five films.
But their small movie about the 1980s beginnings of Dr. Dre, Ice Cube, Eazy-E and gangsta rap in Los Angeles serves as a lesson about how Universal won with word of mouth and a wise spot on the release calendar.
It surely helps when the film has the superhero-like popularity of Dr. Dre and Ice Cube to help push their own story. Yet analysts point to its early trailer, which was released online in February, as a crucial to building interest over time for a film that wouldn't have the benefit of prime summer real estate.
"Once audiences saw that trailer, the excitement level for a movie that was going to open at the latter part of the summer, went to a fever pitch," said Rentrak (RENT)  analyst Paul Dergarabedian. "Every person I spoke to this summer -- theater owners, friends, people in the business -- this was on everyone's list of must-see movies."
Initial estimates had Straight Outta Compton pegged to open between $25 million and $35 million. But one factor that helped it race past those early expectations was its strong social media campaign. The film had some 400,000 mentions on Twitter (TWTR) - Get Twitter, Inc. Report in the lead up to its opening, and nearly 2 million fans on Facebook (FB) - Get Meta Platforms Inc. Class A Report , according to Boxoffice.com.
"The fact that Universal made us wait until August was just really smart, because it built anticipation for the film," Dergarabedian added. "The other thing they did was deliver a very good film."
And much like N.W.A. itself, which burst into the public consciousness in the late 1980s with aggressive music that tapped into the struggles of urban African Americans, Straight Outta Compton has arrived during a similar moment in U.S. society, when the Black Lives Matters movement is gaining momentum and the country is engaged in a national conversation about the use of force -- deadly and otherwise -- by police against minorities.
"This film has a lot to say," said Jeff Bock, an analyst at Exhibitor Relations. "It's very topical. It resonates with people long after they get out of the theaters, and it gives you something to think about. That's huge for word of mouth."
When a story like Straight Outta Compton does well, it shows again how Hollywood often undervalues the market for African-American audiences, said Bock.
"The African-American audience has been ignored for so long, especially this summer, where you see sequel after sequel and reboot after reboot," Bock added. "That's all people are being offered, and there's pent-up demand for good films, and this also turned out to be a really good film as well."
It would be a misunderstanding to see the F. Gary Gray-directed film as meant solely meant to appeal to African-Americans. Its audience cut across several demographics: 46% were African American; 23% Caucasian; 21% Hispanic; and 4% Asian. And -- another surprise -- 52% of its audience was female.
The real secret to its success may not be a secret at all: Straight Outta Compton is a good film of epic proportions, one that runs nearly two-and-a-half hours long, and is already generating awards buzz. According to RottenTomatoes.com. 89% of critics have given the film a positive review, and 96% of moviegoers said they liked it.
It's another example of how a good film can propel itself by word of mouth, particularly on social media.
"Today," said Dergarabedian, "the social media factor is so profound, you have to really recognize no matter how much marketing you do, no matter how much spin you put on a movie, if you don't have the movie to back it up, the social media world will bust you on it."
This article is commentary by an independent contributor. At the time of publication, the author held no position in the stocks mentioned.