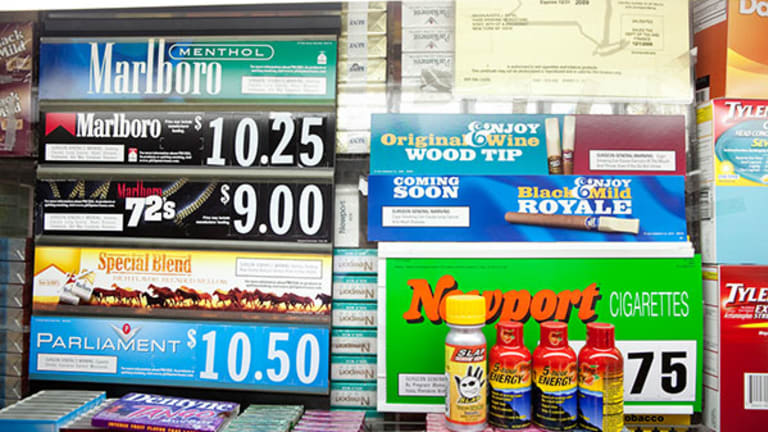 How 'Sin Stocks' Keep Investors Safe From Market Swings
It's time to grab the guns, the booze and the cigarettes: Even though such things might be called vices, apparently stocks in their purveyors are very good for your portfolio.
NEW YORK (TheStreet) -- It's time to grab the guns, the booze and the cigarettes.
Even though such things might be called vices, apparently stocks in their purveyors are very good for your portfolio. In fact, they may even be better for your investment regimen than so-called socially responsible investments, or SRIs, according to a recent unpublished working paper by two academics.
The paper, titled Vice Versus Virtue Investing Around the World, by Sebastian Lobe and Christian Walkshausl concludes that sin stocks are less risky than socially responsible stocks and that they don't underperform.
"Sin stocks are substantially tilted towards value" and "bear less market risk with an average beta below one," the report states.
Stocks with a beta of one tend to move higher and lower in line with the market. Those with a beta lower than one, such as sin stocks, tend to move less than the market.
By definition, that makes them less risky because risk is usually defined as volatility, or how much an investor can expect the stock price to vary over time.
It gets better.
"We find no compelling evidence of a different financial performance between sin portfolios and SRI indexes using a sample sliced from the global level to the country level over different time periods," the report continues.
Or put another way: You don't get an investment boost by shunning vice stocks. Apparently, in this case, there is no extra profit to be had in virtue.
The authors came to these conclusions after analyzing data from the U.S., U.K., and other developed markets over the period of July 1995 through July 2007. In the sin bucket, they included companies involved adult entertainment, alcohol, gambling, nuclear power, tobacco and weapons. For socially responsible investments, the authors mainly made use of Thomson Financial Datastream SRI index data. SRI looks at issues such as environmental performance, labor practices, corporate citizenship, governance, risk and crisis management, and bribery.
The paper has been accepted for publication in Review of Managerial Science, although no publication date has been set, says Lobe, an associate professor at the University of Leicester in England. Walkshausl teaches at the University of Regensburg in Germany.
If you want to go the vice or sin route, how do you know what stocks to pick? You could pick out stocks in the field, do some research and, once you understand what's going on, then and only then buy some stocks.
Somehow that doesn't seem to embrace the vice theme of lying back with a scotch and a cigarette, does it?
Instead, you could invest in the $250 million USA Mutuals Barrier Investor (VICEX) - Get Free Report, which happens to have four Morningstar stars. Unfortunately, the expense ratio is relatively high at 1.47% of assets.
The fund holds a slew of vice stocks including Altria (MO) - Get Free Report, Philip Morros International (PM) - Get Free Report, Reynolds American (RAI) , Constellation Brands (STZ) - Get Free Report, Diageo (DEO) - Get Free Report as General Dynamics (GD) - Get Free Report and Raytheon (RTN) - Get Free Report.
Over the last 10 years, it has roughly matched the Standard & Poor's 500 Index on a total return basis, according to data from Morningstar. A $10,000 investment in the fund 10 years ago was worth $21,607 as of Tuesday's close, a compound annual return of 8.01%, while the same investment in the S&P 500 was worth $21,681.
This article is commentary by an independent contributor. At the time of publication, the author held no positions in the stocks mentioned.