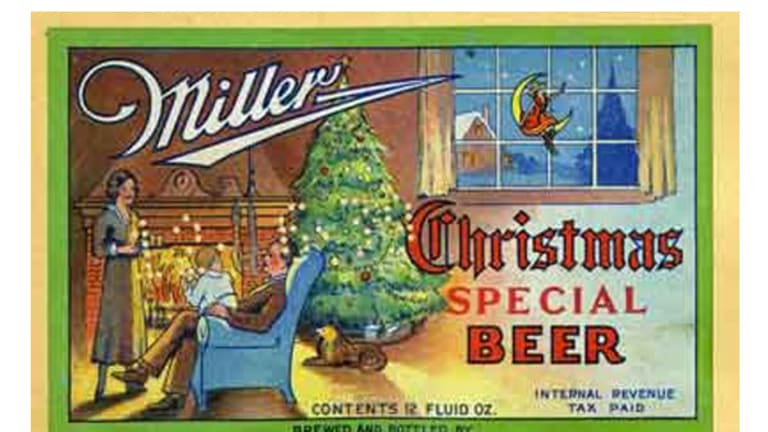 How Seasonal Beer Could Boost Holiday Shopping
Just as retailers use carols and cinnamon cents to drive sales, restaurants and pubs could use holiday beer to put adult shoppers in the spirit.
PORTLAND, Ore. (TheStreet) -- In the beer world, holiday creep is just another offering on the tap list.
shows up in July.
is on tap by early October.
But guess what? It's effective. According to market research group Symphony IRI, seasonal beer sales have jumped between 15% and 26% since 2009, even as overall shipments declined.
The Craft Brew Alliance
(BREW) - Get Craft Brew Alliance Report
and its Widmer Brothers and Redhook brands release their holiday beers around September and early October and have watched production increase by 52,000 barrels between 2011 and 2012. For a sense of scale, that's roughly how much beer Petaluma, Calif.-based Lagunitas produced in all of 2008.
While some brewers including Samuel Adams producer
Boston Beer Company
(SAM) - Get Boston Beer Company, Inc. Class A Report
still hold off on releasing holiday beers and variety packs until November, they're falling into a minority. Big brewers
Anheuser-Busch InBev
(BUD) - Get Anheuser-Busch InBev SA/NV Sponsored ADR Report
and
MolsonCoors
(TAP) - Get Molson Coors Brewing Company Class B (TAP) Report
/SABMiller joint venture MillerCoors are stocking their Shock Top and Blue Moon lines with winter offerings. Larger craft brewers New Belgium and Deschutes, already have their Accumulation White IPA and Jubelale, respectively, on shelves.
It's holiday creep, but it's also sensory stimulus for holiday shopping. I don't hide the fact that I have a particular fondness for the maltier, stronger holiday beer selections and picked up my first six packs of both Jubelale and Widmer Brothers' Brrr last weekend. After taking the first sip of Jubelale -- which still has the caramel malt base of its 2012 predecessor, but slightly more hop kick -- my mind went back to when I picked up my first six pack at the Plaid Pantry convenience store near my apartment last year. I'd been Christmas shopping for my wife and the nip in the air, the lingering scent of egg nog-flavored coffee on my breath and the presence of a bottle of local sparkling wine -- an odd find next to some $6 Ballatore -- for some holiday champagne punch all somehow wrapped themselves into that first Jubelale sip. I remembered the string of C5 big-bulb lights on our porch, the three-foot Charlie Brown-style Christmas tree in the window and the crinkle of the wrapping paper as I struggled to cinch up those first gifts before my wife got home.
I'll admit, it freaked me out. About an hour later when I cracked open a Brrr, the stiff alcohol presence, slight caramel flavor and dark cherry on the finish reminded me of Troegs Brewing's Mad Elf, which was a favorite when we lived back in Boston. It brought me back to Christmas parties at our first apartment, visits down to Philadelphia and long nights at the bar with friends - to my first Christmas with the woman who'd be my wife just a few years later.
It all, admittedly, got me into the holiday spirit. It made me want to get out a hammer and nails and string up lights, it made me want to check online shopping lists and see if there wasn't a bit I could take care of now, it made me want to head down to my favorite strip on Hawthorne Boulevard in Southeast Portland and pick up the first pieces of a gift idea for my sister that I'd cobbled together earlier this year.
If it was a trap set by retailers, I would have fallen right into it. It wasn't, but it should be.
Associations akin to those I made through holiday beer are key to influencing holiday buyers. U.S. shoppers keep feigning outrage when radio stations switch to an all-holiday format by early October, but a 33-market study conducted by Arbitron in 2009 found that the average market share for radio stations that switched to the all-holiday format rose 91%. Los Angeles-based Prescriptive Music -- whose clients included
Marriott Hotels
(MAR) - Get Marriott International, Inc. (MAR) Report
,
The Cheesecake Factory
(CAKE) - Get Cheesecake Factory Incorporated Report
and
California Pizza Kitchen
(CPK) - Get Chesapeake Utilities Corporation Report
-- starts pumping holiday music into its clients' systems in August and slowly brings the amount of holiday tunes up to 100% of the playlist by December in an attempt to boost holiday spending.
As
Inc. magazine's Eric Markowitz
suggested a couple of years back, scents play a big role in the holiday shopping push as well. He points to a decade-old study by researcher
that concluded that combining the aroma of cinnamon, mulled cider or pine with holiday music can provide a huge boost for holiday sales. Author Rachel Herz went into greater detail roughly six years ago in her book
Scents Of Desire
, which not only confirmed the urban legend that mall eateries including
Cinnabon
and
KFC
(YUM) - Get Yum! Brands, Inc. (YUM) Report
pumped cinnamon and fried-chicken scents into the air to woo hungry shoppers, but detailed how the California Milk Processor Board's "Got Milk?" campaign successfully spurred milk sales by pumping chocolate-chip cookie scents into San Francisco bus shelters.
Around the holidays, these elements are all employed to awaken memories of the last time you experienced them. Most often, that's whenever you were shopping or running around during the holiday season before. Holiday beer could perform a similar function, albeit in a far more limited capacity. While just stacking up holiday displays in front of the beer aisle at the local supermarket won't do much to jog the memory, putting them on tap at local casual dining establishments tucked into malls, outdoor lifestyle centers, pods of big-box retailers or even at local, independent pubs and restaurants in a city or town's shopping district could spur some holiday sentiment.
Just as retailers team with companies to pipe in holiday tunes or waft out holiday scents, maybe pairing up with local brewers and distributors to reel in more restaurant traffic with seasonal beers can become a holiday tradition of its own.
-- Written by Jason Notte in Portland, Ore.
>To contact the writer of this article, click here:
Jason Notte
.
>To follow the writer on Twitter, go to
.
>To submit a news tip, send an email to:
.
RELATED STORIES:
>>Craft Beer Needs To Get Out More
>>Glass Half Empty? The Great Craft Beer Selloff
>>Craft Beer Brouhaha Reaches A Head
Jason Notte is a reporter for TheStreet. His writing has appeared in The New York Times, The Huffington Post, Esquire.com, Time Out New York, the Boston Herald, the Boston Phoenix, the Metro newspaper and the Colorado Springs Independent. He previously served as the political and global affairs editor for Metro U.S., layout editor for Boston Now, assistant news editor for the Herald News of West Paterson, N.J., editor of Go Out! Magazine in Hoboken, N.J., and copy editor and lifestyle editor at the Jersey Journal in Jersey City, N.J.