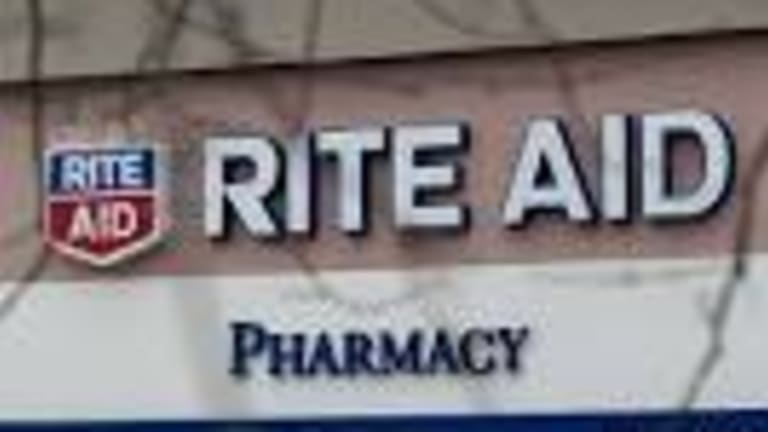 Publish date:
How Rite Aid's Growth Prescription Will Send Shares Higher 2015
Investors looking for growth prescription and potential 20% gains in the next 12 months should consider this company.
Investors looking for growth prescription and potential 20% gains in the next 12 months should consider this company.
NEW YORK (TheStreet) –U.S. drugstore chain Rite Aid (RAD) - Get Rite Aid Corporation Report  raised its outlook for the year and posted fiscal third-quarter earnings that blew away expectations Thursday, sending its shares higher by more than 13% --  growth that's likely to continue, both in the business and its stock, thanks to growth in generic prescription drugs, Obamacare, and an aging America population.
Rite Aid posted a 46.5% jump in fiscal third-quarter profits Thursday, and boosted top- and bottom-line guidance on strength the company attributed to its focus on a wellness model and investments in marketing and promotions.
Investors have plenty of reasons to be excited, not only about this quarter, but also what's ahead in 2015.
Rite Aid is restoring itself back to health by focusing its stores on a model based on wellness. As evidenced by the 5.4% jump in same-store sales growth, that strategy has begun to work. It also suggests that its marketing and promotional investments are paying off.
In July, at its investors conference, the company, which operates roughly 4,500 U.S. stores, outlined ways it can restore growth and better compete with Walgreen's (WAG) and CVS (CVS) - Get CVS Health Corporation Report . Rite Aid cited the growth in generic prescription drugs, impacts of the Affordable Care Act and an aging America population, constantly in need of healthcare services.
With the company raising guidance in every important metric, Rite Aid has placed the right bets. Likewise, investors looking for growth prescription and potential 20% gains in the next 12 months should consider this company.
For the period ending Nov. 29, the Camp Hill, Pa.-based company said earnings increased to $104.8 million, or 10 cents a share, topping last year's mark of $71.5 million, or 4 cents a share. This beat analysts' mean estimate of 5 cents a share, according to Thomson Reuters.
Revenue, meanwhile, grew to $6.7 billion from $6.4 billion, also topping Wall Street estimates of $6.65 billion. Equally, and perhaps more impressive, was the 5.4% jump in same-store sales, the metric that tracks performances of stores that have been opened at least one year. Rite Aid topped estimates of 5.1%.
Rite Aid sees no signs this growth pace will slow down.
The Camp Hill, Pa.-based company said it now expects fiscal full-year earnings of 31 cents to 37 cents a share, compared with its previous projections of 22 cents to 33 cents a share. It projects full-year revenue between $26.25 billion to $26.4 billion, higher than prior guidance of $26 billion to $26.3 billion.
And Rite Aid now sees full-year same-store sales growth of 3.75% to 4.25%, up from its previous forecast for 3% to 4% .
In an environment where retailers are still concerned about consumer spending and declining traffic, Rite Aid raised guidance for each of those metrics.
"We are pleased with our results for the third quarter. Our focus on expanding our health and wellness offering and delivering a higher level of care to the communities we serve drove our strong same-store sales, prescription count and gross profit. Based upon our strong third-quarter results, we have raised our guidance for the year," Rite Aid Chairman and CEO John Standley said. 
Despite shares being up 19.76% this year, compared with the 8.9% gain in the S&P 500 (SPY) - Get SPDR S&P 500 ETF Trust Report and the 4.71% gain in the Dow Jones Industrial Average (DJI) , 2014 has been anything but smooth for Rite Aid. Take a look at the chart below, courtesy of YCharts.
In its fiscal second quarter, reported in September, the company lowered its full-year guidance. It was the second time in as many quarters Rite Aid had disappointed investors.
Wall Street was unmerciful in its punishment, sending the stock down more than 18% in the past six months, compared with just 5.3% declines by rival Walgreens during the same period. CVS , meanwhile, saw its shares surge more than 21%.
Thursday's results changes things, and could take shares as much as 20% higher.
This article represents the opinion of a contributor and not necessarily that of TheStreet or its editorial staff.
This article is commentary by an independent contributor. At the time of publication, the author held no positions in the stocks mentioned.