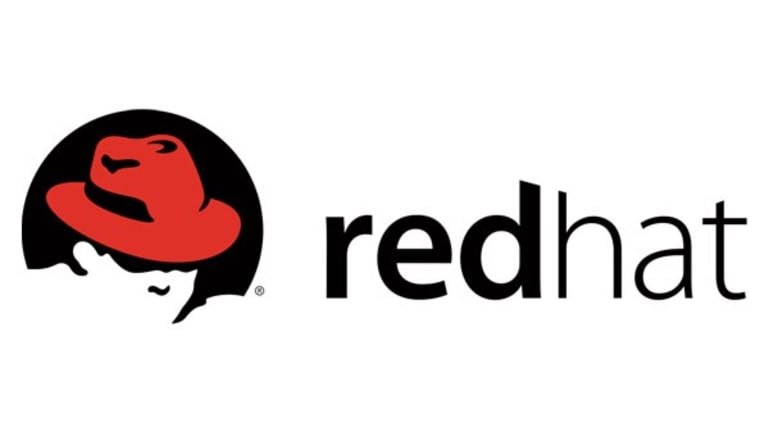 How Red Hat Is on the Path to Become Red Hot in 2015 -- and Beyond
Red Hat's confidence in OpenStack middleware and its cloud platforms make this a must-watch stock for 2015.
Red Hat's confidence in OpenStack middleware and its cloud platforms make this a must-watch stock for 2015.
NEW YORK (TheStreet) – Enterprise software giant Red Hat (RHT) - Get Report will report fiscal third-quarter results Thursday. And investors who still regard Red Hat as just a Linux software company aren't paying attention.
The company's results will be released Thursday after the markets close. And shortly thereafter, I will interview CEO Jim Whitehurst to discuss the results and learn how he plans to maintain Red Hat's status as the global leader in OpenStack -- the new frontier in cloud services.
But that's only the beginning.
In 2014, the Raleigh, N.C.-based company built up its capabilities in three areas: cloud computing, otherwise known as hosted or remote data processing, storage and management; software-defined storage, which allows customers to quickly create, delete and manage data stored within the cloud; and middleware, the software that lies between an operating system or database and software applications.
Last year, the middleware market grew 5.6% to $21.5 billion and was dominated by IBM (IBM) - Get Report , which captured close to one-third of global spending, according to research firm Gartner. Oracle (ORCL) - Get Report and Microsoft (MSFT) - Get Report followed in second and third place, respectively. 
Red Hat, meanwhile, continues to differentiate its products from Oracle and Microsoft. So far, things are moving according to plan. Unlike the two industry titans, Red Hat is able to allow project teams working within a company or remotely to simultaneously collaborate on client applications, as well as cloud applications and services. Neither Oracle or Microsoft offer customers those capabilities.
In the most recent quarter, Red Hat's middleware segment also accounted for 16% of its fiscal 2014's subscription growth. This is important.
"Growth accelerators will ultimately more than offset the inhibitors in the BPM [business process management] and middleware market, creating faster growth over the next five years than the growth experienced by the market over the past two years," Maureen Fleming, vice president of middleware research programs at IDC, recently stated in a middleware market study that covered 2009 to 2018.
She noted, however, that the potential for major disruption in the middleware market is significant, particularly in the later years of the nine-year forecast. Red Hat is expected to be part of that disruption, which makes the company such a compelling story.
With OpenStack, the company has already disrupted how corporations view their infrastructure and what they've thought of as cloud -- specifically, the relationship to the cloud and server virtualization. OpenStack serves as the operating system for cloud computing and because it is open source, other companies or independent software developers can use the computer code for their own use and build on it. 
Red Hat envisions OpenStack becoming the default choice for next-generation of cloud computing architecture. This open source operating system for cloud computing can be used for virtual servers, where software can trick a single server into thinking it is running multiple, independent servers within one box, or tying together multiple servers through software and fooling them into acting as one server. 
The goal of OpenStack is to bring to market cloud solutions that are rich in features, yet easy to implement and possess the ability to increase its capacity. 
Red Hat recently formed a partnership with Cisco (CSCO) - Get Report  to accelerate the adoption rate of its technology with customers. This partnership aims to bring cloud-ready solutions to large corporate customers and service providers by focusing on OpenStack, Application Centric Infrastructure and Intercloud. And Red Hat believes there's potential for incremental revenue gains 
What's more, 90% of Red Hat's subscription revenue in fiscal 2014 came from its infrastructure segment, which includes Linux. That segment is growing at a 14% annual rate, better than the 10% rate analysts were expecting.
Combine Red Hat's subscription rate with its confidence in next year's adoption pace for OpenStack and its Cloud platforms and its stock is likely to rise. Red Hat is building the sort of diversified services that can send its shares higher well into 2015. Not to mention, these shares still have a high analyst 12-month target of $74, representing a 25% premium from current levels.
This article is commentary by an independent contributor. At the time of publication, the author held no positions in the stocks mentioned.