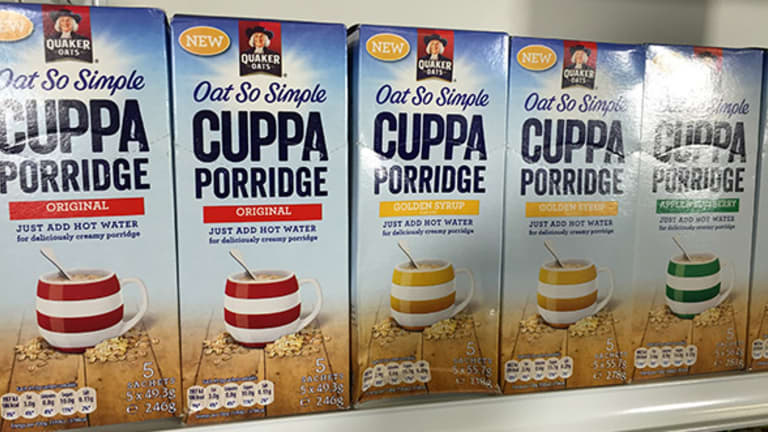 How PepsiCo Is Un-Caging Both Chickens and Profits
The food and beverage giant said that it will use only cage-free eggs in products. Beyond being humane, it is a step toward attracting a lucrative demographic.
Chickens and investors rejoice!
PepsiCo (PEP) just became the latest company to commit to using 100% cage-free eggs in its products. Before you say, "Ew!" at the thought of eggs in your soda, remember that PepsiCo is also the owner of such blockbuster brands as Frito-Lay and Quaker Oats.
By keeping its chickens out of cages, PepsiCo joins a long list of other companies, including Aramark, Kraft Heinz and McDonald's. Aside from pledging more humane conditions for livestock, these companies are all making a savvy move that should bolster their revenue, as well as provide more profits to investors.
PepsiCo said Monday that it will use only cage-free eggs in North America by 2020 and globally by 2025.
Farm animal protection nonprofit the Humane League said in a statement that it had approached the food and drink manufacturer last year with a request that it make the switch.
"The issue of hen welfare has become so high on the food industry's radar that pretty much anyone who uses eggs on a commercial scale is coming on board," Josh Balk, senior director of food policy at the Humane Society of the United States, told Fortune magazine.
By jumping on the bandwagon, PepsiCo is tapping an unstoppable trend that will affect investors over the long haul.
But beyond helping hens, making the cage-free choice will help PepsiCo attract millennials, providing more opportunities for investors to profit.
Millennials gravitate toward food that they view as gourmet, healthful and socially responsible.
In a recent study by J. Walter Thompson Intelligence, 8 out of 10 millennials said that they want to know more about how their food is produced and that they don't think that food manufacturers disclose enough about their operations.
By vowing to use more humane farming practices, companies such as PepsiCo are attracting more customers from this influential demographic.
PepsiCo is taking other steps to target millennials. Although soda brands across the board have seen declining sales recently due to consumers making healthier choices, the company owns a portfolio of teas and juices that is growing and becoming more diverse.
And when millennials do drink soda, they are attracted to "craft sodas," which are marketed as being more artisanal. PepsiCo has launched its 1893 original cola and ginger cola products, named for the year the company was founded and produced with kola nuts and certified fair-trade sugar.
PepsiCo has long existed in Coca-Cola's shadow. But with a strong, diverse portfolio of products, a growing focus on millennials and a history of juicy dividends -- currently around 2.8%, with plans for an increase in June -- PepsiCo should continue to yield increasing returns.
You see Jim Cramer on TV. Now, see where he invests his money and why PepsiCo stock is a core holding of his multimillion-dollar portfolio. Want to be alerted before Jim Cramer buys or sells PEP? Learn more now.
Are you making the right investment moves for your retirement, or are you blowing it by making all-too-common money mistakes? There are crucial steps to take now to build wealth over the long haul. To find out whether you will have enough money in your later years, download our free report: Your Ultimate Retirement Guide.
This article is commentary by an independent contributor. At the time of publication, the author held no positions in the stocks mentioned.