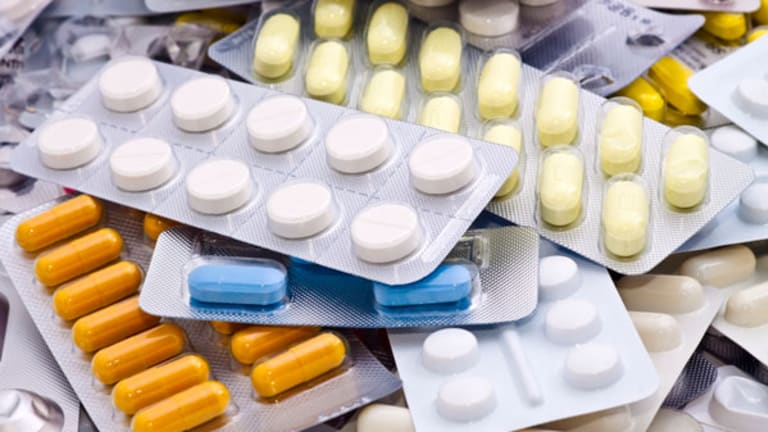 Publish date:
How Obamacare Will Play Out for Big Pharma
Obamacare could significantly impact on the ability of pharma giants to sustain their pace of curative and life-saving innovations.
Obamacare could significantly impact on the ability of pharma giants to sustain their pace of curative and life-saving innovations.
NEW YORK (TheStreet) -- While Obamacare is expected to bring the U.S. drug industry billions of dollars in profits over the next decade, one question that remains unanswered is its impact on the ability of pharma giants to sustain their pace of curative and life-saving innovations.
With more than 8 million people on the Obamacare roster this year, the pharmaceutical industry is expected to rake in massive revenues through prescription drug purchases from a larger number of insured people.
But these top-line increases will be offset by a rise in the costs that pharma companies would need to pony up for assembling terabytes of patients' medical data, thanks to the Obamacare-driven advent of Patient Centered Outcomes Research Institutes (PCORIs). As a result, pharma companies may find it challenging to invest in R&D efforts aimed at curative discoveries and solutions to complex and unaddressed medical needs.
The new healthcare mandate could garner profits of up to $35 billion for the pharma sector, according to an analysis by GlobalData, a London-based research and consulting firm.
Even so, pharma companies, against the backdrop of the growing emphasis on evidence-based healthcare outcomes, are "concerned that PCORIs will ultimately affect their ability to come out with new drugs that may not carry sufficient evidence to indicate they are more effective (than existing comparables)," said Linda Green, a co-founder of the Columbia Alliance for Healthcare Management and Armand G. Erpf Professor at the Columbia Business School.
The origin of the patient medical records project, which aims at evaluating the effectiveness of various drugs, devices and treatment options, lies in an inconspicuous portion of the 2010 Affordable Care Act.
Furthermore, the industry has concerns with whether the government will invest sufficiently in Big Pharma innovations.
With the availability of equivalent low-cost products, "certain innovations won't be rewarded or paid for," says Toomas Truumees, managing partner of the Health Care and Life Sciences division at Decision Strategies International, a consulting firm.
"Now, there's a lot more uncertainty around what your peak sales for new drug innovations will be. This will make it hard to pull the trigger in terms of bringing those drugs to the market. The challenge for pharma executives lies in making multimillion dollar investment decisions, where outcomes are less certain," Truumees added.
Biologic drugs, or biosimilars, are among those medical products that bear the brunt of the Affordable Healthcare program in spite of an $80 billion deal that the Pharmaceutical Research and Manufacturers of America (PhRMA) negotiated with Senate policymakers, more than three years ago. This deal worked out a five-year exclusivity period for biosimilars through rebates and fees over a 10-year time frame, according to G.C. Green, a healthcare analyst at Business Insights.
Although biosimilars are expected to reduce healthcare costs and lower toxicity levels compared to conventional, smaller-molecule pharmaceuticals, they are not automatically substituted like generic products. Their use depends largely on pricing and on levels of acceptance among doctors, payers, patients and pharmacists as safe alternatives to brand name biopharmaceuticals.
Furthermore, applications for biosimilars like Ustekinumab and Ranibizumab (known by the brand names Stelara and Lucentis) have been facing challenges securing FDA approvals because a lot of time is taken to determine whether these drugs adhere to regulations barring identical products.
Meanwhile, the Obama administration has been getting flak for cutting the multi-billion dollar deal to win the pharma industry's cooperation for the Affordable Care Act rollout.
"It's all about mega-profits," says Joseph Chinnock, a Santa Fe-based media entrepreneur with knowledge of the agreement. "The Senate is colluding with the pharma industry to defraud the public. The Senate knew they had to do this deal to get the bill passed. It's pretty close to a backroom deal."
Criticisms have also been leveled against Obamacare for a levy that will eat into the margins of medical device manufacturers too -- a tax of 2.3% on the sale of all medical devices ranging from MRIs and implants to surgical instruments and research equipment. Rebates and discounts won't exempt players from the tax, which will garner Washington revenues of $29 billion over the next decade, according to Congressional Budget Office estimates.
But here's some good news for pharma. Fresh revenue opportunities and investment sources could emerge if public perceptions of Big Pharma alter in keeping with the evolving health care industry.
"Since capturing patient data is all about prevention, there may eventually be a drive for preventive health care and intervention earlier on in the patient lifecycle," said Viraj Narayanan, a Philadelphia-based DSI consultant, whose clientele has included Bristol-Myers Squibb (BMY) - Get Report and GlaxoSmithKline (GSK) - Get Report, among others. "The initial challenge here is whether patients would want to make use of preventive health care services from pharma companies. People don't look at pharma companies the same way they think of Apple (AAPL) - Get Report."
Johnson & Johnson (JNJ) - Get Report, which is collaborating with Canada for two early-stage drug technology development centers, and Bristol-Myers Squibb, which has recently made a new drug application to the FDA, declined to comment.
At the time of publication, the author held no positions in any of the stocks mentioned.
This article represents the opinion of a contributor and not necessarily that of TheStreet or its editorial staff.