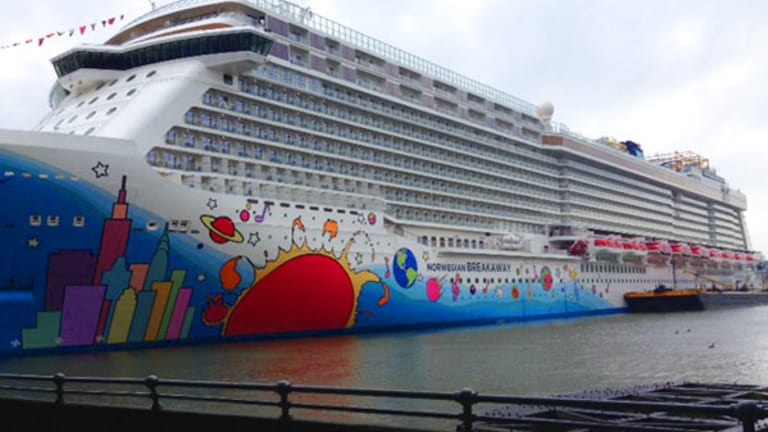 How Norwegian Cruise Line's New CEO Plans to Shake Up the Cruise Industry
Norwegian Cruise Line has a new CEO at the helm, one with bold ideas. TheStreet sits down with President and CEO Frank Del Rio.
NEW YORK ( TheStreet) --  Norwegian Cruise Line (NCLH) - Get Report has set sail this year with a new CEO who is determined to shake up the status quo within the industry and his company.
Frank Del Rio joined Norwegian in September when the cruise line operator acquired Prestige Cruises International, owners of the upscale Oceania Cruises and Regent Seven Seas Cruises brands, for a cool $3.02 billion.  Del Rio, who founded Oceania Cruises in 2002, was originally slated to lead the acquired brands but wound up becoming president and CEO of Norwegian in January, replacing long-time chief Kevin Sheehan. 
Norwegian's new CEO has wasted no time in implementing changes. Gone are useless meetings that stifled the entrepreneurial spirit essential to driving differentiation in a competitive hospitality industry. In is the questioning of industry norms, like the use of fierce discounting to lure in vacationers and an obsession by execs with ordering new ships every few years. 
So far, so good. On Feb. 18, the company announced the all-important "wave season," the winter period in which people book vacations for the spring and summer seasons, has seen an acceleration in booking volume. The Norwegian Escape, which will begin sailings in November, is in a better booked position than her predecessor ships the Breakaway and Getaway. 
The upbeat commentary on near-term trends offset slightly worse-than-expected adjusted earnings per share in the fourth quarter, due in large part to competitive pricing in a Caribbean market flush with capacity.
Shares of Norwegian Cruise Line have gained 4.4% in the past month, outperforming rivals Royal Caribbean (RCL) - Get Report and Carnival Corporation (CCL) - Get Report .
TheStreet sat down with Del Rio in New York City to discuss his vision for the Norwegian brand, why a cruise may get a little pricier this year, and why the cruise industry is licking its chops at the chance to dock in Cuba. 

TheStreet: How do you bring that entrepreneurial spirit from your time spent at Oceania Cruises to Norwegian?
Del Rio: The process is already well on its way, we are not waiting. It's not one single thing. I reject the notion that the only way to grow in this business is by adding new ships. Ships are a necessary condition if you want to be in the cruise business, but there ought to be a balance between new ships and organic growth via pricing. Occupancy is already full, but you could move the pricing needle.
I also reject the notion that the only way to stimulate demand is by dropping prices, and that the industry can increase prices over time. There is a focus on driving revenue and suppressing costs. You don't win the game by doing one and not the other. I believe in [employing] fewer people [that are] more incentivized, well-compensated, and having broad responsibilities. I want people to make decisions. All decisions cannot be made in the CEO's office.
Perhaps in the past the business was run too much by committees. I hate committees. One of the first things I did was eliminate all of the standing steering committees. I don't know what they were steering. No more of that.
TheStreet: How will itineraries change?
Del Rio: Ship deployment will play a huge role in how we improve the equation to generate higher yields, which drives higher EPS, which drives higher returns and ultimately the stock price. So it's about having the right ship at the right place at the right time. The difference between the best per diem for the Oceania brand and the worst per diem on this particular vessel, the high is $509, the low is $299.  That is $210. For the Oceania and the Regent brands, the per diem stats are pretty similar. Itineraries are important, and have been at Prestige.
At Norwegian, the difference between high and low per diems is a whopping 674 percent. I have to eliminate the low per diems. If you position the ship, at the right place at the right time, you will by definition do a better job in pricing. You have to be in high demand areas.
There are various levers one has for itinerary deployment. One, you have to understand seasonality. The Greek islands are a beautiful place to go in June, but not in January. The length of the cruise is also important. What I see at Norwegian's product right now is too many milk runs -- it's too easy to do 7-day cruises. The pros to that is that's it's easy, less variability.

TheStreet: What do you think is driving the strong wave season this year for the industry?
Del Rio: First off, I think the world has been led to believe that the wave season is the end-all, be-all. Once upon a time, when the industry was nascent and all cruise ships were based out of South Florida, especially in the winter months, it was, let's go to Miami. It's a much more mature market right now, one with worldwide itineraries and a global footprint. I think most people out there think if you don't hit a homerun in the wave season you are dead. Not true.
So what has made this wave period so strong? I think it has been an OK wave period, I don't think it's a record wave period. Business did improve in the last four four weeks. January was just OK to perhaps slightly subpar, and February has been very, very strong.
TheStreet: Could you discuss the pricing environment?
Del Rio: The industry has been fixated that the only lever it has to stimulate demand are lower prices. We think it's a losing proposition over the long term and short term. One thing that has worked well at the Prestige brands, and which we are testing at the Norwegian brand, is the idea of the deal.
I'm not asking for the moon, but an extra $3 or $4 per person. There are two people per room, for a seven-day cruise that is an extra $50. Can I get $50 from you and your wife to come aboard my ships versus someone else's ships, and how do I get you to do that? I think I have a lot of different levers to pull.
TheStreet: Why is Cuba so exciting to you and the industry at large?
Del Rio: Florida and Cuba are only 222 miles apart. That's what makes it so exciting. God put that body of land in the right place for the cruise industry. Cuba is exciting for other reasons, too. It's the pent-up demand. It has been 55 years since Fidel Castro took over in 1959. There have been 11 U.S. presidents, starting with Eisenhower all the way to Obama. Cuba is more than a sandbar in the Caribbean. It has history. It has culture. We think of the music. We think of the arts. It has multiple ports, too.
There is no question that tourism will be one of the leading industries for Cuba's comeback into the free enterprise system. The knock on Cuba has been that its infrastructure is weak such as the hotels, restaurants and roads. The great thing about the cruise industry is that we bring our own infrastructure with us. When we visit Cuba, we don't need anything. Just a couple of buses so we can bring people to the sites. 

This article is commentary by an independent contributor. At the time of publication, the author held no positions in the stocks mentioned.