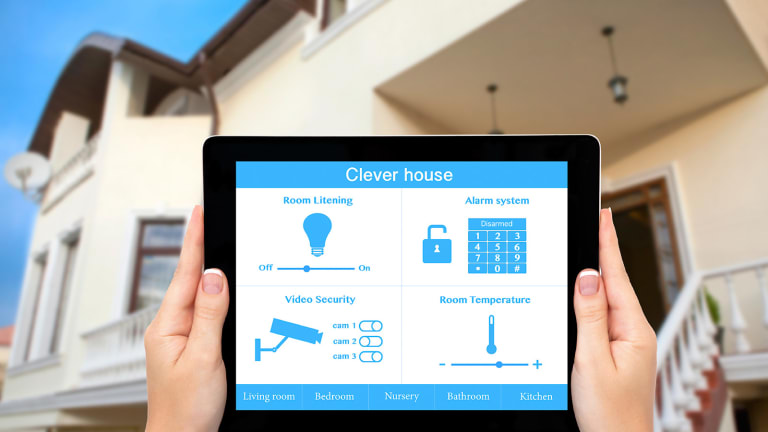 How Mobile Technology Will Dominate the Future of Business
Mobile middleware may play a bigger role in helping companies build their mobile capabilities. This software connects individual mobile applications with each other and other corporate applications and systems.
Mobile middleware may play a bigger role in helping companies build their mobile capabilities. This software connects individual mobile applications with each other and other corporate applications and systems.
NEW YORK (TheStreet) -- If you're trying to start a vineyard, the first important decision you make won't have anything to do with grapes or what kind of barrels you age your product in if you want to be successful -- it will be about what mobile technologies you employ. 
We all know the world of business is changing, following consumers' head-long jump into mobile technology, but the speed at which these changes are happening -- or, in many cases, have already happened -- will shock you. 
Scott Stawski, an author, TheStreet contributor, and a sales executive at Hewlett Packard Enterprise, a division of Hewlett-Packard (HPQ) - Get Report , has penned a book on the topic, Inflection Point: How the Convergence of Cloud, Mobility, Apps, and Data Will Shape the Future of Business. Below is an excerpt, reprinted with the permission from Pearson Education, a division of Pearson (PSO) - Get Report .
The Future Is Mobile
As I walked down the street while talking on the phone, sophisticated New Yorkers gaped at the sight of someone actually moving around while making a phone call. Remember that in 1973, there weren't cordless telephones, let alone cellular phones. I made numerous calls, including one where I crossed the street while talking to a New York radio reporter -- probably one of the more dangerous things I have ever done in my life.
-- Martin Cooper, engineer and inventor of handheld mobile phone
Our family has always shared a passion for wine-wine tasting, having a good bottle of wine with the right meal. I think it stems from my wife's love of everything culinary. As a chef, she knows that a great bottle of wine, regardless of price, can make a meal perfect.
Over time, our passion for wine has grown, finally manifesting as the desire to have what some people call a micro vineyard (it's two acres-larger than just a hobby vineyard but not quite a full-scale commercial venture). The challenge is that we live in Texas, just north of Dallas. Texas is achieving a good reputation for wines and now ranks as the fifth-largest producer of wines in the United States. Even so, not many companies here can help with the whole value chain of a vineyard-from selecting the grapevines to planting and growing them successfully to fermenting, bottling and aging.
So just how mobile and connected a world are we?
Let me tell you a little about our micro vineyard, which has become very successful through the mobile technology that connects us to companies and institutions around the world.
We started out very slowly. First, I needed some education. Of course, I know how to drink wine, and I understand the basics of winemaking. However, if we were going to invest a hefty sum in a two-acre vineyard, the data analyst in me wanted to gather every bit of information available. There are some great viticulture and enology education programs throughout the United States, but with my travel schedule, regular attendance was not an option. Our first mobile stop was the University of California Davis. UC Davis Extension has a wine making certificate program online and is 100 percent mobile optimized. I enrolled, and the education has been invaluable.

Next, we had to find a Vitis vinifera grapevine grafted to a rootstock that was capable of growing in the clay-based soil and climate of north Texas. Our second mobile stop was the digital edition of WineMaker magazine. Here we found suppliers in California and New York that had rootstock recommendations, with case studies, for our climate and soil type. Soon we had Cabernet Sauvignon, Sauvignon Blanc, and Chardonnay Vitis vinifera vines grafted to a special rootstock suitable for the north Texas soil and climate growing outside our back door.
However, growing is just the start. Every vineyard has bugs and fungi just waiting to destroy your investment. Texas A&M University has an Agrilife Viticulture and Enology Extension. Soon I had recommended fungicide and insecticide spray schedules on my smartphone, with mobile alerts to remind me to spray. If one of the vines started to appear ill, I snapped a quick photo on my smartphone and e-mailed it off to the Agrilife extension. Now I had professionals telling me all about downy mildew and the use of dithane 45 and sulfur as a fungicide. All without stepping outside the vineyard.
The mobile stops in our vineyard journey continued. Mobile apps from Midwest Supplies and MoreWine Professional for supplies. Mobile apps for laboratory analysis and calculations from ETS Laboratories and Oenotools. We even did a mobile stop in Hungary, where we found a company willing to consider adding some Texas Live Oak to the traditional Hungarian Oak Barrel they produce. My wife gave me a somewhat strange look one day when she saw me using Apple FaceTime to chat with a great fellow named Bence from Hungary while sitting on a bucket in the middle of the Chardonnay vine rows.
Without meeting with a single local company, without making even one trip, we were able to share soil analysis, water analysis, and photos of the growing patterns of our grapevines with an ecosystem of providers, and we eventually chose the proper grapevines for our north Texas soil and climate.
Today Prosper Estate Vineyards (prosperestate.com)has more than three hundred vines planted on a little over an acre, with a thriving selection of Cabernet Sauvignon, Sauvignon Blanc, and Chardonnay grapes. After five years of growing, we bottled our first Cabernet Sauvignon in 2013, and today we produce around fifteen hundred bottles annually. That first vintage is not quite an Opus One, but I would put it up against almost any twenty-dollar California Cabernet Sauvignon any day of the week!

All of this happened because we were able to build an ecosystem of providers whose core competencies aligned with and facilitated the needs of our vineyard. The real beauty was that we did it all with no IT department and mostly via mobile technology. All that research was done seamlessly through cloud communities-by sharing documents, results, and real-time data-and it was all done in a utility fashion, without any bandwidth spent on the actual technology. Instead, we used the technology as a utility to achieve an outcome.
My experience is not unlike many others. We use mobile technology and apps to perform numerous and complex activities in our personal life. However, in our business lives, we seem to be frozen in time. We don't have easy to use mobile access to a myriad amount of data and functionality that would benefit us at work.
When I talk to my clients about mobility, I focus on the consumerization of enterprise applications. Some people refer to this as "Applification"-because the most prominent example is Apple's (AAPL) - Get Report App Store. Business users now expect technology enablers to be available to them anywhere (Figure 6-2), anytime,
The ubiquitous nature of mobile computing and the blending of personal and professional lives provide unique opportunities for today's businesses and their IT organizations. Not only can they improve employee satisfaction and employee productivity, they can grow market share, build customer loyalty, and increase profit margins by delivering secure, seamless, context-aware experiences in a mobile connected world. This new emerging environment provides endless possibilities-but it also brings with it some unique challenges around interoperability and security.
Traditionally, IT has focused on driving efficiencies through standardization and control. In this emerging workplace, they need to deliver applications (apps) and services in an environment where the boundaries between personal and professional life are blurred, and the enterprise may not control the entire user technology stack. This new mobile computing environment has to address device and network security, access to applications, and privacy issues associated with having personal and company-owned data on the same device. This is true whether the device is owned by an individual or the enterprise.
IT organizations will also have to deal with changes to their financial models as they are forced to rethink their workplace models-what devices, how many, and who pays for them-and the associated support models, such as service desk or on-site support. In short, the consumerization of IT will require businesses to plan for, develop, and operationalize a comprehensive approach to enable enterprise mobility.

Most CIOs understand the need to "mobilize" their application stack. What is not as evident is the speed of change that is required. Put it this way: If your application stack is not already fully mobile enabled, you are behind.
The Mobile Explosion
I think we're all aware of the explosion of mobile phones and tablets in the marketplace. According to the United Nations, six of the seven billion people worldwide now have mobile phones. As of this writing, every sixty seconds there are 23,148 apps downloaded, 98,000 tweets posted, and more than 168 million emails sent. And more and more, the predominant method of access is through a mobile device. This explosion of employees and customers who are now untethered to traditional hard-wired communication is enabling new business models and transforming entire industries.
In the course of my work with various companies, I have noticed a dichotomy. On the one hand, CIOs understand the impact that mobility is having on their businesses. According to recent research by Xcube Labs, "Sixty-seven percent of CIOs and IT professionals believe mobility will impact their businesses as much as or more than the Internet did in the 1990s." And yet, CIOs continue to purchase and run traditional client/server software that is not mobile enabled. According to Samsung's (SSNLF) Mobile Index Research, 24% of consumers surveyed currently use a smartphone or tablet as their primary work-related computing device. However, most companies' application stacks are still dependent on business users utilizing corporate-owned laptops and workstations, and many still allow access only at company-owned locations.
Gartner predicted that by 2017, half of employers will require employees to use their own devices for work. But most companies are not set up for a BYOD ("bring your own device") environment.
Here is a metric that should be a direct cause for action. In the Cisco Work Your Way Global Study, only 11% of end users said that they access business applications from the corporate office 100% of the time. This means that CIOs and IT departments are spending millions upon millions of dollars on hardware and applications that can only be used on corporate-owned hardware, mostly onsite. But only 11% of end users access those enablers 100% of the time from the corporate office? Your business users are telling you and telling the job market, "I demand geographic- and device-independent access. I demand full business technology enablers delivered via mobile devices."
As corporate IT business units become service brokers to their ecosystems of providers, they will establish architecture and standards to ensure that the IT-as-a-utility enablers they and their ecosystems provide are fully mobile enabled. The architecture and the standards it develops must be compatible with what I call a geographic- and device-independent architecture (GDIA). Your business users and users within your ecosystem of providers need to be able to access their technology enablers regardless of where they are located and regardless of the device they are using. To accomplish this, they must establish architecture, standards, and governance for mobile device management (MDM), service-oriented architecture (SOA), API library, mobile middleware, and security. The following sections provide a high-level overview of these areas.

Mobile Device Management
The Gartner research firm defines mobile device management (MDM) as "software that provides the following functions: software distribution, policy management, inventory management, security management and service management for smartphones and media tablets." Most companies have implemented basic MDM architecture and governance to allow for a minimal amount of mobile access for e-mail. However, as mobile solutions expand both within a company and throughout the partner ecosystem, more sophisticated requirements and governance will be required for application management, privacy, and auditing.
Of great importance is that a company's MDM program must support BYOD. A corporation should not tell employees that they have to use this cell phone or this laptop. Employees should be able to use any device they want to perform the business function for which they were hired. Individuals do not want to use one device in their personal lives and one in their professional lives. Simplicity is the new norm de rigueur. As Gartner predicts, whether through mandate or possibly through partial cost offset, companies will eventually ask employees to bring their own devices.
Service-Oriented Architecture and the API Library
Early in the development of its iOS apps, Apple offered developers an API (application programming interface)-a set of routines, protocols, and tools for building software applications-that they could use to design and develop apps. Thousands of freelancers created apps and loaded them onto the Apple App Store, and a whole ecosystem of new iOS software was born. As of May 2015, there were more than 1.4 million apps in the Apple Apps Store. Google followed a similar route and now there are more than 1.5 million apps in Google  (GOOG) - Get Report Play.
The business world, while behind, is following a similar path. Companies like Microsoft (MSFT) - Get Report , Oracle (ORCL) - Get Report , and SAP (SAP) - Get Report have started offering developers tools and APIs to create apps for their software. And companies have begun to adopt standards for what's called service-oriented architecture (SOA)for their overall IT architecture as well as mobility. If developers follow SOA standards and establish the correct architecture, any app they make should be ready to plug in and play with that company's IT footprint.
To empower mobility, an IT business unit must establish an architecture and governance model driven by an API-first approach. Mobility requires integration across numerous devices and applications. An API-first architecture will give the corporation the speed and flexibility necessary for the overall continual transformation environment. This will require a robust catalog of APIs, which aids developers-and, most importantly, the ecosystem of partners-in navigating the challenges typically associated with data storage and retrieving data from systems of record, while still adhering to authentication and security policies that can be seamlessly implemented.
The foundational purpose of SOA is to improve existing architectures by addressing the major systems as services and abstracting these services into a single domain, where they become solutions. SOA can repeatedly leverage these services in the creation of composite applications. Think of a composite application like a house. Each room can be a standalone service. However, each of the rooms are architected in a way where rooms can be combined into floors and floors into a house. SOA allows the services to be leveraged individually or, through what is known as orchestration, it can bind services together.
One important feature of SOA is the interactions between loosely coupled services-that is, services that operate independently, with as little mutual dependence as possible. Because SOA allows for service reuse, there is no need to start from scratch after making upgrades and other modifications. This enables businesses to save time and money when individual applications are modified.

SOA-built applications can be adapted quickly to business requirements as they change. It's often just a matter of re-sequencing the services invoked or reconfiguring the orchestration to modify an application.
SOA is an effective approach to many of the architectural problems businesses face when moving to a utility environment, but some IT departments see SOA as something to buy, as opposed to something to do. Many SOA projects therefore amount to purchasing technology that has been sold as "SOA in a box." You get something in that box, but what you get is not SOA.
While SOA has enjoyed varying degrees of success in the past, the movement to cloud and mobile computing gives it renewed value. Clouds are typically API or service driven, and are therefore service oriented. As cloud, mobility, and SaaS become absolute requirements in the IT-as-a-utility continual transformation environment operating model, enterprises must utilize SOA, which includes the use of service directories, service governance, orchestration, and other SOA-related technologies.
Mobile Middleware
Mobile middleware is simply software that connects individual mobile applications with each other and other corporate applications and systems. It is the "language" that allows apps to talk to each other and talk to the company's IT architecture.
Like other types of application middleware, mobile middleware utilizes messaging services to enable communication between different applications. The utilization of messaging services is a cornerstone of an SOA architecture and the reason why an overall SOA architecture for both mobile and non-mobile applications is so important. Other key and necessary functionality of mobile middleware includes:
Application updates from an enterprise or public app store
Transcoding and rendering; converting source text and multimedia assets into the correct mobile format
Application-level security
Messaging and notification services
Integration brokering, including connectivity to other mobile applications and corporate systems
Location APIs to support geo-based apps
Capacity offload; cloud caching layer for increases in specific apps usage

Security
The importance of mobile security -- that is, the security of personal and business information now stored on smartphones-cannot be overstated. Businesses and everyday users alike now use smartphones not only to communicate but also to organize their lives and store sensitive personal information. As this becomes more prevalent in the business world, new risks are beginning to emerge. Access to the sensitive information now commonly stored on smartphones must be controlled in order to protect the intellectual property of companies whose employees use them in their professional lives.
Smartphones are computers, and as such they are vulnerable to attack. Text messages, for example, can be intercepted, and sensitive information can be accessed by unauthorized parties through vulnerabilities in Wi-Fi networks or in software, from the web browser to the operating system. Unsophisticated lay users can also be tricked into downloading and opening malicious software.
Various security countermeasures have been developed for smartphones, and IT departments as service brokers should establish standards for mobile data privacy and mobile app auditing and have a partner in the CTE ecosystem able to detect mobile malware.
Mobility is at the core of the convergence of trends and capabilities that is dramatically changing the operational IT landscape for businesses. These trends are allowing companies to move to a consumption-based utility environment that embraces business-user selection of the technology enablers and business-process providers necessary to best perform their functions. The business users of today and tomorrow will undoubtedly be self-selecting mobile enabled apps.
As the IT departments of today transform into a brokerage of these IT services, they will need to establish architecture, standards, and governance that is not just mobile compatible but truly a geographic- and device-independent architecture.
Key providers of Mobile Middleware include Kony, Salesforce.com (CRM) - Get Report , Oracle, PhoneGap, Appcelerator, IBM (IBM) - Get Report and SAP (SAP) - Get Report .
Scott Stawski is author of Inflection Point: How the Convergence of Cloud, Mobility, Apps, and Data Will Shape the Future of Business.
This article is commentary by an independent contributor. At the time of publication, the author held no positions in the stocks mentioned.