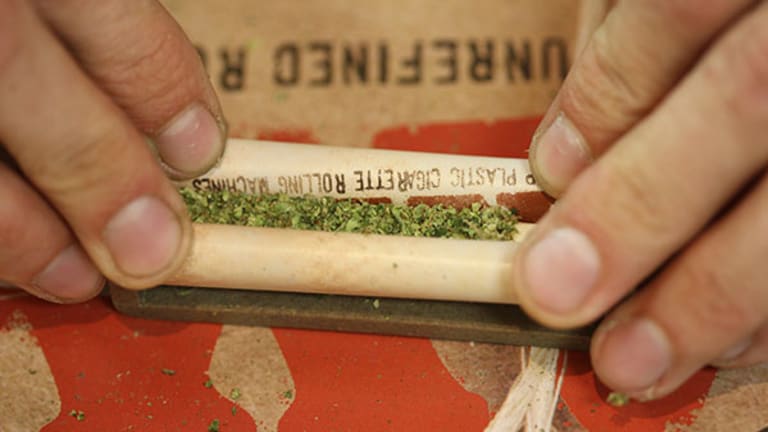 How Marijuana Could Help Determine the Outcome of the 2016 Presidential Election
Because of weed ballot initiatives in several key swing states in 2016, pot could have an outsized influence on the 2016 presidential election.
NEW YORK (TheStreet) -- The 2016 Presidential Election could draw the largest voter turnout this country has ever seen. And it's not because the list of Presidential candidates is exciting and controversial. It's because the huge millennial generation will be voting in this election and social issues, like the use of marijuana, could be at the forefront. Candidates' policies on the still illegal drug could play a major part in determining our country's next commander-in-chief.
Expect this millennial youth vote to be especially strong in key swing states like Florida and Nevada, where state marijuana ballot initiatives will be slated for 2016. 
At least 20 ballot initiative efforts in eight states are already gathering attention in their push for legal medical and/or recreational marijuana. Arizona, California, Florida, Maine, Massachusetts, Michigan, Missouri, and Nevada will each have marijuana initiatives on the ballot and account for 171 total electoral votes, most of the way toward the 270 votes needed to win the Presidency. A marijuana initiative on any state ballot will result in a significant voter turnout, lead mostly by increasingly socially liberal millennials.
This will ensure that marijuana legalization will be a potent issue for many key electoral states, guaranteeing the Presidential candidates will be drawn into the debate. Think the concept is far-fetched? Well, it happened in 2012.
Recreational legalization is a reality in several swing states that candidates will look to for votes. And if anyone is looking at Colorado as a benchmark or reference to implement future marijuana policy, it is likely the number of states with legal recreational use of marijuana will be greater than four in 2016.
Colorado is on pace to generate $125 million in tax revenuefor 2015 -- double the 2014 mark of $75 million. In fact, in 2014, the state collected less than $42 million from alcohol taxes making it the first state to generate more revenue from marijuana than alcohol.
In early 2015, an analyst with MarijuanaStocks.com developed a model which projects cannabis to be a $500 billion industry by 2030. This growth will be primarily due to medical marijuana applications, a booming hemp industry, ancillary business development, and the actual sale of marijuana.
Presidential candidates simply cannot ignore such numbers. Whether Jeb Bush or Chris Christie like it or not, marijuana is going to play a crucial role in the election of our next President. The topic will pull many first-time voters out of the shadows on election day along with what is sure to be one of the highest youth voter turnouts this country has ever seen.
The Youth Vote
For the first time ever, the majority of Americans are in favor of marijuana legalization. In a recent Pew poll, 53% of Americans said the drug should be made legal compared to just over 30% in 2010. 
According to MarijuanaStocks.com (disclosure: a Web site I run), 63% of Republican millennials feel that the use of marijuana should be legal. However, only 39% of Republicans are in favor of legalization -- still, it's the highest pro-marijuana rate ever for the GOP. On the other hand, a staggering 77% of Democratic millennials are in favor of marijuana legalization, while 59% of the general Democratic Party support the drug. And 58% of independents support legalization.
While the youth vote is never as significant in presidential elections as some would hope, polls show that youth voters' preferences have become more socially liberal over the last 15 years. A study from Reason-Rupe revealed that 34% of Millennials called themselves independents -- over triple the rate among Americans over age 30. Some 48% of young adults between the ages of 18 and 29 voted for Al Gore in 2000, whereas 66% of youth voters supported Barack Obama in the 2008 election (and 60% again in 2012).
The Significance of Marijuana Policy
The next election will not pass without discussing the topic of marijuana legalization. This could not have been any clearer than when earlier this year moderators of the Conservative Political Action Conference (CPAC), the most important conservative politics event, bombarded speakers with questions on the topic. The CPAC is sponsored by the American Conservative Union and is a requirement for top Republican politicians.
Nearly every major Presidential candidate was forced to discuss marijuana in their speeches and further address the topic in a Q&A session that followed. The CPAC crowd proved how significant the topic of marijuana will be in the upcoming election. The media will also fuel the debate as marijuana is an irresistible topic.
Republicans shouldn't shy away from the marijuana debate. Marijuana could be the perfect way for a Republican candidate to stand out in a party that is, for the most part, unappealing to millennials across a host of major issues such as abortion, same-sex marriage, taxes and health care. Within the party, we see a couple candidates leaning towards legalization, some open-minded about its medicinal purpose, and those completely opposed to any type of usage. The diversity on the topic is great for Republican candidates and enables voters to distinguish different positions for primaries.
For Democrats, marijuana policy stance is more synergistic. It allows for easy connections to topics Democrats will likely make focal points of their campaigns like criminal justice reform, race and equality, economic disparities and opportunity.
This article is commentary by an independent contributor. At the time of publication, the author held no positions in the stocks mentioned.