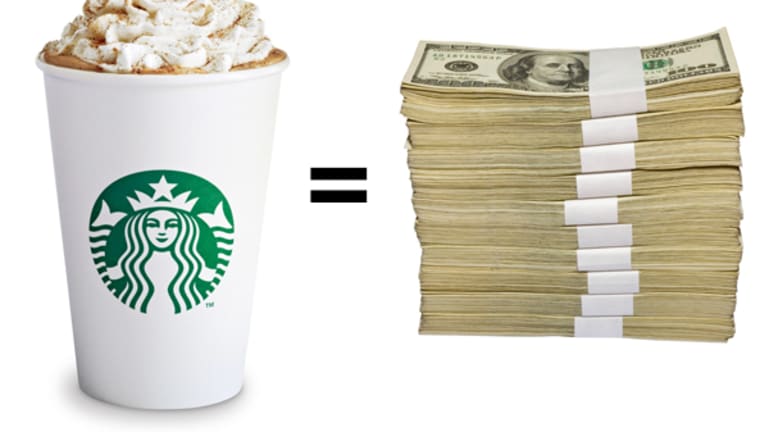 How Many Starbucks Pumpkin Spice Lattes Does It Take To Build a Stock Portfolio?
While many are heralding the return of the most popular coffee drink in modern history, I would like to point out the massive opportunity cost for apathetic investors.
The pumpkin spice latte may be one of the most popular coffee drinks in modern history, but it's also a massive investment opportunity cost, in particular among novice and apathetic investors.
If there was ever a perk about the summer coming to a conclusion, it's the fact that the most delectable espresso treat ever makes its way back onto the fall menu of coffee shops all over America. From Labor Day to New Years' Day the Pumpkin Spice Latte (or PSL, as its known to its fans) reigns supreme as one of the most common impulse purchases among working Americans. In fact, according to Starbucks (SBUX) - Get Starbucks Corporation Report , the company has sold well over 200 million Pumpkin Spice Lattes over the last 11 years, generating revenue at a rate of at least $80 million per year in the most recent seasons.
A single 16-ounce Starbucks Pumpkin Spice Latte, made with whole milk and whip cream, costs about $5.25 in addition to packing on a whopping 420 calories and 160 calories from fat. Nice! The biggest PSL enthusiasts will take advantage of its limited-time offering and will buy one drink every morning of the 5-day work-week, which amounts to $26.25 and a cool 2,100 calories. Frankly, the size of your stock portfolio should be growing at this time of the year -- not the size of your pants!
As some food for thought, I've provided a rough approximation of the value of some of popular Millennial-approved equities in the form of Pumpkin Spice Lattes. The biggest excuse that my millennial peers give for not starting a stock portfolio is, "I just can't afford it right now." The short and simple answer is, "yes, you can" -- and here's why.
Cutting just two PSL's from your weekly routine would buy you one share of Denny's Corporation (DENN) - Get Denny's Corporation Report . It's also roughly equal to the value of the pancakes, eggs, and sausage platter you bought with your friends at three o'clock in the morning last weekend. Denny's is also one of America's largest franchised full-service restaurant chains with over 1,700 locations and $2.7 billion in sales. Breakfast 24 hours? Awesome!
While you're considering buying those cute $20-hand-knit cozies for your favorite mug that holds your PSL, you might want to consider dropping some dollars into Etsy, Inc. (ETSY) - Get Etsy, Inc. Report , valued at approximately two PSLs. Popular among online shoppers, Etsy is an e-commerce website for sellers and buyers of handmade or vintage items and supplies, and held its IPO on April 16, 2015. Individuals who are both avid drinkers of PSL and shoppers of Etsy crafts should see this deal as a no-brain-er.

Odds are if you take the red eye from LAX to JFK you will easily chug five PSLs waiting to pick up your luggage and take an Uber home. Instead of having a day's worth of calories for breakfast, you could have picked up one share of JetBlue Airways Corp. (JBLU) - Get JetBlue Airways Corporation Report . In one year alone, Jet Blue has grown by a whopping 124.7% while the S&P 500 has barely returned over 4.5%. The good news is that despite this recent run to the upside, shares of Jet Blue are still undervalued relative to the airline sector, as it possesses a compounded annual growth rate (CAGR) of 55% over the next five years, compared to the S&P 500 at just 6.13%. Can you say, "Flight crew, prepare for takeoff"?

Here's a fun tidbit -- AT&T (T) - Get AT&T Inc. Report has approximately 123.9 million subscribers in the United States -- or roughly 40% of the population. Cutting just six PSLs out of your life would allow you to buy one share of the second-largest mobile telephone provider in the country. The same number of PSLs would buy you a share of General Electric (GE) - Get General Electric Company Report or Twitter (TWTR) - Get Twitter, Inc. Report . GE dominates the U.S. appliance market, and shares have returned roughly 84.7% over the last five years. Twitter has had a rough life since its IPO in 2013, but is one of the largest social media powerhouses and that's a business that's only going to grow. Go ahead and stick a hashtag before "Rocking Retirement" and Tweet that out to the world.
You have an iPhone. I know you do. Okay, I don't know really know that, you probably know someone with one. The price of an iPhone is nearly four times the value of a single share of Apple Inc. (AAPL) - Get Apple Inc. Report , so if you can afford an iPhone, you definitely can afford the stock. Also, if you gave up PSLs from opening day until Halloween you could buy one share of the tech-giant. Despite its pullback with the broader market, shares of Apple are still undervalued relative to the S&P 500 and are expected to expand at a growth rate of 17.2% over the next five years. Boom!
Eleven PSLs can pay for one share of Starbucks, and, if you buy one, over the course of your life you will be paying yourself back for every drink consumed. Need I say more?
This article is commentary by an independent contributor. At the time of publication, the author held no positions in the stocks mentioned.