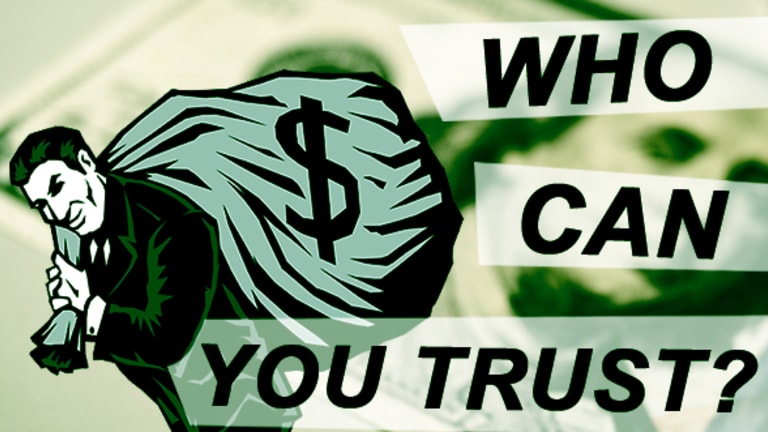 How Many Bad Brokers Could There Be? Don't Play the Percentages
Three finance professors examined data for 1.2 million people with licenses to work on Wall Street. They unearthed unsettling news about the nation's stockbrokers. Industry representatives call the study 'flawed.'
When you reflect on the grim news that 73% of financial advisers who get caught breaking the rules are still doing business with the public a year later, you might just cross your fingers and hope that yours is one of the good guys.
But here's a big-time reality check: The distressing results of research by University of Minnesota's Mark Egan and University of Chicago's Gregor Matvos and Amit Seru. The professors pulled together ten years of disciplinary information on 644,000 current and 638,000 former brokers and registered investment advisers and presented them in a March 1 working paper, "The Market For Financial Adviser Misconduct."
The chilling fact that nearly three-quarters of misbehaving brokers still have a job a year after they're cited for misconduct is just one of the trio's worrisome findings.
Here's another: While 7.3% of brokers nationwide have black marks, if you live in certain parts of California, New York or Florida, that rate can spike to 18% and higher. I'm talking about you, upstate New York. And you, Palm Beach and Monterey counties.
If that hasn't made you depressed enough, consider that the study likely understates the problem.
The professors relied on public records kept by Finra, Wall Street's self-regulatory operation. The Finra database, known as BrokerCheck, includes people who are unlikely to generate complaints because they rarely if ever deal with the public -- securities analysts and proprietary traders, for example. It wouldn't be surprising to see a higher percentage of wrongdoers in a study that looked only at retail stockbrokers.
In addition, brokers have had great success over the years persuading Finra arbitrators to approve expungements of complaints from their records, leaving researchers with incomplete data about alleged wrongdoing.
Ray Pellecchia, a Finra spokesman, said in an e-mail that Finra is reviewing the paper and that it had "reached out to the authors to discuss their methodology and conclusions." Finra already has increased its focus on identifying high risk brokers "for targeted, expedited investigations," he said.
Pellecchia said Finra itself has done research on brokers with disciplinary issues, citing a working paper published by its Office of the Chief Economist last August. That study paints an unflattering, but far less damning picture of brokers.
Where Egan, Matvos and Seru found that more than 7% of brokers had at least one problem on their records, Finra's Hammad Qureshi and Jonathan Sokobin concluded that fewer than 1.5% of brokers were associated with what they call "investor harm."
The discrepancy arises from the universe of brokers each team examined.
The finance professors included all 1.2 million current and former brokers in Finra's database. But the Finra team focused only on 181,133 brokers whose customer complaints had led either to awards or to settlement above certain thresholds -- $10,000 for complaints that settled before May 18, 2009 and $25,000 for settlements after that.
Finra further narrowed its focus by eliminating people who became brokers before 2000. Until 1999, broker records were filed on paper, and the Finra economists sought to avoid possible inconsistencies between the legacy data and the new online database.
It was reasonable for Finra to try to get a clean set of data. But the exclusion of brokers who got licenses before 2000 got me wondering whether some of the problem brokers I've written about would have been included. In many cases, the answer is no.
Larry Werbel, a penny-stock peddler who was indicted in January for securities fraud, wire fraud and other charges, wouldn't have made the cut because he became a broker in 1976. Christopher Cervino, another broker indicted in that scheme, got his license in 1996. You can read about them here.
Four out of the five former J.P. Turner & Co. brokers and supervisors that I wrote about in November 2014 would have been excluded. (The troubled firm withdrew its Finra registration last month).
And Mark C. Hotton, a former Oppenheimer & Co. broker who gets his mail these days at the federal penitentiary in Lewisburg, Pa., also would have been left out. He was sentenced last year to 11 years in prison for defrauding investors and companies of more than $9 million.
Last month, Finra sent requests to more than a dozen firms seeking information about how they establish, communicate and implement cultural values. "Firm culture has a profound influence on how a broker-dealer conducts its business, including how it manages conflicts of interest," the request said.
Investors might fare better if Finra did some probing of its own culture and conflicts. Salaries of its highly paid executives -- indeed, all of Finra's expenses -- are funded by the Wall Street firms it regulates. And Finra has arrived late to some big disasters where investors lost money to brokers whose records, kept by Finra, clearly showed that they were hurting customers.
Take Hotton. If his name doesn't ring a bell, you might remember him as the guy who wound up getting arrested on two counts of fraud in 2012 for fabricating a story about having access to millions of dollars in financing for a Broadway play, "Rebecca: The Musical."
Showtime! The Feds swept in on the  Rebecca fraud and got great publicity after The New York Times outed Hotton for duping a big-shot Broadway producer.
But the "Rebecca" scam was puny, putting a measly $60,000 in Hotton's pocket. Where were the authorities over the 22 years before that, when Hotton racked up a lien, a bankruptcy, a stolen property charge and 16 customer complaints? Oppenheimer has paid $5.7 million in settlements and arbitration awards related to complaints against him as of this writing.
So where was Finra?
In November 2012, Finra filed a 47-page complaint against Hotton and barred him, citing 14 causes of action including forgery and securities fraud. But by then, Hotton was no threat to the investing public anyway, already having been locked up related to his "Rebecca" fraud.
If Hotton's case isn't damning enough of Finra, consider its handling of his former employer. In the study released this month, Oppenheimer was the worst firm in the business for percentage of advisers -- 19.6% -- who had been disciplined for misconduct. Finra and other regulators have brought 82 cases against Oppenheimer, according to regulatory records. But why does a firm with such a bad record get to stay in business?
That Oppenheimer has been a repository of problem brokers is no surprise. This time last year, Securities and Exchange commissioners Luis A. Aguilar and Kara M. Stein wrote that the firm "has a failed compliance culture, from top to bottom."
And a failed truth-o-meter, too. A spokesman told me in 2012 that any claims about Hotton's activities came to the firm's attention after he left in 2009.
Not quite. A lawyer who'd sued the firm on behalf of an investor told me in an interview in 2012 that he'd contacted Oppenheimer's in-house counsel in 2006 to register serious reservations about Hotton, and suggested the firm investigate him.
In December 2007, the Securities and Exchange Commission wrote to the firm's chief compliance officer to say Hotton had traded improperly in 11 clients' accounts. The letter was produced during the discovery phase of litigation against Oppenheimer and Hotton three years ago.
To save you doing the math, Finra didn't bar the guy until five years after the SEC missive.
Jacqui Emerson, an Oppenheimer spokeswoman, said in a statement that the firm has made changes in its senior leadership, branch managers and adviser ranks, as well as adding more than 30 people to its compliance and audit teams. Oppenheimer also has enhanced its surveillance capabilities, she said. The firm saw the need to address its "legacy issues" and is confident its new safeguards will ensure "the highest ethical standards," according to the statement.
We'll check back on Oppenheimer from time to time. Toxic cultures are hard to change.
Of course you can't have an embarrassing study about brokers without the lobbyists at the Securities Industry and Financial Markets Association weighing in. Sifma, as the group is known, issued a press release last week slamming the professors' report and suggesting it was unfair to assume the worst when brokers settled with customers. Many settlements have "nothing to do" with misconduct, Sifma said, but the study included them anyway.
Matvos, one of the academic authors, said in an e-mail that the average settlement between broker and customer is over $100,000, which sure doesn't sound like the payoff for a nuisance suit against a principled broker to me.
Sifma also complained that many of the arbitration awards used in the professors' analysis were related to "product failures" that don't necessarily implicate brokers. Indeed, Wall Street would have us believe that no one is responsible when financial products blow up.
You can believe the spin of the lobbyists or you can protect yourself and shun brokers who have black marks. If the paper released this month isn't enough to convince you that it's worth checking a broker's record before you do business with him, I don't know what is.