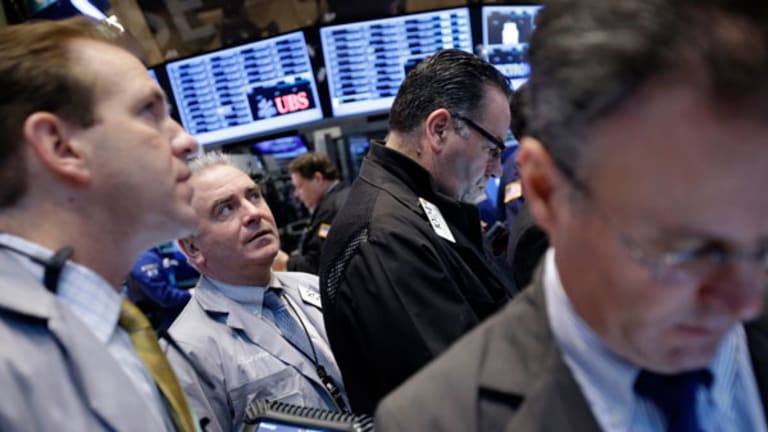 How Low Can the S&P 500 Go?
With last week's biggest weekly drop in the S&P 500 since late January and a Fed meeting ahead, the question is whether we headed even lower.
NEW YORK (TheStreet) -- For short-term traders, last week was rough. It was difficult to make money on either side, long or short. With such a volatile and choppy environment, set-ups are more likely to fail and trying to anticipate the next move is a guessing game.
This week could be no different or worse. We have geopolitical strife with Ukraine. We have the Federal Reserve's Federal Open Market Committee and the ongoing asset-purchase tapering, plus options expiration.
Although I do not believe we have seen the so called "top," and that the bull market has more room to run, I am seeing more to be concerned about in the short term.
First, for the first time in months, I am seeing better short set-ups than long ones. Second, we are not yet considered oversold based on a popular metric measuring stocks below their 20-day moving averages.
[Read: Here's Apple's Next Big Innovation]
Third, the recent breakout in the S&P 500 during the first week of March that took prices over 1880 represented a new 20-day. This high was not confirmed with 20-day highs in stocks, which is considered to be a divergence.
Finally, during last week's drop there was a lot of technical damage done to many high-flying momentum stocks last that deserves our attention.
Not yet considered oversold: 

New SPX 20-day highs were never confirmed with new 20-day highs in stocks:
Levels to watch:
We are very close to hitting the 50-day moving average  (at 88.30) on the Nasdaq, as seen by the PowerShares QQQ Trust (QQQ) - Get Report, and I would be surprised if we didn't at least visit it. We are a bit further away on the S&P 500 and iShares Russell 2000 Index (IWM) - Get Report, but they are looking more and more likely to be paying a visit in the near term. Read the notes on all three charts.
[Read: 10 Worst Cars of All Time, Revisited]
Note that the 20-day weekly moving averages on all three have been a place of support all through 2013 and for the most part 2014 as well (on a weekly closing basis). If we get there, the reaction or lack thereof will be telling. It would also be wise to keep an eye on U.S. Treasuries (such as the iShares Barclays 20+ Yr Treasury Bond (TLT) - Get Report). If they continue to creep higher it is suggestive of a risk-off environment and hedging. 
It is important to keep in mind that this could all be a bear trap similar to the ones we have experienced all through 2013. Trying to short can be quite challenging due to the frequency of violent bounces. For those looking to short next week, it may be better to wait for stocks to render strong bounces that don't hold or get stuck at resistance levels. 
Why options expirations could play a role in further downside
[Read: We Have a Crush on Our Prepaid Debit Cards]
There is a large amount of outstanding SPY puts at the 180 put strike. Sometimes, if the trend is leaning toward the direction of a large open interest strike, that strike becomes a magnet of sorts. This is a result of option sellers rebalancing their stock or ETF position to remain delta neutral.
In this case, if we see further selling next week, as all the open interest put strikes get closer to or in the money, sellers must sell more stock short leading to a domino effect.
To learn more about options please visit my site at www.sassyoptions.com.
This article represents the opinion of a contributor and not necessarily that of TheStreet or its editorial staff.