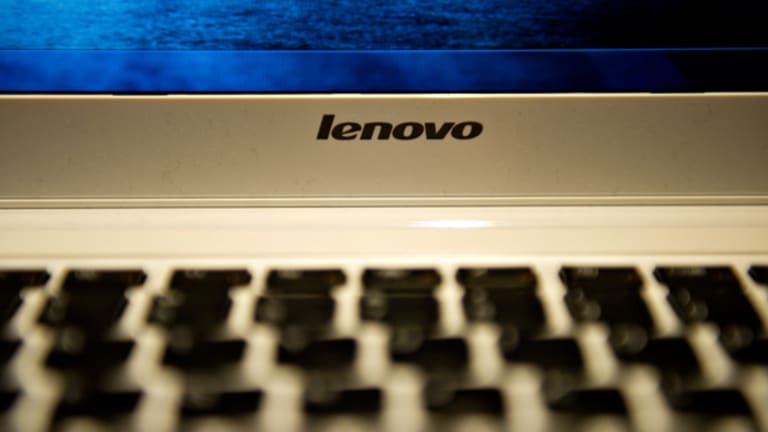 How Long Can Lenovo's Strategy Last?
Lenovo got to the top in the PC market as the market started collapsing. Is it buying the same trouble in servers and smartphones?
NEW YORK (TheStreet) -- Lenovo (LVNGY) has a fairly simple strategy.
Buy a big name brand. Move it to China. Drop the costs and export. Repeat.
This worked well with the IBM (IBM) - Get Report PC division, which Lenovo bought in 2005, when the PC was already a mature market. Lower prices and the IBM brand gave Lenovo the leading share of that market by last year.
But it was the leading share in a collapsing market. Total shipments for 2013 were down 10%, according to IDC. Lenovo was able to defy the trend, shipping 15.3 million units during the fourth quarter and taking the market-share lead from Hewlett Packard (HPQ) - Get Report.
Lenovo now wants to repeat the trick, this time with IBM's server unit and Google's (GOOG) - Get Report Motorola brand. Both deals will take time to close, partly because there are 2,000 patents involved and partly because U.S. lawmakers don't like selling our best brands to China.
[Read: IBM: Why We're Selling the Low-End Server Business to Lenovo]
The question is, however, whether the trick will work again, and, if so, for how long?
Lenovo is traded as an American deposit receipt on the U.S. market under the symbol LVNGY, and before the latest deals were announced, John Burke of Burke Financial Strategies was touting it as a "cheap China play."
Since the ADR began trading in the U.S. in 2004, the shares have mainly made steady progress, collapsing alongside U.S. shares from late 2007 to early 2009, increasing in value by 446% during the last five years and falling again in the weeks after the two new deals were announced.
[Read: IBM Inks $2.3 Billion Server Deal With Lenovo]
Lenovo sales doubled between 2010 and 2013 from $16.6 billion to $33.9 billion. Profits rose 500% during that time but from a very low base. They came in at $635 million for the year ended last March, meaning margins are wafer-thin. Lenovo's third-quarter revenue, announced this month, came in at $10.8 with $321 million in profit, mainly due to smartphone deliveries in China.
There is anecdotal evidence that Lenovo's PCs are having quality issues and the latest ThinkPad designs are getting thumbs-down from the U.S. press.
Lenovo is spending $2.3 billion on the IBM purchase and $2.9 billion on the Google purchase, meaning it has committed more than $5 billion in capital. Once those acquisitions are complete, it hopes to have higher-margin businesses with a global footprint and brands with a better reputation than those of its China rivals.
But will it?
According to Gartner Group, server volume is increasing but the revenue the servers bring in is decreasing. That's why IBM, which led slightly in U.S. market share over Hewlett Packard for the second quarter of 2013, wanted to get out of the market.
There's another factor in the server market that didn't exist in the PC market, and that is the rise of "other," primarily companies such as Google and Facebook (FB) - Get Report that make their own servers out of parts. That now represents more than one-fifth of the market and was growing 8% year-over-year last summer.
[Read: 9 God-Awful Dating Apps]
Lenovo's hope is that its lower cost structure and tighter margins can win it global share here. IBM had less than 10% of the global server market in the second quarter of 2013, while Hewlett Packard and Dell had nearly a quarter of it each. The "other" category represented nearly 40% of the global market, according to Gartner. And another Chinese company, Inspur, had tripled its share over the year, to 2.7%, without having a recognizable brand, or a brand's costs.
Analysts mainly downgraded Lenovo's stock after the two purchases were announced, believing that Motorola will continue to lose money for several years after the deal gets done.
The problem for Lenovo is that as soon as it gets into markets, they mature, and it finds itself in the same tight profit fix it was in before. With these two deals not expected to close until the end of 2014, if then, it could be buying itself more of the same trouble it was trying to get away from.
At the time of publication, the author held Google.
This article was written by an independent contributor, separate from TheStreet's regular news coverage.