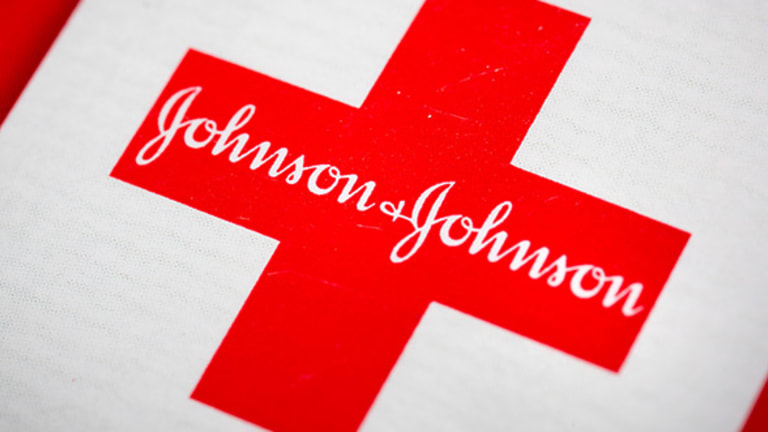 How J&J Defied Brexit and Became the Year's Top Health Care Stock
This industry stalwart has proved its mettle by outperforming not just the broader market but also its peers. Here is why it belongs in investors' portfolios.
This industry stalwart has proved its mettle by outperforming not just the broader market but also its peers. Here is why it belongs in investors' portfolios.
If there were ever an A-team of health care industry giants, Johnson & Johnson (JNJ) - Get Report would make it to the top and stay there for a very long time.
This blue chip is among the top growth stock winners this year. It defied serious headwinds, including the U.K.'s decision to leave the European Union, to generate big gains for its lucky investors.

J&J has it all: an extremely diversified revenue base, solid growth and efficient research & development. For investors, it is a steady cash-generating machine.
The stock is up 15% so far in this volatile year and has outperformed health care/pharmaceutical names such as GlaxoSmithKline and Pfizer. J&J also weathered the Brexit, while every sector except utilities tanked.
Keep in mind that 53 years of successive dividend hikes have made this large-capitalization stock a favorite for passive income earners as well.
How did J&J beat back the challenges and obstacles of this volatile market to become the best health care stock of the year?
Since 1975, there has never been a single calendar year when the S&P 500 fell more than 5% that J&J didn't outperform the index, which makes the company a superb wealth protector.
This has been a year of uncertainty, and J&J has sailed through.
When a $325 billion company keeps increasing sales and profits, retains its 70% gross margins, and generates $14 billion to $15 billion in free cash flow every year, investors will almost always take refuge in its stock.
As Pfizer stumbled from one failed merger attempt to another and big pharma came under drug pricing pressure in this presidential election year, J&J's appeal only grew.
As the S&P 500 gave up gains and went into negative territory and the S&P 500 Healthcare, which is a major defensive index, fell 4% year to date, J&J shares perked up. In fact, the stock has double-digit returns so far this year, compared with AbbVie (1.27%), AstraZeneca (down 14.32%), Bristol-Myers Squibb (4.68%), GlaxoSmithKline (3.89%), Merck (MRK) - Get Report (5.23%) and Pfizer (6.69%).
J&J's three main business units, consumer products, medical devices and pharmaceuticals, are doing well.
It is practically impossible for consumers to have not used a J&J product, which speaks to the depth of the company's economic moat.
J&J's strong innovation platform has meant new product launches, which have contributed substantially to the sales of this health care titan.
Massive economies of scale have helped the company navigate tricky waters. As a stable grower, the company and its stock offer succor during times of distress, particularly in the wake of the Brexit bedlam which threatens to slow down the global economy.
Health care, J&J's principal area of business, remains largely recession-proof, and the company's superior metrics and balance sheet strength give it an edge over Eli Lilly, Novartis and Pfizer.  
The company's earnings have consistently risen 5% to 6% every year, and J&J delivers about 2.5% to 3% in dividend yields.
J&J is expected to continue doing the same over the next five years in terms of earnings growth, which is projected at 6% annually.
For investors who are building retirement wealth or simply want to earn safe and growing dividends for a lifetime, J&J screams for a place in their portfolios.
At a price-cash flow valuation of 18.3 times, J&J deserves its premium over AbbVie, Merck and Pfizer, which are all in a range of 12 to 13 times.
---
Five years from now, you will probably wish that you had grabbed this opportunity. J&J is a smart bet, but for those who are looking for other growth opportunities, here is a genius trader who turned $50,000 into $5 million by using his proprietary trading method. For a limited time, he is guaranteeing investors $67,548 per year in profitable trades if they follow his simple step-by-step process. Click here for details.
See full Brexit coverage here.
This article is commentary by an independent contributor. At the time of publication, the author held no positions in the stocks mentioned.