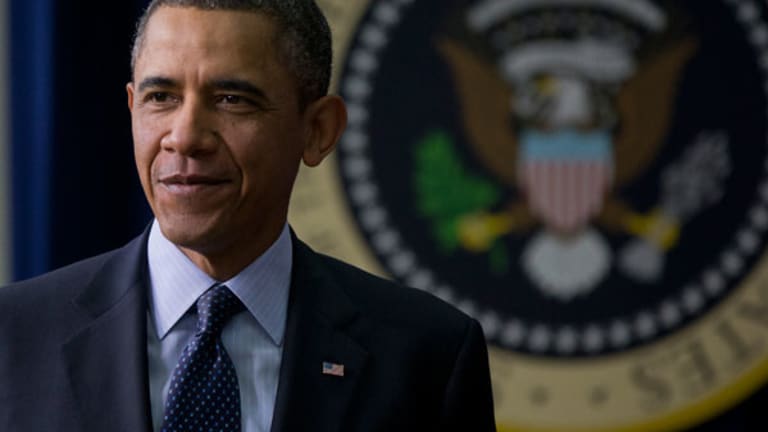 How Investors Should Play Obama's Solar Energy Push
President Obama announced on Friday an expansion of solar energy use and initiatives for more renewable energy jobs. But how does that play out in stocks?
NEW YORK (TheStreet) -- President Obama announced on Friday that he will expand solar energy use and create more jobs through renewable energy initiatives. He claimed that expanding solar energy use will create jobs, lower consumer prices and save companies billions of dollars. He praised Walmart (WMT) - Get Walmart Inc. ReportWMT, General Motors (GM) - Get General Motors Company ReportGM, Apple (AAPL) - Get Apple Inc. ReportAAPL and Home Depot (HD) - Get Home Depot, Inc. ReportHD for their commitment to lowering energy costs. He suggested that by lowering energy costs, companies like Walmart can offer lower prices to consumers and create more jobs. He stated that Walmart will save as much as 1 billion dollars a year in energy costs.
Walmart isn't going to pass that savings onto it's employees, or it's consumers. This is capitalism, not some philanthropic endeavor. Companies want to make money, as they should, but to present clean energy initiatives as if they were to save the planet is insulting to the American public. Plus, making an announcement at Walmart, a company known for mistreating their employees by paying them as little as possible, and it's antiunion stance was a bad choice.
Speaking at Walmart sends a clear message that Obama supports Walmart and their choices. Contrary to his speech at UFCW in April 2008 where he stated "I don't mind standing up for workers and letting Walmart know that they need to pay workers a decent wage and let folks organize"... Maybe now he's looking to get hired at Walmart when he leaves the White House and take advantage of the $1 billion in savings. 
Obama's battle cry was "we're all (the federal government) going to pledge to waste less energy". Too bad the administration isn't pledging to waste less money in general.
Will these initiatives effect stock performance of solar companies such as First Solar (FSLR) - Get First Solar, Inc. ReportFSLR, JA Solar (JASO) JASO and SolarCity (SCTY) SCTY?
FSLR and JASO beat earnings estimates last week. First Solar traded lower after reporting positive earnings, while JA Solar traded positively on Friday. First Solar looks like a shorting opportunity if you have a short-term outlook, but the chart is currently forming a giant bullish flag signal with a breakout level of about $69.50. On Friday, JA Solar's chart formed a bullish piercing signal, but has been trading sideways for quite some time.
Both JASO and FSLR are great charts to trade, and offer tons of opportunity for traders. SolarCity is in a downtrend since reaching it's 52-week high of $88.35, down 41% from that high. SCTY formed a dark cloud cover signal on Friday and looks like a great shorting opportunity for Monday. 
Will Obama's announcement change investor sentiment in the coming weeks? 
The answers are unclear, but it is clear that solar is smart and is becoming more widely accepted globally. Maybe now is the time to invest in solar companies while the share prices are down.
>>Read More:
ObamaCare Really Does Encourage Unemployment and That's a Good Thing
U.S. Government Failed to Inspect Higher-Risk Oil and Gas Wells
'Peak Oil' Burned as Exxon, Chevron, Shell See $100 a Barrel
The author held no positions in stocks mentioned in this article.