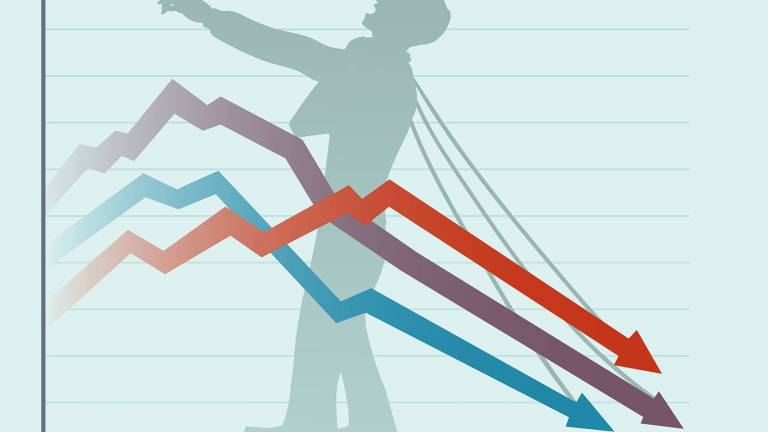 NEW YORK (TheStreet) -- It was the week I'd been waiting for.
The stock market's recent sell-off and sudden swing back- including a record 1,000-point intraday drop -- finally vindicated my strategy of going long on cash and avoiding the volatility of a retirement portfolio overweighted in equities.
Okay, that would be overstating things. My so-called strategy was really a posture of fear and indecision that has kept me on the sidelines, away from the market's action since the financial crisis. The pie chart my broker sends me every month is basically one boring shade of cash, with an anorexic sliver that represents an Israeli tech fund my wife sentimentally holds onto, no matter how much it shrinks.
I'd been mentally shorting stocks for months -- not hoping for a total crash, since that could trip all sorts of bad news. It's just that when you're out of the game, you don't want everyone else to get rich from their own bullish version of doing nothing.
If I had an actual strategy, it would have been to pounce while prices were falling, recognizing the healthy fundamentals of the U.S. economy and scouting opportunities to buy in the face of panic. That's what the smart money did, some version of Warren Buffett's maxim: "Be fearful when others are greedy and greedy when others are fearful." Alternatively, some hedge funds profited handsomely by making black-swan bets that equities are significantly overvalued, taking advantage of whiplash ups and downs they say will continue even as the market regained much of its late August losses.
But while I've been pining for the right moment merely to grab shares of Wells Fargo (WFC) - Get Wells Fargo & Company Report and Apple (AAPL) - Get Apple Inc. (AAPL) Report , or slip into a large-cap mutual fund to benefit from the inevitable bounce from the recent drop, I can't seem to pull the trigger, and the pie begins to look more like a mattress.
I wasn't always such a wuss. For years I held the requisite stock funds, but never understood why they barely bumped when the market surged and yet went into a freefall with any bearish turn. I once let a Merrill Lynch broker convince me to buy shares of the Fuddish-sounding Perkin-Elmer (PKI) - Get PerkinElmer, Inc. Report , which naturally tanked until after I sold them. And my sympathy for an old-time, hair-dyed adviser at Smith Barney softened me for his pitch for "dollar-cost averaging" heading into the dot-com collapse. I doubled-down on blue-chips as they disappeared into a sink hole.
What ultimately shook my faith in the industrial investment complex was a traumatic encounter with auction-rate securities in 2008. The low-risk, "cash-like" instruments our broker sold us to capture slightly higher yields than a money market fund suddenly seized up when it turned out that many ARS were tied to baskets of subprime mortgages. After aggressive action by attorneys general in New York, Massachusetts and Missouri -- not to mention the outraged letters I wrote to every regulator I could find -- our funds were redeemed. But from thence forward, my trust in financial products and for whatever passes as Wall Street was shaken.
That means I've missed every rally, updraft and pop in the historic bull market that followed the fall of Lehman and Bear Stearns. More recently, I ignored my broker's plea to try a market-linked security limiting downside loss and wavered when a friend urged me to buy into Gilead Sciences (GILD) - Get Gilead Sciences, Inc. (GILD) Report ahead of a rumored FDA approval for its miracle treatment for Hepatitis C. As much as we love Shake Shack (SHAK) - Get Shake Shack, Inc. Class A Report and Fitbit (FIT) - Get Fitbit, Inc. Class A Report , their IPOs sent me AWOL. I don't have time or zeal for dipping in and out of exchange-trade funds. Even CDs have given me pause ever since the bank bailouts.
This is pathetic, but at the same time I haven't lost a single night's sleep from any of the countless corrections that have occurred in recent years. The Flash Crash? It was merely a curiosity in our household rather than a cause for anxiety. Ditto Greece's bailout, the dive in oil prices, parsing the Fed's use of "patient" for raising interest rates, or even Dow Theory, in which drags in transportation and industrial stocks signaled a reversal for those who were watching.
Now comes the China yuan syndromethat sparked the latest meltdown, and my pulse barely nudged, just as it hasn't reading headlines such as "Gold Falls, Despite Safe Haven Status" or "What Does the Stock Market Plunge Mean for Your 401(k)?" Going all in on cash has made me the Nigel Tufnel of risk-averse investors, after the Spinal Tap guitarist who set his amps to 11 because it was one notch higher than 10.
I realize this means the value of my retirement funds may forever be eroding, especially if inflation kicks into higher gear. Given that money markets continue to pay near zero, I'll have trouble keeping pace with the 4% withdrawal considered the norm for nest egg draw-downs. Will I have to work until I'm 85?
Luckily, I'm a big saver, with few hobbies, a low-interest fixed mortgage and only one child left for college. In fact, my adviser recently told me that for the past 10 years, my portfolio has grown a per-annum average of nearly 20%. The extraordinary, Icahn-likeperformance simply reflects a near-absolute gain from a once-a-year, tax-reducing contribution that goes straight into the cash pile. It's not much of an investment strategy, but in times like this, humble pie looks pretty appealing.
This article is commentary by an independent contributor. At the time of publication, the author held no positions in the stocks mentioned and holds no equities of any kind.