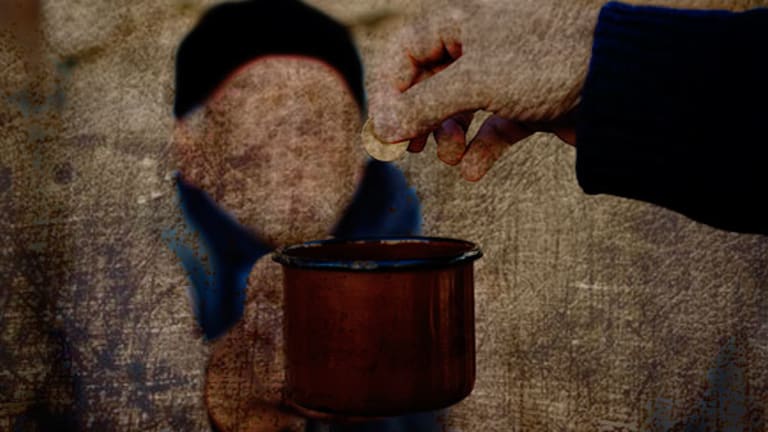 How I Accidentally Bought Back a Share of My Humanity
A holiday season encounter with a street person hard by the halls of power left this TheStreet editor moved and humbled.
Editor's Note: This article was originally published Dec. 24, 2012. As the holidays prompt compassion for those less fortunate, TheStreet editors thought it would be appropriate to share this short account again. Minor editorial changes have been made.

Won't somebody tell me?
Answer if you can,
I want somebody to tell me
Just what is the soul of a man
-- Blind Willie Johnson
NEW YORK (TheStreet) -- There's a beggar, a woman in her early 40s, I guess, who's often in the Wall Street neighborhood. We got to know each other, by sight, when I worked here years ago, before 9/11.
Coming back to Wall Street last year, after a decade of being away, I ran into her and the same sort of pattern of acknowledgment started up again, with occasional conversations. She had also been away -- doing what, I don't know -- and had recently returned to the old occupation in the old neighborhood.
A few days ago, I was hurrying to the PATH train and she was coming the other way. I said "Hi," and she stopped, expecting a conversation. Miscue on my part. I had no time for that.
Well, I figured, I rarely give her money and that's what she does down here. Let me give her something to make her happy and then I can keep moving. Reach for my wallet -- all I have are $20s.
Now I'm stuck. Of course, she is watching me looking in my wallet. Every commuter knows you don't do that. You plan ahead, you have loose change handy in a pocket, or you ignore the beggars and keep walking. It's misleading and even dangerous to pull your wallet out. Damned stupid thing to do.
But it's Christmas and this woman begs for a living. I am grateful -- consciously and consistently grateful -- that I've never been in that position for longer than the time it took to bum bus fare home as a young man. That's all it takes, a few hours. That'll put the fear of God into you.
I pull out a $20 and give it to her.
She gives me this look -- I've seen it before. Last year, when I recognized her on Wall Street and reminded her that we had met before 9/11, that I had been worried about her right after the attacks, I got the same look. Like I was something that was trying to fool her, a mirage.
I mumble something and try to leave. But now, with the $20 in her hand and that look on her face, she gently grabs both of my shoulders and pulls me in and down for a hug and kisses my cheek. Then she says: "Merry Christmas."
She knew the decision I had made -- my hesitation was transparent. She knew I wasn't a saint. But I had done the right thing in the end. That's all that mattered. For a moment, the distance between us -- the mirage -- vanished, and we became real people to each other.
I walk away, her watching me, and I'm thinking, You know what? Money sucks.
The gulf of experience between money and no money is so wide as to be almost unimaginable. Begging -- not just begging but being an anonymous pathetic on the sidewalks in one of the money capitals of the world -- damages your emotions, corrupts your view of the world, changes your view of yourself.
And, for all that, it says nothing about what is inside a person, who you actually are or who you could be.
Blind Willie Johnson, a blues singer active in the 1930s, is well-known to every aging rock star on that stage at the 12-12-12 Hurricane Sandy relief benefit at Madison Square Garden this month -- likely the younger ones too. His music remains a huge influence.
NASA put a Johnson recording on board Voyager 1 -- Dark Was the Night, Cold Was the Ground. It's headed to the stars as we speak, along with J.S. Bach and others, an immortal message in a bottle for any aliens out there: This is who we are.
Blind Willie Johnson was a beggar -- an evangelist with a small following, he preached and sang on street corners. Except for a few bucks from a few recordings, that's how he made his living: begging.
He died after his home burned down. He was sleeping in the open in his hometown, completely broken, sick, penniless and homeless.
Maybe my beggar isn't writing songs that will someday represent the human race. Maybe she's not writing a novel in her spare time.
Or maybe she is. How would I know? Her current circumstance tells me nothing.
All the way home, back to Asbury Park, N.J., I kept thinking, I want somebody to tell me, just what is the soul of a man.
-- Written by Carlton Wilkinson in Asbury Park, N.J.