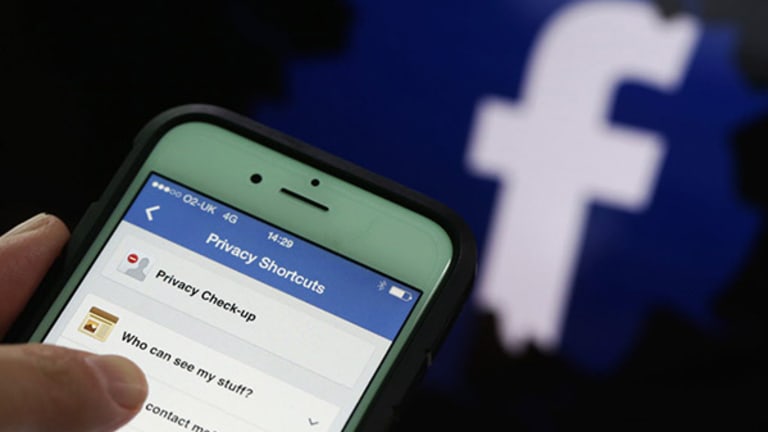 Facebook and Apple Are Going in Different Directions, Jim Cramer Ponders How Far They Will Go
The charts reveal areas of support and resistance for these two stocks.
The charts reveal areas of support and resistance for these two stocks.
This story was originally posted on April 28 at 9:15 a.m.
Apple (AAPL) - Get Reportmissed revenue estimates when it reported after the bell on Tuesday, and the stock was down 6.3% in Wednesday's session. The inverse occurred when Facebook (FB) - Get Reportreported blowout revenue numbers after the close on Wednesday, taking the stock trading up 9% in after-hours trading.
Apple looks like it is headed lower, and the sky seems to be the limit with Facebook, but it is never that easy for investors, and the dynamics of the market are still in play for these stocks. It is important at inflection points in price to look at potential areas of support and resistance on the charts and to construct a technical framework around which to access future action.
Let's take a closer look at these two stocks, which are both holdings in Jim Cramer's Action Alerts PLUS charitable portfolio.
Apple
The weekly chart of Apple shows the stock making a head and shoulders top in the beginning of 2015 and then breaking below neckline support in August. Three weeks later, it had dropped down to the 50% retracement level of the 2012 low and the 2015 high but was able hold there and eventually move back up to the neckline. This former support level now acted as formidable resistance and forced the stock back down to earlier Fibonacci support. A second bounce attempt failed at the downtrend line drawn off the July and November 2015 highs, establishing another lower high above horizontal resistance.
The stock is once again entrenched within the 38% and 50% retracement parameters, and they should continue to provide important technical support and resistance. Hopefully for the bulls, Apple will begin a period of healthy consolidation like it did in the first three months of this year and break back above the 38% retracment level, but penetration below the 50% retracement level makes a lower swing low, and there is little in the way of further support on the weekly or daily charts until the the 62% retracment level in the $83 area.
On Wednesday, Jim Cramer and Research Director Jack Mohr cut their price target on Action Alerts PLUS holding Apple to $130 from $140. They wrote:
"Bottom line, we believe Apple has an abundance of additional growth drivers that can propel earnings long term. Unfortunately, the long term is irrelevant for the time being, as the focus exclusively rests on whether or not it'll hit its next-quarter targets/sell-side forecasts."
Facebook
On Tuesday, Facebook closed below its 50-day moving average, and the argument could have been madethat there was a double top in place and the stock was headed lower. The double top scenario was a result  of the formation of two bearish candlestick patterns that formed this year, both occurring at the same price level. An eveningstar pattern formed at the beginning of February, consisting of a large white or up day candle, followed by a narrow opening and closing range "doji" and completed by a large down candle. It reflects a sharp transition in investor sentiment from bullishness to bearishness and often signals a market top.
The stock then pulled back to a zone delineated by the rising 50- and 200-day moving averages where it was able to reverse the downside momentum and mount another assault on the $118 area. This retest of February's "eveningstar" high saw the formation of a second bearish signal at the end of March called "dark cloud cover," and it consists of a large dark candle that follows a large white candle. The dark candle gaps higher at the open and then closes below the mid-point of the white day. It was followed by another decline this month to the 50-day average with negative money flow and a loss of positive price momentum.
A bullish hammer candle formed in Tuesday's session at this month's previous low, and the after-hours price action following Wednesday's reporting now suggests that not a double top but a double bottom may be in place. Facebook will gap above the key $118 area at the open this morning, making a new all-time high, and then that resistance becomes support.
Jim Cramer and Research Director Jack Mohr said that Wednesday's earnings proved the "dominance" of Facebook, their largest Action Alerts PLUS holding. "We fully embrace Facebook's continued outperformance," they wrote. "The ability of this management team to execute on its lofty goals is unmatched and its investments are clearly paying off."
This article is commentary by an independent contributor. At the time of publication, the author held no positions in the stocks mentioned.