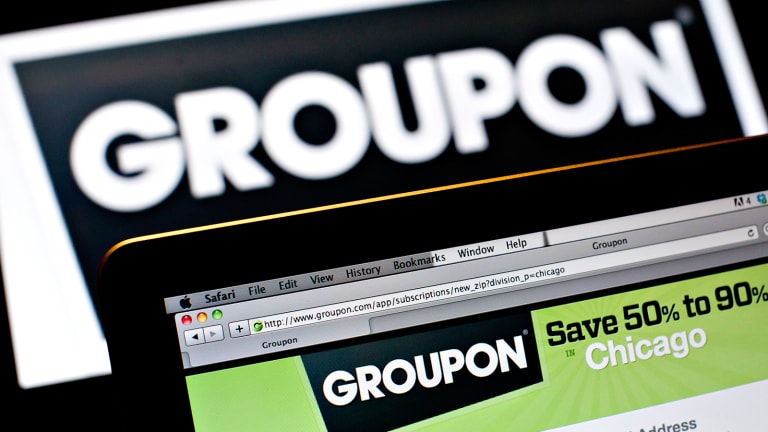 How GrubHub, Groupon Could See More Upside
Both Groupon and GrubHub produced better-than-expected earnings reports on Thursday, pointing a possible merger opportunity.
After Groupon (GRPN) - Get Report released its second quarter earnings with $756 million in total revenue that beat analysts expectations, shares spiked 6.4% to a midday high of $5.12 per share. Shares ended at $4.87 Thursday.
These numbers may have shown analysts some promise for the Chicago-based company. Jefferies analysts noted on Thursday morning the quarter was a "beat and raise," with signs of improvement. 
"Results were driven by solid momentum in NA (double-digit gross profit growth and improving Shopping margins). However, GRPN's transition to a more reliable footing remains a work in progress and we expect mgmt to keep executing on its turnaround plan," the note read. 
Despite the positive results, TheStreet's Jim Cramer said there are more ways that Groupon could realize value for shareholders: one being a merger with food delivery service GrubHub (GRUB) - Get Report . GrubHub traded up 25.93% in afternoon trading on Thursday to $38.79 per share, due to the unwavering consumer demand for delivered food. The company's revenue increased 37% year-to-date to $120.2 million.
"I think that GrubHub, which also put out a great quarter, should merge with them because GrubHub delivers food and so does Groupon. So you got coupons, you got food, you got mobile, what a great combination. That would be a great rival -- I wanna put those two together."
Groupon CEO Rich Williams said in the earnings report that the company added more than 1 million new customers, the most in more than two years. 
"We're excited with the progress of our marketing programs to date and their effectiveness in introducing millions more people to our marketplace," Williams said.
Cramer echoed the notion, adding that the market cap is growing (currently at $2.72 billion) and the company is holding more than $700 billion in cash. 
"This was a great quarter for them," Cramer said. "Very operating cash flow positive by the end of the year. They will no longer be losing money, next year they'll be making money."