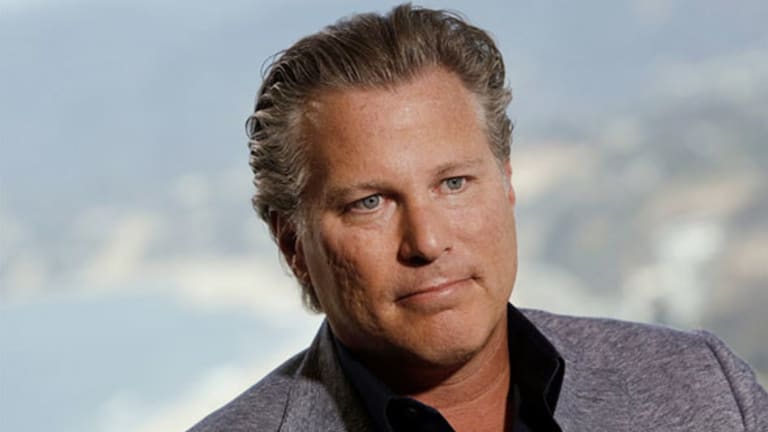 How Golden Is Ross Levinsohn's New Parachute?
New L.A. Times publisher Ross Levinsohn sees his compensation start at $1 million a year, with bonuses and content expansion incentives on top of that. And then a nice parachute.
Tronc Inc. undefined , the country's third-largest daily newspaper company, may be in the midst of cost-cutting, jettisoning three corporate executives this week alone, but it's paying top dollar to its new publisher and CEO of the Los Angeles Times, Ross Levinsohn.
Levinsohn, who was announced Monday as the new business head of the flagship paper, will be well paid to come on board -- and should he leave. By single-newspaper publisher standards, his compensation is generous. 
In a recent SEC filing, Tronc disclosed:
An employment term of three years, through August 2020.
That Levinsohn will be paid about $1 million a year in salary, $600,000 per year and an additional $100,000 per quarter.
A cash bonus of up to 166.66% of his base salary. It's unclear whether that percentage is based on the $600,000 annual payment or the $1 million total.
An incentive package that places emphasis on selling content outside the U.S., of 10% of gross sales.
Stock shares -- exercisable on a vesting schedule of three years, in three equal installments over the term of his agreement --- worth about $8.5 million at current Tronc share pricing. Levinsohn will receive 400,000 shares, plus 200,000 more in the form of stock options.
The global content sales piece of the package aligns with both the statements of Levinsohn -- "We have global ambitions for this brand, and I believe the Los Angeles Times has the potential to further expand and deepen its societal and cultural impact regionally, nationally and around the world" -- and CEO Justin Dearborn, over time, on the global business potential of the Los Angeles Times' reach.
Looks Like Apple Just Killed the iCar
Apple's iPhone 8 Might Be So Hot That Taiwan's Largest Airline Stock Is Surging
As I've noted, given that the Times has cut back on outside California content, it's not clear how the Times would successfully tackle this market. One possibility: the revival of the idea to make the Times a "global entertainment" leader and then, somehow, to monetize that value digitally. 
How Levinsohn will earn this money will be a key question. The employment contract focuses, it seems, on content syndication, a business that has been at best mature in the digital age for news companies.
The wording of the content sales incentive bears interest:
"Additionally, while employed, you will be eligible to receive payment of up to 10% of the gross dollars received by Tronc or its wholly owned affiliates from the syndication of content outside of the United States or licensing and distribution of the Los Angeles Times content and brand, "license transaction." Each license transaction shall be approved by the CEO or chairman of the board of directors or Tronc in their sole and absolute discretion. It is at your discretion to direct or allocate all or a portion of the 10% gross dollar amount, if earned, to others who may have contributed to the license transaction."
That's odd compensation language for those who might enable that business, treating Levinsohn's work there almost as if he were an outside contractor.
Then there's the question of exit, which is, of course, standard in any such contract. In Tronc's case, given all its corporate intrigue -- and willingness to pay out large payments on executive exits -- it becomes an important consideration.
If Levinsohn were let go, Tronc would pay him "the lump sum amount equal to the base salary and quarterly payments remaining due under the employment term; any unpaid annual bonus with respect to the calendar year immediately preceding the calendar year of termination of employment; and a pro rata amount of the annual bonus based on actual performance with respect to the calendar year of termination of employment."
In other words, a nice golden parachute of millions of dollars, depending on its timing.
Levinsohn, a key figure in building the early Fox Digital and a short-time interim CEO (pre-Marissa Mayer) of Yahoo! Inc., will report directly to Dearborn. It should be noted that Levinsohn's work with Tronc isn't a new phenomenon. He's been advising the company for much of the past year, under a $600,000 consulting contract through his WAYD firm. Behind the scenes, then, Levinsohn's ascension -- and the clean sweep of the Times' editorial leadership -- may have been in the works for awhile.
More of What's Trending on TheStreet: