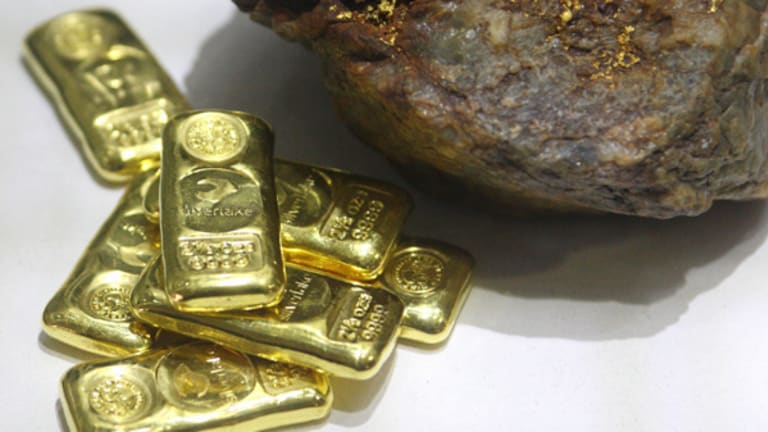 How Far Down Can the Miners Go?
Gold, silver, and oil have fallen from the highs of last year, but miners need to dig out of the hole they are in.
Gold, silver, and oil have fallen from the highs of last year, but miners need to dig out of the hole they are in.
Updated from 9:42 a.m. EDT to reflect the rally in Allied Nevada Gold Corp. shares on Tuesday
NEW YORK (
) -- I'm not a big fan of gold and metals. I have written several articles about the bubble I believe metals are in. One article that received many comments is
Don't Walk, Run Away From Gold Silver
, and while gold bugs generally don't have a keen appreciation for a bearish bias, the facts are relatively clear.
Even with the tepid short-term rise gold experienced as measured by
SPDR Gold Trust
(GLD) - Get Report
, gold not only didn't keep up with the
S&P 500
but recorded a negative return from the time my article was published.
To be sure, gold did not travel on its journey to nowhere alone. The
iShares Silver ETF
(SLV) - Get Report
experienced a slightly more volatile journey, but the current landscape is the same, with silver bulls licking their wounds. What continues to hold gold down isn't a lack of willingness by central banks to keep the printing presses running full speed, it's the price of energy.
Also see: If Apple Hires Ron Johnson, I'll Buy a PC >>
I consider energy the most influential commodity and inflation gauge. It's safe to assume that as long as oil and the oil-tracking
US Oil ETF
(USO) - Get Report
remain under price pressure, gold and silver are without the primary catalyst that drive their prices higher.
It should come as no surprise that gold miners are also lower. What is surprising is how far they have fallen in relation to gold prices. Take
Allied Nevada Gold Corporation
(ANV)
,
Goldcorp
(GG)
and
Newmont Mining
(NEM) - Get Report
as examples.
Also see: Kass: One Shining Moment >>
The last time Allied Nevada Gold shares traded for less than $12 was back in Feb. 2010. GLD was trading for about 40% less than it is today, near $109 a share. Newmont Mining shares have lost almost half their value since peaking near $70 an ounce near the end of 2011.
(Editor's note: As of 10:30 a.m. EDT Tuesday, Allied Nevada Gold's shares had gained more than 13% for the session and were changing hands at about $13.37.)
Goldcorp didn't experience quite the metamorphic rise, though its stock is arguably more volatile and it still hasn't lost nearly the market cap that Allied had (before Tuesday morning's rally). Allied Nevada Gold caught my attention a few weeks ago when it became oversold based
on the weekly chart.
For options trading, especially selling volatility, I use DeMark indicators extensively. I haven't found any indicator to be 100% right, but I have found Mr. DeMark to be one of the very best market timers I know of.
The precipitous drop in Allied's share price included a exceedingly large volume spike. During a typical trading week for Allied, less than 5 million shares traded hands. Last week, more than 14 million shares traded, what one may cautiously consider a possible capitulation by the weak hands. If so, why did the selling continue through Monday, with another 4.8% drop?
It doesn't appear short-sellers are ramping up on shares, which I may even consider slightly bullish at this point (they have to cover at some point). Short interest data is always outdated; however, the data suggests the trend is lower, and short-sellers are covering.
If true, it's hard to picture a much more bullish indication other than seeing the actual price moving higher. Short-sellers are the smart money, and when they see the exit ramp, you should pay attention. Newmont and Goldcorp's short interest has fallen also, however, from a relative point of view, Allied's short interest is falling fastest and most clearly.
I believe the shorts buying back borrowed shares are illuminating the tunnel to profits. If they want to buy shares, maybe it's time to look for opportunity. One way to gain exposure while lowering your risks is through options.
Instead of buying the shares for about $12 a share, selling put options will allow you to capture some of the elevated fear premium currently priced into Allied. One idea is to sell the May $12.50 strike put for $1.40 or more. Your total risk is reduced from $11.85 a share, down to $11.40.
If Allied's shares move higher to above the strike price, the entire option premium is collected and gained. If the shares move lower and are put to you, the cost basis is $11.40, and they can either be liquidated or call options can be sold against them, further lowering your cost basis.
If the shares bottom, but stay in a narrow range, you still profit. This is one of my favorite reasons for writing options. You don't need the price to move in your direction. As long as the price doesn't continue to go against you, you profit. If the price does move in your favor by only 6% by the time the contracts expire, your profit is more than 12%.
Disclosure: The author holds no positions in stocks mentioned.
This article is commentary by an independent contributor, separate from TheStreet's regular news coverage.