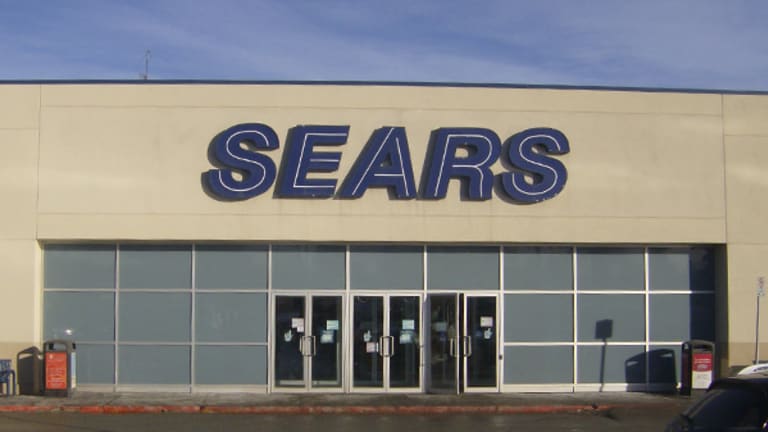 How Dying Retailers Like Sears Are Trying to Stay Alive
Big box retailers with large real estate holdings are getting crafty. Brian Sozzi details one way they are making easy money.
Big box retailers with large real estate holdings are getting crafty. Brian Sozzi details one way they are making easy money.
NEW YORK (TheStreet) -- Struggling large-box retailers Sears (SHLD) and Toys R Us, which sell merchandise easily bought from a mobile device, are using a surprising tactic to forestall death.
Their tactic: turning their vast real estate holdings into cash generating piggybanks.
Toys R Us, collectively owned by private equity firms Bain Capital, KKR and Vornado Realty Trust, is the latest to offer a glimpse into how a floundering national retailer is morphing into a landlord. On Sept. 17, Toys R Us disclosed that it will open Claire's branded shops in 100 locations scattered across the U.S., U.K., France, Germany, Austria, and Spain. By the end of October, or pre-holiday, there will be 12 Claire's stores of varying size inside of Toys R Us sites in the U.S. Claire's, which peddles commodity items in apparel and accessories for young girls, will essentially become a tenant to Toys R Us.
Watch More: Malls aren't Dead, Long Live the Mall: Simon Property CEO
The hope from the standpoint of Toys R Us is likely threefold -- to drive traffic to the store base in non-holiday periods, to spur the consumer to shop multiple departments once contained in the store and to collect a steady stream of rent income from Claire's. Toys R' Us could use the pickup in business and cash flow. Per the company's most recent Securities and Exchange Commission filing, the debt-laden toy retailer has lost 70 basis points from its gross margin in 2014 due to intense promotional activity in its learning and seasonal departments. In turn, Toys R Us has burned through cash at a quicker pace than one year ago -- $597 million for the 26-weeks ended Aug. 2 from operations compared to $513 million.
Toys R Us is following closely on the model of Sears, the biggest retail real estate holder around. Since 2010, the fundamentally decaying Sears has inked leases with the likes of Whole Foods (WFM) , Dick's Sporting Goods (DKS) - Get Report , and Forever 21 to occupy portions of its stores. Whole Foods' newest venture with Sears will open on Sept. 24 at Westfield Countryside Mall in Clearwater, Fla. after the lease was signed in the spring of 2013.
The organic grocer will take over the lower level of Sears and receive the company's West entrance to showcase its signage. There will be no mall entrance for Whole Foods.
Whole Foods and Dick's Sporting Goods working with Sears minimizes build out costs and regulatory hurdles, while Sears feasts on stronger interest in their brands and a steady flow of rental income.
Sears, unlike Toys R Us, has not hidden its Donald Trump-esque landlord aspirations. Sears Holdings Management oversees the leasing out and complete sale, of namesake and Kmart stores. For lease purposes, Sears offers prospective tenants four options: in-line leasing, demised space, outlets, and store within a store. As of today, this underworld to Sears national retail operation is offering 2,979 prospective properties for lease or outright purchase, according to the Web site, which is chock full of exterior photos of the sites.
The list of other outlets that could become landlords includes Walmart (WMT) - Get Report and Target (TGT) - Get Report , both big-box retailers with significant real estate holdings also feeling the financial impact of mobile and desktop shopping. Walmart and Target own and operate retail stores on 86% of their U.S. properties, according to company flings. In an emailed statement, a Walmart spokesman said there is no intent to lease out material portions of its stores, other than space currently reserved for "tenant lease space upfront for salons, banks, restaurants, etc." A spokesperson for Target was not immediately available for comment.
Both Walmart and Target will likely have to first overcome a fundamental assumption that the all-in-one store, with assorted merchandise from paint to potato chips, is still a productive model in an era of same-day day delivery and Amazon (AMZN) - Get Report .
Tough hill for execs to climb in board meetings.
At the time of publication, the author held no positions in any of the stocks mentioned.
This article is commentary by an independent contributor, separate from TheStreet's regular news coverage.