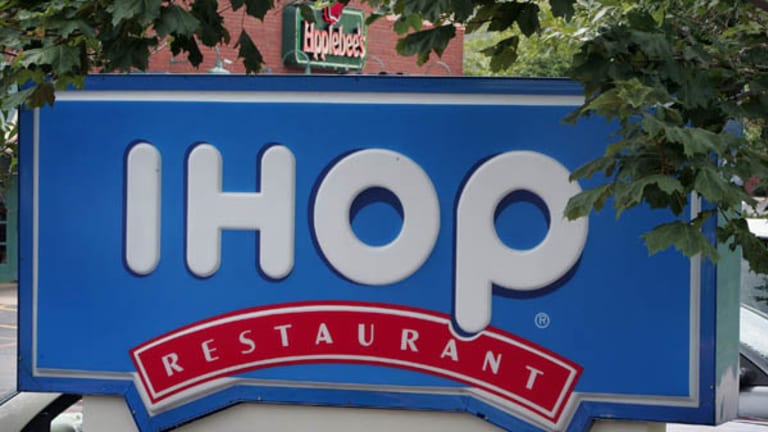 How DineEquity's CEO Is Transforming IHOP and Applebee's
DineEquity is trying to entice people back into the traditional restaurant setting and sales at its IHOP and Applebee's chains have been improving.
NEW YORK (TheStreet) -- It's as if the entire "on-the-go" nation has grown obsessed with grabbing extra-large burritos from Chipotle (CMG) - Get Chipotle Mexican Grill, Inc. Report and oversized iced coffees from Starbucks (SBUX) - Get Starbucks Corporation Report , while sidestepping the experience of sitting in a traditional restaurant for a meal.
DineEquity (DIN) - Get Dine Brands Global, Inc. Report , which operates 3,600 IHOP and Applebee's locations in some 19 countries, is doing all it can, however, to entice people back into the traditional restaurant setting. By the looks of the company's financial results, especially compared to those from peers Darden (DRI) - Get Darden Restaurants, Inc. Report , which owns Olive Garden, and Brinker International (EAT) - Get Brinker International, Inc. Report  , the operator of Chili's,, efforts by DineEquity management appear to be paying tasty dividends.
Watch More: Norwegian CEO Shares his Top Cruise Industry Trends
IHOP's system-side same-restaurant sales have increased for five consecutive quarters, rising 3.2% in the second quarter, while Applebee's rose a more modest 0.6% but halted three quarters of declines. Darden's Olive Garden has posted four quarters straight of same-restaurant sales declines, capped by a 3.5% fall in the most recent quarter. Chili's had a 2.5% same-restaurant sales increase in the second quarter.
Applebee's has outperformed the same-restaurant sales industry average by 150 basis points in the past five quarters, according to Bloomberg.
However, investors do need to be reminded of the healthy sales being logged at the fast-casual chains, which provide evidence of the robust competitive dynamics in the evolving restaurant industry. Chipotle's second-quarter same-restaurant sales increased 17.1%; Starbucks U.S. rose a solid 7%.
Propelling the comeback for two of the most prominent sit-down dining chains in the country is a streamlined menu at IHOP that better highlights new offerings, and a menu at Applebee's that is about 95% new or improved relative to just a few years ago. Supporting the menu initiatives has been an industry-leading marketing budget -- the combined marketing spend for both Applebee's and IHOP is between $250 to $265 million a year.
On the heels of DineEquity launching its latest innovation -- a waffle platform at IHOP -- as well as a fresh design concept for the brand, TheStreet talked exclusively with the company's chairman and CEO, Julia Stewart.
Brian Sozzi: IHOP has had quite the year in terms of sales growth, which caught my attention given the heightened competition in the breakfast category from quick-service formats, and even new offerings from packaged-food companies. What have been some of the specific drivers behind IHOP's sales results?
Stewart: There is no question the breakfast space has gotten even more competitive in the last couple of years. We have put considerable effort and talent in innovating both the items on the menu and reinvigorating the actual design of the menu. We have streamlined the menu, eliminated items, added new items, and used photography for each of our entrees. We probably had appetizers on the menu for 20 years but it wasn't a highlighted category; it was hard to find.
A well-designed menu, which is the most important real estate you have in a restaurant, can really help drive your sales and frequency.
Sozzi: As you can appreciate, it's crucial in the restaurant business to do the little things right operationally because the margins are so slim. What unique things have you done operationally at both divisions to run leaner and meaner?
Stewart: When we made the acquisition in 2007 and did due diligence, we found that 76% of the products at IHOP were at the same manufacturer that Applebee's was using, and thus the notion of a purchasing co-op was born. We started that in 2009, from 2009 to 2013 we have saved the franchises almost $200 million in the middle of the P&L by both stock-keeping unit consolidation and between distribution consolidation. The franchisees can then pass on those savings to the consumer.
Sozzi: In terms of new menu innovation, where are you looking next?
Stewart: The strategies for the two brands are slightly different. IHOP has always had a very robust menu, even when I worked there starting in the late 1960s. I think over the years prior management had not had the discipline to begin taking things off the menu and replacing them with better items. But it's a robust process, looking at mix, profitability, execution, and how many steps are involved.
We have begun to do that work in a fairly significant way at IHOP. We have taken the menu from close to 200 items, down to about 170. We are looking at innovation on key categories and then expanding them, such as waffles, which you are going to see in a week or so, a whole expanded area in waffles.
Pertaining to Applebee's, we had 80-90 items on the menu three years ago, and it's about the same today. It has been less about taking menu items off at Applebee's, and more about innovating and reinventing. In the last couple of years, we have changed out probably 95% of the menu to either new or improved items. The focus going forward is to really look at grill and bar-type items, shareables, craveables, items you can eat with your hands instead of with a fork and knife.
Sozzi: Could you share what the IHOP and Applebee's restaurant of the future looks like, from store design to the integration of technology?
Stewart: In our franchise agreement, Applebee's franchisees are required to remodel every six years, IHOP every five years. We tested a remodel design, and in fact will finish at the end of this year the entire system for Applebee's, finishing the program in four years. We are in the testing phase, about three-fourths of the way through alpha, we'll start beta here shortly, with a pretty significant remodel on the IHOP side. The focus really is to keep it sort of relevant to today's guests and future guests, both millennials and baby-boomers, and then really focus on what things we could do to signal change both in the exterior and interior of the restaurant.
Sozzi: Could you detail what you have in the works in terms of new restaurant technology?
Stewart: Over the next couple of years, you'll see a tremendous amount of technology. In December, we announced our decision to install tablets on Applebee's tables. That process is underway. They enable a guest to pay at the table, order drinks, appetizers, deserts, and even play games on it. It's part of a broader strategy, we are launching a mobile app to online ordering to a loyalty program. I think we will skip tablets at IHOP and go right to the mobile app.
The large majority of the work will be done in the next year or two.
Sozzi: Is there a chance DineEquity looks to take stakes in upstart chains with national potential within the two to three years?
Stewart: A third brand is certainly a way to grow, and continue to give value to our shareholders and franchisees. Frankly, our franchisees are probably the ones who want us to buy a third brand the most, they want to leverage and scale their models, so us buying another brand helps them. Right now, our focus has been on completing our refinancing, making sure our two brands are in great steed. But, yes, there could certainly be an opportunity for a third brand.
Watch More:Domino's Pizza CEO Says Big Ideas are in the Oven
At the time of publication, the author held no positions in any of the stocks mentioned. This article is commentary by an independent contributor, separate from TheStreet's regular news coverage.