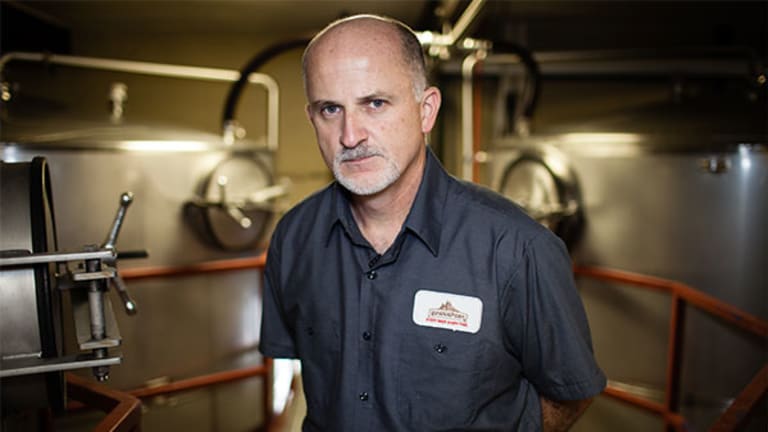 How Consistency Kept BridgePort Brewing Afloat
As Portland-based BridgePort Brewing celebrates its 30th anniversary this year, brewmaster Jeff Edgerton is making sure the oldest craft brewery in Oregon keeps the good ideas flowing.
As Portland-based BridgePort Brewing celebrates its 30th anniversary this year, brewmaster Jeff Edgerton is making sure the oldest craft brewery in Oregon keeps the good ideas flowing.
PORTLAND, Ore. (TheStreet) -- In the north end of Portland's Pearl District, trucks still load kegs out of BridgePort Brewing's squat little brick headquarters and steam still drifts up from the brewery, just as it has for much of the last three decades.
Those trucks now sit in the shadows of the towering condo complexes that replaced the warehouses and tool-and-die shops that once made up the area of Portland now known as the Pearl District. The steam drifts up to balconies with views of the Willamette River and the Freemont Bridge. BridgePort brewmaster Jeff Edgerton has been with the brewery since 1989 and has seen his duties increase from beer quality control to brewing and occasional neighborhood damage control. He's still tweaking BridgePort's beer, but occasionally has to give some away when the noise or smell get too much for one of the brewery's neighbors in the "Alimony Flats/Empty Nest Flats" that Portland author Chuck Palahniuk described in his 2003 memoir/travel guide Fugitives and Refugees: A Walk In Portland.
That's the price Edgerton pays for being a constant in a town with few of them beyond the rain. As BridgePort marks its 30th anniversary this year, Edgerton celebrates his 25th year with the company. Before BridgePort, Edgerton had gone from Oregon State University to a job at Portland's Blitz-Weinhard brewery. Portland brewer Henry Weinhard's facitily at NW 12th Street and Burnside Avenue opened in 1864 and was still brewing when Edgerton left in 1989. It closed a decade later and now houses a beer-centric restaurant, offices, coffee shops and a grain silo that now exists solely as decor.
Even when Edgerton arrived at BridgePort as a quality assurance manager, the brewery was less than half a decade removed from its original name -- Columbia River Brewery -- and only three years removed from opening its brewpub. Under the guidance of BridgePort's founding brewmaster, Karl Ockert, Edgerton made his way up to assistant brewmaster, ran the brewery's filter cellars and teamed with Ockert to make the brewery's Hop Czar line of hoppy beers that were more boozy and bitter than the brewery's flagship IPA.
That was no small deal, as BridgePort IPA basically saved the brewery. After BridgePort was sold to Gambrinus (which also owns Texas-based Spoetzl Brewery and its Shiner Bock brand) in 1995, Bridgeport debuted its IPA a year later with what was then a whopping 50 international bitterness units (IBUs). It earned BridgePort autonomy from its Texas-based parent company but, little more than a decade later, even the IPA wasn't enough to appease the nation's evolving craft beer palate.
"What we were seeing was a lot of people making what we called tongue-ripping bitterness unit IPAs of 80, 90 and 100 IBUs," Edgerton says. "So Carl and I got together and said, 'Hey, let's make a tongue-ripping version of our IPA.'"

They'd initially wanted to release it in 22-ounce bottles and be done with it, but the 90 IBU beast and its Centennial hops -- considered intensely bitter at the time -- just kept selling and became BridgePort's co-flagship. When Ockert left in 2010, Edgerton took his place at a transformed brewery.
Today, BridgePort cranks out roughly 50,000 barrels a year and distributes them in more than 20 states, thanks in part to Gambrinus' distribution system. Still considered a craft brewer by the Brewers Association craft beer industry group, BridgePort has become one of the tentpoles for the Oregon craft beer community.
It partners with the Oregon State University Fermentation science program and hires two students as paid interns each year to give them experience with practical brewing, lab work and packaging. It also uses the program to concoct its two-barrel test brews and, occasionally, hires the student interns it employs. Meanwhile, the brewery's full-time brewers keep experimenting with a small-batch series that has included a Citra-hopped Imperial Red IPA and Ginger Hibiscus Saison.
Under Edgerton's watch, BridgePort has produced an impressive roster of alumni, including Portland-based Base Camp Brewing's Paul Thurston, Cascade Barrel House brewmaster Ron Gansberg and Edgerton's last head brewer, Kevin Shaw, who just opened the Astoria, Ore.-based startup brewery Buoy Beer.
"We're not guys on skateboards anymore who don't know anything about brewing who are just trying to figure something out in our garage," Edgerton says. "We've done this for a while."
That doesn't mean he's done learning, just that Edgerton's experiment with BridgePort continues. In our recent visit to the brewery, Edgerton was figuring out how to make blueberries into a puree using an immersion mixer from the brewpub kitchen just to get them into a new batch of his Stumptown Tart fruit beer series. Just minutes later, he greeted a contingent from pioneering craft brewery Sierra Nevada in Chico, Calif., who were popping in to have a look at the operations.
He's expanding the Hop Czar series to include a Citra variety and a number of other hops and styles, and is working his way through the brewery's 30th-anniversary series Trilogy. The three-beer series kicked off with the Trilogy 1 Crystal Dry Hopped Pale Ale and will move on to a version of BridgePort's IPA brewed with Australian hops before ending with a third beer that will be produced with the help of Oregon State students.
The brewery building Edgerton works in may be a Portland relic, but the brewery he runs and the beer he produces are as modern as the world just off of his loading dock. We had the pleasure of sitting down with Edgerton and discussing BridgePort's history, its place in craft beer and its struggle to keep its name and beers fresh three decades later:

What kind of stability does 30 years of history provide for a brewery and how does it inform the brewing process?
Edgerton: Consistency is part of it.
This is something I preached when I was QA manager here. When you have something that works like our IPA, you have to do what Sierra Nevada has done, Widmer Brothers has done and all of our good local competitors have done: Bring in someone who knows that consistency is important.
We don't have those Super Bowl ads or that huge advertising budget, so we rely on the guy who has our beer, thinks it's the best beer he's ever had and brings his friends back for more. We want them to have that experience, so we want our beer to be consistent all the way through. Once you have a hit and once you have something people like, they've got to be able to get that same beer.
That's why when people ask me if I'm ever going to change the IPA, I say hell no, I'm not going to change the IPA. Why would I change the IPA? That's stupid. It's suicidal. I'll make another beer if we feel like we have another niche to fill or hole in our portfolio, but our IPA is going to stay the same. Don't mess with something that's working.
What made you decide to go with the Trilogy series of three beers to mark BridgePort's 30th anniversary?
Edgerton: Our owners kind of came up with the concept of doing a beer for each decade, and I thought about what really represents craft brewing in the Northwest.
Really, I think it's a good pale ale. If you can make a good pale ale, which really doesn't have a lot of places for screw-ups to hide if you mess something up, it shows that you're competent in making beer. A good pale ale is something that BridgePort hasn't really done, and my owner was taken aback when hearing me say that because they always considered Blue Heron to be a pale ale for us. I consider Blue Heron to be a really hoppy amber in a lot of ways. It has a lot of caramel malts in it and is dark colored .
So I decided I was going to make a pale ale and give it a 21st Century twist and dry hop it like crazy. We did a lot of testing with different hops, since we had about 20 different hops in our cupboard, and I went to our lab manager and asked what we could do. We used a neutral beer base -- and I won't tell you what it is -- that I knew would be consistent. the same every time and would be a good, high-quality product that wouldn't have a ton of hop character in it. We did dry hopping of that beer in the laboratory, tasted it and arrived at Crystal being a nice dry hop.

It gives it a nice aroma, but it isn't super bitter on the taste. Since you're doing one for each decade, does this serve as a representation of how BridgePort got started and what people were up for at the time?
Edgerton: I think BrigePort's history goes back to beers that were a lot more tame in terms of the hops. They were definitely more on the amber side and people weren't drinking as many hoppy beers.
I think if we were to bring out what would be the first decade's beer, it would be an amber-style beer and probably wouldn't be hoppy enough to get people too excited these days.
That seems to present a unique challenge for BridgePort and many brewers of similar ages that have endured since the '80s: To keep it fresh and drift away from the initial malty starting point to the heavier dose of hops that excites the palate now. Does that make BridgePort's first anniversary beer a metaphor for what you've had to do with this brand?.
Edgerton: Oh, absolutely. I think that's the challenge for every brewer out there now: How do you keep it fresh?
Craft brew drinkers are so well educated these days about what's going on in their beer. A lot of them can tell you what hops are in there and there are a lot of educated palates out there. They want something new and interesting.
If you keep serving them the same thing time after time, that's not what it's about.
Has your home base in the Pacific Northwest and its love of hoppier styles served well as a testing ground and incubator for more complex batches?
Edgerton: A lot of it definitely originates here and moves out, but we're not here just to make hoppy, hoppy beers. That's not the thing.
It's to make good, balanced beers that are drinkable and that people are going to enjoy and that they're going to have another one after they've had the first one. Part of selling beer is that you want people to have a second one if you can possibly get them to do that. It's part of the deal.
Balance is part of it, but so is making a good malt backbone so it's an approachable beer, it's drinkable and it doesn't just taste like some hop pellet dissolved into a neutral-base beer like we talked about before.

It seems as if the palate of the nation's beer drinkers has kind of swung back to that point you're talking about, where people went out to the edges and found huge imperial IPAs but settled back into brands and styles they can drink more often. Even larger craft breweries have begun unveiling year-round, middle-of-the-road IPAs that they can put on a tap at a restaurant that may serve only a couple craft beers at most. BridgePort has been in that space the whole time, though.
Edgerton: To some extent. We've never gone nuts.
Hop Czar, Kingpin ... those are heavy-duty beers at 7.5% alcohol and lots of IBUs. We've always had things on the other end of it as well, the lighter stuff. We've dropped the alcohol content in the new Hop Czar series and, to me, alcohol isn't necessarily where it's at. If you're buying a craft beer just for the sake of getting alcohol, I question why you're drinking craft beer.
I love imperials, and when you get the right balance you have tons of hops and tons of big malt flavors coming through. When you have the alcohol there, there's a nice balance that's achieved. But to have a nice, drinkable beer that people are going to have two or three of in a restaurant and not be afraid of getting home, you don't have to have a lot of alcohol.
More specifically, though, you have BridgePort's India Pale Ale that's existed in that central niche for many years and doesn't have the hop heaviness or alcohol content of the Hop Czar series. Now that there's a window for a more moderate IPA, is there any plan for BridgePort's original?
Edgerton: BridgePort IPA will always remain as BridgePort IPA.
With BridgePort being the size that it is, we don't have a huge advertising budget or anything like that. Most of our business is built on word of mouth and loyal customers. What we're doing for Trilogy 2 is making a beer that I like to call the Australian twist on our IPA. The guy who designed our IPA [Phil Sexton] is from Australia, is friends with the owners and is a legend in the craft brewing industry there and he and I collaborated on the recipe.
It's a similar beer in a lot of ways, but we're using some Australian hops and put some English malts to change the flavor a little bit.

There seems to be a perception in corners of craft beer that the older, bigger breweries are just sitting on their lead and riding out their old styles and formulas. That doesn't seem to be the case here at BridgePort at all. Do you feel BridgePort is still a great incubator for brewers and bolder beer styles?
Edgerton: I've got very educated brewers down there. Most of them are college-educated guys or they've been in brewing for 10 or 15 years ... or both.
A lot of them are great chefs who make great food at home and come up with a lot of great ideas. The last thing I want to do is squelch those ideas because it might be the next great beer for BridgePort or it might just be a great one-off that we brew one time that people just want to drink.
Being with BridgePort as long as you have, you must have seen some peaks and valleys in terms of economic stability and demand. How does a brewery like BridgePort muddle through and stay afloat?
Edgerton: I think what's kept us going over the years is that we've never tried to expand beyond our means.
We never get too crazy and get so full of ourselves that we quadruple our size, buy a new brewery, get everything brand spanking new from Germany and put $10 million on the table and only then see that we're in trouble. We never tried to outgrow our shoes too fast.
It's something that becomes apparent just as you approach the brewery. The condos in the Pearl just shoot up around it, but the trucks are still at the docks and the steam is still rising from the place. Do you feel BridgePort has all the room it needs, or does the brand really just not want to overextend itself?
Edgerton: If I was going to build a brewery now, this is the last place I would choose to put one, I guarantee you that.
The neighborhood has kind of grown up around us. This used to be a nasty little warehouse district and we were kind of the cute little building. Now we're kind of the nasty building with all these beautiful, brand new, huge buildings around us, which is kind of funny.
People don't like having trucks down here anymore, they don't like the smell, they complain about the noise. Every once in a while I have to talk to somebody who's unhappy because I'm making noise at 6 in the morning. We're trying to keep our forklifts as quiet as we possibly can, but we're still trying to make a product down here.
We've been here, but I can't pull that card and say "We were here before you, screw you." If they want to come over, I'll buy them a beer and talk to them. We've been able to work through most of the problems and it's comfortable for us. We make a lot of good beer and a lot of good brewers.
-- Written by Jason Notte in Portland, Ore.
>To contact the writer of this article, click here: Jason Notte.
>To follow the writer on Twitter, go to http://twitter.com/notteham.
>To submit a news tip, send an email to: tips@thestreet.com.
RELATED STORIES:
>>5 Craft Brewers Who Need A Super Bowl Ad
>>Wait, We Weren't Finished With Dark Holiday Beers Yet!
>>Some Craft Beer Resolutions for 2014
Jason Notte is a reporter for TheStreet. His writing has appeared in The New York Times, The Huffington Post, Esquire.com, Time Out New York, the Boston Herald, the Boston Phoenix, the Metro newspaper and the Colorado Springs Independent. He previously served as the political and global affairs editor for Metro U.S., layout editor for Boston Now, assistant news editor for the Herald News of West Paterson, N.J., editor of Go Out! Magazine in Hoboken, N.J., and copy editor and lifestyle editor at the Jersey Journal in Jersey City, N.J.