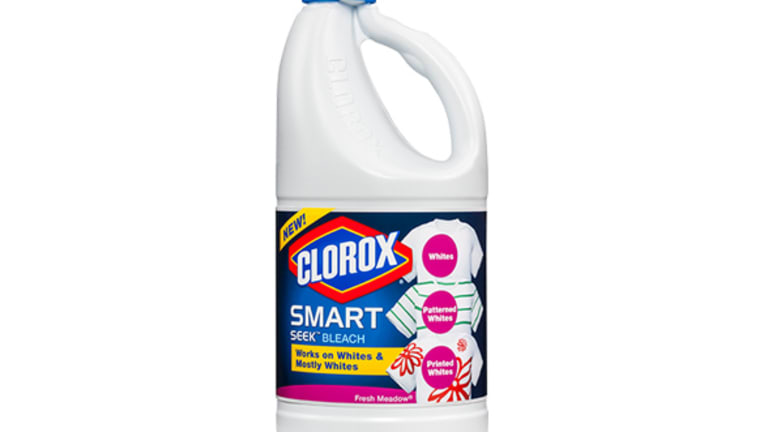 How Clorox's New CEO Hopes to Wipe Away Competitors in 2015
Benno Dorer discusses his strategy for wresting market share from Clorox's rivals, including appealing to dollar store customers.
NEW YORK ( TheStreet) -- New Clorox (CLX) - Get Clorox Company Report CEO Benno Dorer is preparing to unveil a slew of fresh products in the January quarter to wrest market share from Procter & Gamble (PG) - Get Procter & Gamble Company Report and Church & Dwight (CHD) - Get Church & Dwight Co., Inc. Report next year.
"What you should expect are innovations that cover all our brands," said Dorer on Clorox's plans in an interview at TheStreet's New York City headquarters. Dorer, a 10-year veteran of Clorox that took the reins from long-time CEO Donald Knauss on Nov. 20, added "We like to look at [product innovation] as a mix of singles, doubles and some home-runs." Knauss has since assumed the executive chairman role at Clorox.
An example of a "single," according to Dorer, is the upcoming launch of a new flavor for Clorox's Hidden Valley salad dressing business. Hidden Valley is a member of Clorox's "lifestyle" segment along with KC Masterpiece barbecue sauce and Brita water filters, to name a few. In fiscal year 2014, the lifestyle division brought in revenue of $939 million, a 0.7% increase from a year earlier, and represented about 17% of Clorox's overall business.
Another "single," hinted Dorer, may be a new Clorox disinfecting wipe that has more grease-fighting power. Home-care products are a particular area of focus for Clorox in 2015. As for a "home run," it would take the shape of an entirely new product such as the 2011 release of the reusable Brita water filtration bottle. 
Dorer said hatching new products is vital in the notoriously competitive consumer products industry because "it creates news with customers and increases the assortment." Dorer pointed out Clorox has increased the percentage of sales it derives from new products to 3% annually from 2% a couple years ago. 
And the new products scheduled for January from Clorox will be joined with a significantly revised marketing approach on TV and online. "Next year is the year of value across all our communications," remarked Dorer, who said he continues to be a believer in TV marketing. He went on to say Clorox' focus in 2015 will be educating consumers more on how the company's products outperform those of its competitors. Clorox has recently been stressing different usage occasions for its products instead of side-by-side performance comparisons.
There has been a "lack of awareness by consumers that our products are better," said Dorer.  

Clorox now spends 31% of its marketing dollars on digital channels, up from just 10% seven years ago.
But bringing jazzed-up disinfectant wipes and bleach, surrounded by clever marketing, is only part of how Dorer hopes to increase market share in 2015. The other components to Dorer's plan are new points of distribution both inside and outside of the crowded aisles of Walmart (WMT) - Get Walmart Inc. Report , Target (TGT) - Get Target Corporation Report , and Kroger (KR) - Get Kroger Co. Report .
"The dollar store channel is one we are very interested in," said Dorer. Recently, the company has launched a $0.99 Clorox bleach product in a smaller package size to tempt dollar store shoppers on a tight budget. "There is an opportunity to engage people at a lower price point", said Dorer, cautioning that at the same time, Clorox doesn't want to "trade customers down."
Meanwhile, Clorox's natural skincare line Burt's Bees will be showing up in other areas at big-box stores besides its usual home in the face-cleaning aisle. This past fall the brand launched a 100% natural lip crayon in six shades. The modern-day lipstick from Burt's Bees, a brand acquired by Clorox in 2007 for a lofty $925 million, can be found in the traditional lipstick section of Target stores. Dorer hopes the broadening range of products from Burt's Bees will lead to consumers thinking of it as a go-to brand for products other than face wash and lip balm.
The push to release a broad spectrum of new products arrives at a good time for Clorox and its competitors. With U.S. gas prices having plunged some 18% from a year ago, more discretionary dollars have suddenly landed in the pockets of budget-minded households. That may translate to an extra purchase at a major retailer of Clorox bleach, or a trading up to a few of the pricier products the 102-year old company is poised to introduce in early 2015.
Still, the aisles of retailers will continue to be jam-packed with not only innovations from Clorox, but those from formidable competitors that include Procter & Gamble, Church & Dwight and various private label brands. That's a main reason Dorer stressed it was "too early" to declare the persistent, margin-eroding discounting in the industry has eased for good in the face of consumers spending their gas savings.
But investors may already be positioned for less discounting and subsequent fatter profits from major consumer products companies in 2015. Shares of Clorox have gained 8.3% this year, trailing the 11.5% increase for Procter & Gamble and 16.1% rise for Church & Dwight. The average forward price-to-earnings multiple for the three companies is a rich 21.1 times, while the S&P 500's forward P/E clocks in at 17.3 times. 
Just how cutthroat the consumer products space is likely to remain could be seen in Clorox' comments on its market share in its first fiscal quarter, which ended Oct. 31. 
According to Clorox, its U.S. market share in the quarter decreased 0.2% year over year. Competitive activity in the company's cat litter (Scoop Away and Fresh Step) and Brita water filtration business were cited as culprits. Clorox noted on its Oct. 31 earnings call that the slight market share decline was an improvement from the 0.3% drop experienced in the fourth quarter. Gross profit margins have declined year over year for four consecutive quarters, according to Bloomberg data.

When asked if Clorox would be taking a page out of Procter & Gamble's book, which sold its Duracell battery business to Berkshire Hathaway (BRK.A) - Get Berkshire Hathaway Inc. Class A Report (BRK.B) - Get Berkshire Hathaway Inc. Class B Report last month, and slicing off a division, Dorer was quick to say, "I am happy with the portfolio."
And who said Hidden Valley ranch dressing didn't belong in a portfolio that also includes Clorox glass wipes and Glad trash bags?
This article is commentary by an independent contributor, separate from TheStreet's regular news coverage. At the time of publication, the author held no positions in any of the stocks mentioned