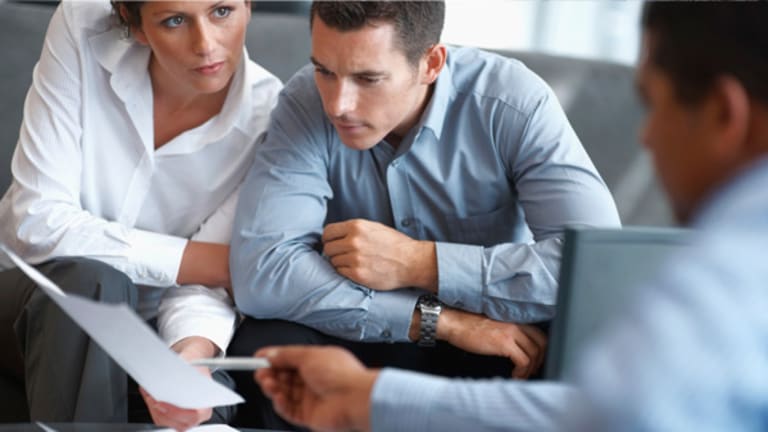 How Chesapeake Energy Can Be Saved (From Itself): Opinion
Here are five 'modest' proposals for how Chesapeake Energy can be saved.
NEW YORK (
) -- Poor, misunderstood
Chesapeake Energy
(CHK) - Get Chesapeake Energy Corporation Report
CEO Aubrey McClendon. He's really the victim, isn't he, in the current controversy over his fiefdom otherwise known as a publicly traded company owned by shareholders.
One thing is likely: No matter what anyone else thinks -- including some of the biggest pension funds in the world that would like to see the Chesapeake CEO
put on a leash -- McClendon probably thinks he is the one being unfairly targeted.
Last November, when I had the chance to interview McClendon on the sidelines of a conference in New York, it wasn't too long after the first in what's now been worked into a
Moby Dick
-sized volume from the collected financial press attacking the embattled CEO of the second-largest oil and gas driller in the U.S. after
Exxon Mobil
(XOM) - Get Exxon Mobil Corporation Report
. Chesapeake is actually No. 1 in terms of the number of rigs actively drilling on U.S. land right now.
I asked McClendon about the
New York Times
piece in which
Times
writer Ian Urbina referred to Chesapeake as more or less being a Ponzi scheme - the print "shot across the bow" so to speak -- and McClendon answered in a way I found curious. He didn't respond to the accusations directly, but with somewhat of an exasperated look of a naif who has lost his innocence. He riffed on what a long-time reader of the
Times
he has been. The Chesapeake CEO seemed to feel personally wounded by the piece, stabbed in the back by a publication with which he has long began his mornings:
"I read the
New York Times
every day for 30 years, and now I say gosh -- I never read the editorial page because I understood the bias there - I didn't understand just straight stories could be so biased."
The "bias" as McClendon likes to view it, has now
hit a crescendo in the aftermath of the
Reuters
investigation into the CEO's controversial well ownership. Controversy is nothing new for Chesapeake or McClendon, but with natural gas prices at a decade low and shareholders at a boiling point, it's a perfect storm for "death spiral" talk about Chesapeake.
I even received a comment on Thursday from a city council member in a Texas town where Chesapeake dominates the drilling who asked, "We wonder how vulnerable our town is to a Chesapeake bankruptcy. "
Yes, Aubrey, it's come to this. Short interest in Chesapeake shares has been on a steady rise, reaching close to 9% of the company's float as of mid-April, and increasing by roughly 62% since a year-ago. It could simply be a trade on the descent in natural gas prices --
Exco Resources
(XCO)
, another proxy on natural gas prices has a similar short interest chart over recent months -- or it could be the beginning of the "death spiral" that some, including
Real Money
columnist Dan Dicker, see coming for Chesapeake as the David Einhorns of the hedge fund world see a fresh, and valuable carcass, to carve up.
Wall Street analysts seem to think McClendon will survive, and that he still holds the trump card. After five years of acquiring almost every drilling lease right that exists, McClendon can always sell something to make ends meet (and not necessarily just to benefit his personal stake in the wells).
Maybe so, but given how slow the Chesapeake board of directors was to respond to the lingering controversy over an aggressive, risk-taking CEO, here are a few suggestions for options to save Chesapeake rather than take the chance that the status quo returns again, until the next controversy.
Idea No. 1: Name former Exxon Mobil CEO Lee Raymond chairman of Chesapeake
There's already talk that the best thing the board could do to show it's reining in the CEO would be to strip him of the chairman title. Who would make for a better chairman figurehead than the former ExxonMobil CEO Lee Raymond, who is often trotted out as a spokesman for the U.S. oil and gas industry. Think of it as similar to when government has a crisis to deal with -- say the financial crisis or 9/11 ---and they bring in some famed (retired) senator or congressman to commandeer a committee and produce a huge report on what went wrong and how to fix it.
Instead of the
Chesapeake Energy Independent Commission on the Chesapeake Energy Crisis
, it would simply be an independent chairman with a marquee name.
Bringing in Raymond as chairman might also help undo a little of the damage done to Chesapeake's shares, as it would inevitably drive speculation that Exxon Mobil would eventually acquire Chesapeake, maybe baking a little premium into shares and a deal which, if consummated, would finally bring an end to McClendon's tenure.
If Raymond isn't up for the job, and neither Chesapeake's board or McClendon is about to make take this step, there are other ways to instill confidence in the broken investment story and win shareholders back ...
Idea No. 2: Get Warren Buffett to provide an investment vote of confidence
One of Warren Buffett's long-time investment lieutenants, Lou Simpson, is on the Chesapeake board of directors. Simpson retired from
Berkshire Hathaway
undefined
last year, but we bet he still has his long-time buddy Buffett's number and could place a call to Omaha.
Would Buffett do for Chesapeake what he has done in the past for
Goldman Sachs
(GS) - Get Goldman Sachs Group, Inc. (GS) Report
,
GE
(GE) - Get General Electric Company (GE) Report
, and
Bank of America
(BAC) - Get Bank of America Corp Report
?
If Chesapeake is as undervalued on a net asset value basis as Wall Street seems to think it is, Simpson could make the case to Buffett that Chesapeake is a great value investment. But Buffett hasn't been much of an oil and gas investor lately. Other than a tiny stake in
ConocoPhillips
(COP) - Get ConocoPhillips Report
shares, Berkshire is markedly underexposed to the exploration and production business. Berkshire sold the last little bit of Exxon Mobil shares it owned last year.
As he has stepped up his investment in railroads and utilities and through the utility sector, coal and energy infrastructure, Buffett hasn't dived deep into the capital intensive exploration and production space. But if Simpson can get Warren on the line, hey, what's the harm in a phone call between old friends with similar investment philosophies?
Given that Buffett hasn't shown an inclination to pony up big bucks for bailouts beyond his financial sector sweet spot, Chesapeake may have to consider taking further steps to counter allegations of a conflict of CEO interest, including ...
Idea No. 3: Package McClendon's well holdings into a joint venture and sell to the Chinese or Total
The controversy that has led to the current calls for McClendon's ousting comes back to the Founder Well Participation Program and the CEO's stake in company wells and the fact that he has tied personal loans to the value of the well holdings.
This presents two conflicts of interest: 1) the company could make decisions to sell certain assets based on McClendon's personal portfolio needs, and 2) the company could prioritize certain wells for drilling development based on the ones where McClendon has financial interest.
The board said this week it won't renew the program when it ends in 2015 and is negotiating with McClendon for an early termination of the program, but that doesn't imply that it will unwind the existing well stakes that McClendon has, which would require unwinding both his personal stakes in the wells and the loans in which the well stakes are used as collateral.
With Chesapeake saying it is going to sell its entire Permian basin stake in the third quarter, there will inevitably be questions about whether there was a personal reason for McClendon to part with these assets over others, and that will exist for every sale going forward. Chesapeake could fully disclose each and every well in which McClendon has a holding, well by well, and complete transparency might help.
However, it might just be better to do what McClendon does well: Create a joint venture in which McClendon can sell the well stakes to a third party, such as a Chinese national oil company or European energy giant like
Total
(TOT) - Get Total SA Sponsored ADR Class B Report
, two investors with whom McClendon has had dealings in the past.
This wouldn't just be a convenient method of providing remuneration to McClendon for his well stakes while removing the conflict of interest, but it would also be one more chance for McClendon to show off the wheeling and dealing talent that got him into this mess -- I mean that sets him apart from other CEOs -- in the first place.
Deep-pocketed, big balance sheet investors aren't the only ones who can help...
Idea No. 4: Invite Carl Icahn back for lunch
It wasn't that long ago when Carl Icahn disclosed a 5% stake in Chesapeake Energy, and in retrospect, it was the single greatest catalyst for Chesapeake shares in the past few years. In fact, I'm not so sure Icahn even knew what a quick and profitable payday he was in for when he disclosed the Chesapeake stake.
Shareholders of the company bid up shares to $35 -- almost twice today's value -- when the news broke, however, Icahn didn't hang around for much longer than one lunch with McClendon seeing how much value he had created in shares just by showing up.
In retrospect, this frenzied trading activity in Chesapeake shares was the calm before the storm. The fact that Icahn's investment led to such a sharp reaction showed just how frustrated Chesapeake shareholders had become and how ripe the company was for some activist action.
Certainly, that ripeness has only intensified as the shares have dropped to an even lower mark than when Icahn invested in the low $20s, and the argument about the underlying value of the company's "great collection of assets" still attracts plenty of attention.
For those shareholders who were betting that Icahn was in it for one of his typical long activist campaigns, and who didn't sell out when Chesapeake shares hit $35, they could sorely use another SEC filing from Icahn revealing a new stake in Chesapeake.
Nevertheless, another quickie profit for Icahn -- and Icahn can't be relied on for more than that, as he tends to monitor his investment with a watch as opposed to the calendar -- may not solve the problems for Chesapeake or its shareholders.
Drastic action may be required...
Idea No. 5: Exxon Mobil creates hedge funds to short Chesapeake Energy and buy up all of its debt
Big Oil villain Exxon Mobil is already considered to be among the most secretive companies in the world, operating with
all the influence of a sovereign nation. Therefore, maybe it wouldn't be too much of a stretch for Exxon to create hedge funds purely for the purpose of shorting Chesapeake to the hilt. Exxon could simultaneously buy up all of Chesapeake's debt and ultimately send the company into bankruptcy so it can pick up, and/or pick apart the pieces. This could be done either in tandem with Raymond being named independent chairman of Chesapeake, or not.
While this idea is meant to be tongue in cheek, it's also really just a logical extension of Exxon's existing strategy, and a trading vehicle to complement its nuts-and-bolts approach to oil and gas sector production.
As
TheStreet
has previously written, for all of Chesapeake's attempts early this year to slow production as a way to rescue natural gas pricing, the
single biggest impediment to the plan was Exxon Mobil's what-me-worry attitude about drilling no matter how low natural
gas prices sink. In the end, more bankrupt natural gas companies only creates more cheap acquisitions for Exxon Mobil.
After a stabilization in the price of natural gas around the $2 mark this week, many experts expect prices to head lower this summer to the $1.50 to $1.75 range, and reach, if not go below, the cash costs of gas producers. Meanwhile, Exxon's earnings this week showed even greater natural gas production versus oil -- though even Exxon said during its conference call with analysts that an attempt is underway to move to more liquids-rich U.S. drilling basins.
In the final analysis, if Buffett won't invest, and McClendon won't sell his well holdings, and Icahn's Oklahoma lunch invite was a one-time event, and Raymond can't or won't be added to Chesapeake's reputation war chest (like former Berkshire Hathaway executive Simpson) this Exxon hedge fund concept might be the best option to save Chesapeake, by destroying it.
In fact, as the talk about a Chesapeake "death spiral" picks up, other hedge funds are probably hard at work and already thinking about how best to pick the company's bones clean. The easy short money in Chesapeake Energy shares was from $25 down to $17.50. Now the hard work begins, and not just for McClendon.
McClendon said to us last November of his company's aggressive land acquisition strategy over the past five years, "This has been a very short window and you either win or lose and the only way to make sure you are a loser is to sit it out."
At that time, McClendon said the land grab in natural gas acreage was over and that there was a year or so left in the land grab for oil acreage in the shale. When we asked him if the company would sell itself lock, stock, and barrel to a major once the last land grab was over, McClendon laid his vision clear: Not a chance.
"After that, we move into full steam development of what we have. There is nobody bigger than us with the resources we have onshore to do the job. There is nobody else to turn the company over to, so we move away from the five or six year period, which will feel like an eternity to some investors, and move from asset capture to development, and when we make that move, it will be an exciting time."
Whether or not McClendon will still be around for that exciting time has never seemed more legitimate a question to ask than it does right now.
-- Written by Eric Rosenbaum from New York.
>To contact the writer of this article, click here:
Eric Rosenbaum
.
>To follow the writer on Twitter, go to
.
Follow
TheStreet
on
and become a fan on