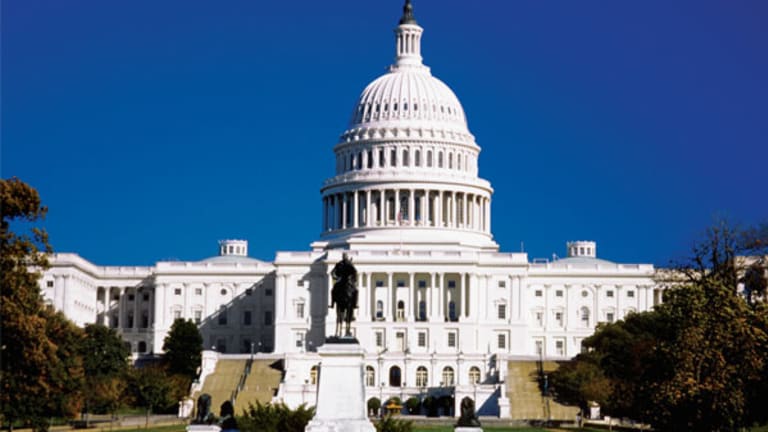 How Fast Can the U.S. Economy Grow With So Many Delinquent Loans?
A new report shows about a third of those with credit files have delinquent loans.
NEW YORK (TheStreet) -- A report this week by the Urban Institute that analyzed the credit files of 7 million Americans shows why the U.S. economy may not be as strong as yesterday's report from the Commerce Department on second-quarter growth may have indicated.
The government reported that gross domestic product rose at a seasonally adjusted 4% annual rate in the second quarter, compared with a decline of 2.1% in the first quarter, which was revised from a decline of 2.9%.
But the Urban Institute reported that about one-third of adults in the U.S. who have a credit file have a report of debt in collections.
Why the Fed Is Right to Sit Tight on Rates
"These adults owe an average of $5,178 (median $1,349). Debt in collections involves a nonmortgage bill -- such as a credit card balance, medical or utility bill-that is more than 180 days past due and has been placed in collections," the report says.
Furthermore, "5.3 percent of people with a credit file have a report of past due debt, indicating they are between 30 and 180 days late on a nonmortgage payment," the report states.
Note that these are people with credit files. The report states that about 22 million adults don't have credit files. That is roughly 9% of the population.
The report says many low-income consumers cannot access traditional credit and may still be delinquent on debt.
So one could argue that more than 40% of adults in the U.S. are delinquent on loans. And that accounts for just non-mortgage debt.
A survey of the Mortgage Bankers Association says that slightly more than 5% of mortgages outstanding are 90 days or more delinquent. The number is down substantially over the past several years, but is still a relatively high number historically.
Also, this week, the Wall Street Journalreported that the Home Affordable Modification Program -- a program produced by the Obama administration to help people work out the payment process on their mortgage loans -- is facing a problem in dealing with the loans. The program's backlog has jumped to 221,000, substantially higher than just a couple of months ago.
Meanwhile, wages are not increasing much, and the rising stock prices sought by Federal Reserve Chairmen Ben Bernanke and Janet Yellen to spur the economy are not helping those with debt problems who don't own stocks.
Some people keep looking for good news about an U.S. economy that is going to accelerate in the future. My question is, how can the U.S. economy really accelerate much faster with debt problems that haven't been resolved yet?
Kass: Has the Auto Industry Peaked?
This article represents the opinion of a contributor and not necessarily that of TheStreet or its editorial staff.