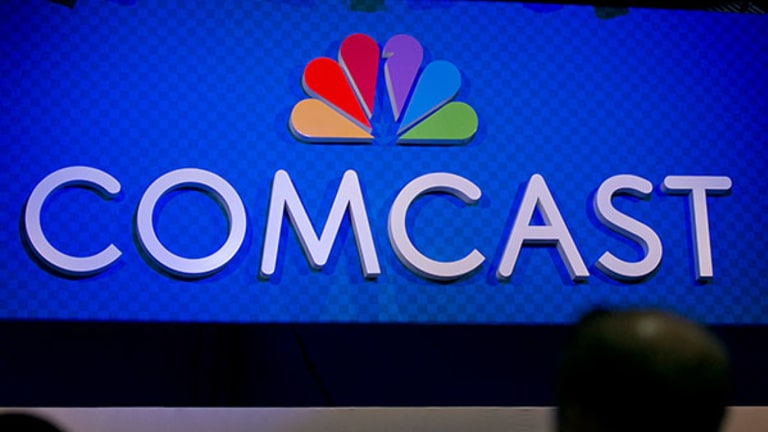 How Big Internet Providers Will Stop Arguing and Learn to Love Net Neutrality
Internet service providers such as Comcast and Verizon are sending mixed messages about net neutrality's impact.
NEW YORK (The Street) -- Internet service providers led by Verizon (VZ) - Get Verizon Communications Inc. Report , Comcast (CMCSA) - Get Comcast Corporation Class A Common Stock Report and AT&T (T) - Get AT&T Inc. Report  apparently want you to believe that net neutrality will send us back to the Stone Age.
The country's biggest broadband operators say that if the Federal Communications Commission requires them to abide by strict rules treating all users equally regardless of size and sales, they won't be incentivized to make investment in their networks, the kinds of investments we all agree are long overdue. They claim it won't be worth it to build new high-speed networks.
Yet the claim that net neutrality would discourage future infrastructure investment seems to be a bluff. In fact, net neutrality may be a significant benefit for the industry's established players of which Comcast, Verizon and AT&T are the biggest.
Heading into the final months of debate on the issue, the big providers are pressuring the FCC to turn its back on President Obama's call for broadband services to be reclassified under Title II of the 1934 Communications Act, an actin that could result in Internet traffic usage being regulated similar to a utility.
"We think that that is a -- that would be a mistake," said Time Warner Cable CEO Rob Marcus at a  Dec. 9 conference hosted by UBS. "It's highly likely to cause all sorts of unintended consequences, create uncertainty, dis-incentivize investment, and probably at the end of the day end up costing customers more for lesser services."
At the same conference, UBS analyst John Hodulik asked Verizon finance chief Francis Shammo how net neutrality regulation would affect "his view on the attractiveness of investing further in the United States," to which he answered that whatever the FCC decides, the rules do "not influence the way we invest. I mean, we're going to continue to invest in our networks and our platforms."
In other words, if Verizon can charge more for better services, it will do so. Remember, Obama didn't call for the FCC to be able to regulate rates.
The upshot? Although the National Cable and Telecommunications Association and high-profile executives such as Marcus may claim that they will stop investing in new infrastructure, it's probably untrue. Shammo, better positioned than anyone to comment on Verizon's financial future, shot down the possibility of a freeze on investment.
Moreover, whether or not net neutrality is enforced, companies such as Verizon and Time Warner Cable will continue to try and gain market share by expanding and improving their networks. For instance, Verizon is currently deploying fiber in Philadelphia, Washington D.C. and all five boroughs of New York City, where it is hoping to undermine Time Warner Cable's grip on households.
Yet Shammo and Marcus have different goals with their messages. Although Marcus and the NCTA would love nothing more than to prevent further regulation, Shammo may have intended to reassure investors that Net neutrality would not hurt the bottom line or destroy Verizon's plans for future growth.
The ISPs are "reassuring their investors that reclassification won't hurt their revenues," said Chris Lewis, vice president for government affairs at Public Knowledge, a net neutrality watchdog organization.
"They're starting to see that this net neutrality thing is going to happen, and they're trying to tell their investors that it's not such a bad thing," said Jeremy Gillula, staff technologist for the Electronic Frontier Foundation.
Net neutrality rules probably will not lower revenues for Internet service providers, because the rules would only affect potential revenue streams.
"It's more of a solution looking for a problem," Gillula said. "Because right now, there are no ISPs charging for faster connections, so it's only potential revenue."
Even the loss of potentially huge revenue streams might not be that big of a deal in the long run. "Regulation will lock in established players and make the cost of entry higher," said Brian Dietz, a representative for the NCTA.
In other words, net neutrality under Title II could protect big ISPs by making it too expensive for upstarts to break into the market. Although the ISPs fear that Title II could be used to regulate prices, there could also be less competition in the future.
The best-case scenario for companies and consumers, according to Gillula, would be reclassification of ISPs with strict rules preventing the blocking or throttling of traffic or the implementation of fast lanes, but without other major regulatory restraints that might dampen competition.
This article is commentary by an independent contributor. At the time of publication, the author held no positions in the stocks mentioned.