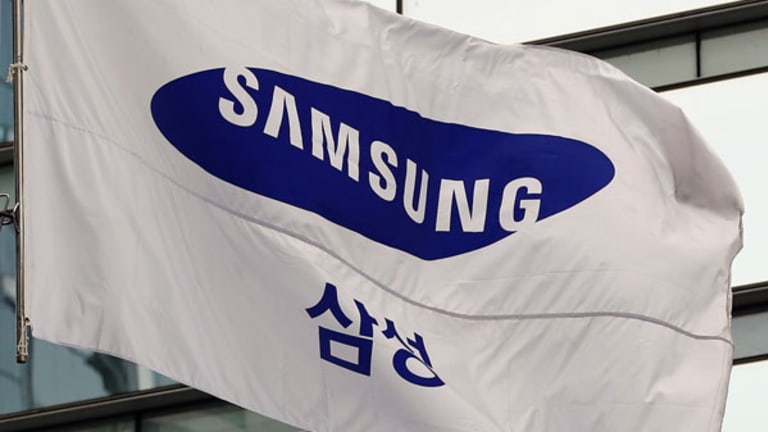 How Apple Envy Is Hurting Samsung
Samsung's aggressiveness is backfiring.
NEW YORK (TheStreet) -- A lot was made about Steve Jobs' perceived obsession with beating Google (GOOG) - Get Alphabet Inc. Class C Report.
Legend suggests that the deceased Apple (AAPL) - Get Apple Inc. Report founder said he would go "thermonuclear" to describe the lengths to which his hatred for Google ran -- particularly as it relates to Android, which Jobs described as a "stolen product."
But what Jobs has said pales in comparison to what former Samsung (SSNLF) America CEO Dale Sohn once said that beating Apple is no longer merely an objective, it is Samsung's survival strategy.
That sort of obsession that may ultimately be Samsung's downfall. The company, which has risen to prominence by "drawing inspiration" (I won't say copy) from Apple's design, is now battling a ghost, which is itself.
Recent evidence suggests that Samsung's aggressiveness in marketing and the pace at which it has released new products have actually benefited its hated rival.
Consider that last year around this time all of the talk about Apple's inability to innovate. Samsung, meanwhile, had just released its Galaxy S4 phone to warm reviews. Now less than a year later, the company is out with the Galaxy S5.
Ever since Apple was awarded $1 billion by a jury, which found Samsung guilty of infringing on Apple's patents, Samsung has been working to flood the market with devices. The company has adopted a strategy of refreshing its product cycle every six to eight months. Apple has a longer product refresh cycle of 12 to 18 months.
Samsung's strategy of more frequent smartphone launches isn't working. In its most recent quarter, mobile revenue fell 2.5%. 
Although the Galaxy S5 is reportedly selling faster than the Galaxy S4, the S5 also costs $20 more to make, according IHS iSuppli. And Samsung is selling the S5 for $100 less than the S4 (at launch). That suggests a margin hit of $120 per phone.
Meanwhile, Apple's iPhone 6 is expected to take a significant chunk out of Samsung's sales. Finally acknowledging the demand for a bigger phone, Apple's management has dropped hints that the bigger phone is coming. With Samsung's mobile revenue already declining, that spells trouble for Samsung.
At the time of publication, the author was long Apple.
This article represents the opinion of a contributor and not necessarily that of TheStreet or its editorial staff.
Richard Saintvilus is a co-founder of StockSaints.com where he serves as CEO and editor-in-chief. After 20 years in the IT industry, including five years as a high school computer teacher, Saintvilus decided his second act would be as a stock analyst - bringing logic from an investor's point of view. His goal is to remove the complicated aspect of investing and present it to readers in a way that makes sense. His background in engineering has provided him with strong analytical skills. That, along with 15 years of trading and investing, has given him the tools needed to assess equities and appraise value. Richard is a Warren Buffett disciple who bases investment decisions on the quality of a company's management, growth aspects, return on equity, and price-to-earnings ratio. His work has been featured on CNBC, Yahoo! Finance, MSN Money, Forbes, Motley Fool and numerous other outlets.