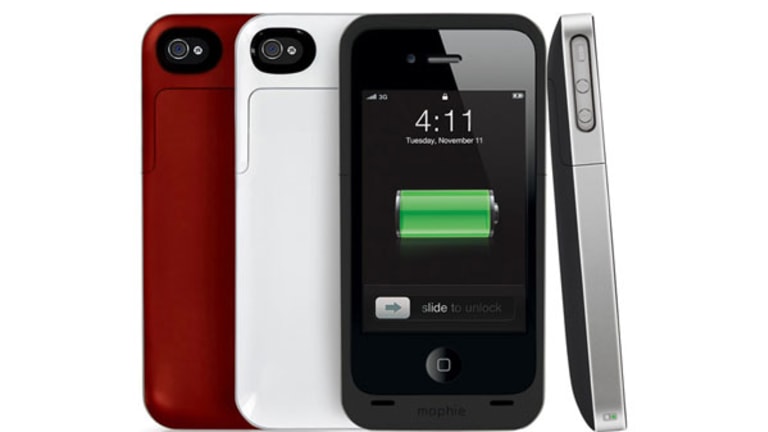 How Apple Could Become America's Most Hated Company
Nuance separates notions of building an empire and building a great company. Tim Cook understands this; Mark Zuckerberg doesn't.
NEW YORK (TheStreet) -- Visit Canada and you'll have an easier time finding BlackBerryundefined devices -- even Playbook tablets -- out in the wild than you will Canadians who have anything nice to say about Rogers Communications (RCI) - Get Rogers Communications Inc. Class B Report and BCE, Inc. (BCE) - Get BCE Inc. Report (formerly Bell Canada).
If you think Americans hate cable companies, just talk to Canadians about Rogers and Bell. The duo doesn't just control cable in Canada, they combine to control a bunch of other ubiquitous stuff -- from wireless and landlines to any radio/television stations and programs that matter to the Toronto Maple Leafs, among other major sports teams, venues and more.
Take Comcast (CMCSA) - Get Comcast Corporation Class A Report, combine it with DIRECTV (DTV) , Verizon (VZ) - Get Verizon Communications Inc. Report, Madison Square Garden (MSG) - Get Madison Square Garden Co. Class A Report and Clear Channel and you'll be close to expressing a U.S. version of the loathed Rogers-Bell combo.
Or -- minus cries of monopoly and duopoly -- maybe we only need to look to Facebook (FB) - Get Facebook, Inc. Class A Report. They're building just as evil an empire. And the last thing we should do is suggest Apple (AAPL) - Get Apple Inc. (AAPL) Report do anything that even resembles likewise.
Why would Tim Cook crush the goodwill, trust and loyalty it took so long for Apple to build by becoming, in the eyes of a beyond cynical and beaten down public, like Facebook?
We're living through one of the peaks in a phenomenon that never goes away, but steps up in intensity every time Facebook makes an acquisition.
The tendency for the tech and financial media to go on a four-pronged binge of inanity that floats leaps of illogic:
Apple's stagnating because all of these acquisitions have gone on around them, but they haven't done anything. They missed out.
Finally, Apple would be doing something.
I'm exaggerating, though not by much.

Driven in part by the actions of Facebook and Google, there's this sense that Apple must execute a strategy of growth through M&A to survive.
Our fickle perception of inaction, stagnation and lack of innovation at Apple (there's no question I'm guilty of this from time to time) doesn't necessarily reflect what's happening at the company. Put another away, Tim Cook likely has his act together.
I elaborate on this trajectory of thought in Apple Doesn't Need to Change, If Apple Needs Netflix, Tim Cook Needs a Clue and as far back as Apple: iPhone Doesn't Need to Be Revolutionary.
But there's something else at play that these M&A nimrods and certainly the soulless bunch that populates Wall Street fail to take into account -- Tim Cook cares about Apple's image. He cares about the way Apple looks in the bloodshot eyes of consumers, smart generalist Americans and people around the world. It's one thing for people to "hate" Apple because they consider the brand and its fanboys pretentious. That breeds admiration and aspiration. It's entirely another for people to hate Apple for the same or similar reasons as Canadians hate Rogers and Bell or Americans hate cable companies and, increasingly, Facebook.
This is not to say Apple should not or will not make an acquisition someday. Or that other mindblowers (like, say, Comcast buying Yahoo!) won't happen.
But back up ...
The last thing Apple needs is to become creepy like Facebook and, to a lesser extent, Google. Nuance separates notions of building an empire and building a great company. Tim Cook understands this; Mark Zuckerberg doesn't.
Forget, as I have described in recent articles, that diving too deep into software and services (outside of joining Google to crushMicrosoft (MSFT) - Get Microsoft Corporation (MSFT) Report) will hurt Apple's hardware-focused bread and butter business. And remember that the way people -- you, me, average investors -- view Apple matters.
Children do not have the run of the house at Apple.
When Mark Cuban became a billionaire he bought a basketball team. And now he goes on television and blogs to prescribe his vision for the world. That's cool. It's diffcult not to like or, at the very least, admire Cuban. He's living the dream.
Mark Zuckerberg let his success and riches go to his head. He spends billions of dollars to construct an empire and then tells Facebook users they ought to rejoice on the road to His dominance. They're going to live better lives because He thinks the things Facebook's doing are -- um like -- the coolest things in the world.
This non-strategy of empire building and prescribing your view of the world on decreasingly captive others will kill Facebook. Zuckerberg's building something like the American version of Canada's Rogers and Bell right before our eyes. He's drunk with power -- figuratively and literally.
Something more palatable will come along that will, in Zuck's words, connect us socially (or whatever crap he spews). And people will move to it until it oversteps its bounds. Then something else will come along and we'll move to it.
Tim Cook's smart and prudent enough to understand this, particularly as it relates to the delicate position Apple operates from. As such, he's not in this to build an empire. He's in it to sustain and grow a great company. There's little reason to bring massive resources in from the outside when you already have -- with relatively small tweaks and additions along the way -- everything you need on the inside.
--Written by Rocco Pendola in Santa Monica, Calif.
Rocco Pendola is a full-time columnist for
TheStreet
. He lives in Santa Monica.
Disclosure: TheStreet's editorial policy prohibits staff editors, reporters and analysts from holding positions in any individual stocks.