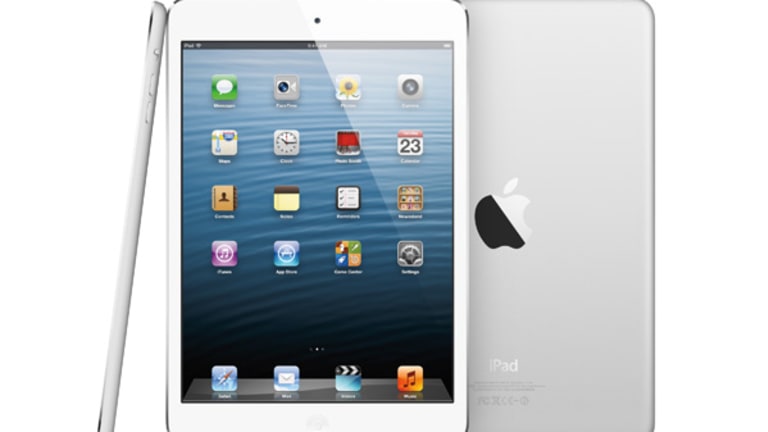 How America Won the Tablet Wars
Tablet computing could easily have become Asian, as phones were becoming dominated by Asian brands. Then America fought back.
Tablet computing could easily have become Asian, as phones were becoming dominated by Asian brands. Then America fought back.
NEW YORK (TheStreet) -- Here is a test for investors. Where is most of the value added in a computer?
If you answered the hardware or assembly, you're wrong. Most of it comes in the software and the marketing. Controlling the platform is the key to long-term financial success.
The move from the PC era with a TV for output, a keyboard and mouse for input, and spinning disks for storage, to the tablet era with a TV for input and output, spinning disks replaced by memory chips and wireless networking, gave Asia a huge opportunity to grab the top of the stack. Asian companies made the parts and assembled the devices. All they needed to do was take control over what they had.
The big technology story of 2012 is how America's computer companies, at some risk to their margins, aren't letting them.
The story is centered on
Apple
(AAPL) - Get Report
, whose new CEO, Tim Cook, failed with his "new iPad" launch in March. It wasn't very different from what
Samsung
could do with
Google
(GOOG) - Get Report
software. It even used a lot of Samsung parts, chips and screens.
Cook did two things to bring the value back:
1. He found a new source for the bright "Retina" screen, easily visible on a clear sunny day, through a combination of Japan's
Sharp
and Korea's
LG
,
as
9to5google.com
reported.
2. Apple engineers also perfected a new assembly technique, borrowed from aerospace, enabling flat screens to be crisply attached to a flat bank of chips, resulting in a device that's lighter and thinner than anything that came before.
Cook took the hit on two quarters' earnings, investing more and selling less, to get ahead of Samsung's competition.
Sure, Samsung made a fortune this last quarter,
as
Business Insider
reports.
Amazon
(AMZN) - Get Report
also got 22% of the U.S. tablet market with its Kindle Fire,
as
PaidContent
reported, a device tied even closer than the iPad was to a proprietary app store.
Both of these moves, by the way, were good for Google, whose Android operating system drives both companies' devices.
The tablet transition, of course, is leaving
Microsoft
(MSFT) - Get Report
fighting for relevance. It is placing all its chips on a new Windows interface, sourced to both Asian tablet makers and American PC makers, with a bunch of proprietary services -- XBox, SkyDrive, Skype -- that could let it make more money off a lower market share than anyone now imagines it can.
So while Microsoft, Amazon, Google and even Apple all fell hard after their recent earnings reports, it's a correction, not a bear market. We're dominating Asia in this technology transition where it counts, taking a short-term hit to profits in exchange for dominance of software, services, and branding of computing for years to come.
What the Asian companies must now do, to win even their home markets, is invest heavily in their own operating systems, their own app stores, their own brands and channels. They have to do what American companies did over the course of a whole decade, and it may now take years to wean even their own consumers from the American brands.
It may be the most important technology story of 2012, and no one has written it. Until now.
At the time of publication, the author was long AAPL, MSFT and GOOG.
This article is commentary by an independent contributor, separate from TheStreet's regular news coverage.