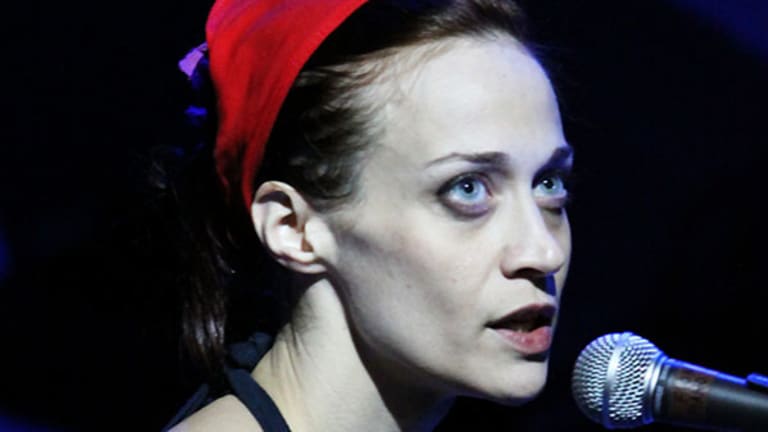 How America Killed the Live Event
Seeking their own moment of fame, a subset of event attendees has turned communal experience into a live-action comments field.
PORTLAND, Ore. (TheStreet) -- Oct. 3 was apparently Freelance Psychotherapist Night at the Newmark Theater here in Portland. Somebody really should have told Fiona Apple this before she got on stage.
It wasn't really an issue until about the tail end of the singer's performance, when one of the clearly trained professionals in question opted to waive her fee and offer Apple some advice free of charge:
"Fiona! Get Healthy! We Want To See You In 10 Years!"
Her colleagues, apparently not sharing the same view of Apple's aesthetic tells as this particular woman, lustily advised her to cram a notebook in it. Apple, for her part, made a simple request -- peppered with colorful adjectives -- to have the house lights brought up so she could see this woman being ejected from the room. That chafed against professional ethic of yet another of the theater's ubiquitous therapists on hand, who
implied that Apple's best days may be behind her,
remarking that "I saw you 20 years ago and you were beautiful."
As early and unexpected therapy sessions often do, this got the better of Apple's emotions and forced her from the stage after a rendition of "Waltz (Better Than Fine)" before her allotted hour was up. What did she take away from her windfall of free life lessons: That she'd just endured a "historically stupid night" and that she's "not going to try to convince someone I'm healthy."
Since there are a few people in this town who've now doled out their painstakingly detailed and researched analysis and received nothing in return -- not even thanks for what they know to be a good deed -- let us repay the favor with some advice of our own: Just shut it. Seriously, shut up. The price you willingly paid for a ticket -- no matter how high it might have been -- entitles you only to the performance and, perhaps, a seat. Nobody else who paid that same price did so to hear your thoughts on the proceedings or any other interjection you may have on hand.
In this forum, your words are worthless -- of no value whatsoever. Even worse, they only diminish the value of the tickets being held within earshot of you and do irreparable damage to the live concert experience in general. In fact, they so degrade the communal experience in general that they turn other patrons away in droves each year.
For years, the U.S. concert, movie, sport and theater ticket-buying public has deflected the blame for decreasing attendance on any scapegoat in sight. The tickets cost too much, the product isn't as good as it used to be, the technology at home is so much better, the economy is bad. Nonsense. Go to your bathroom, point your eyes toward the mirror and look at the problem. If you're not the mouthy, mobile-device-illuminating, performer-heckling, beer-vomiting, phone-ringing lout driving people from public events, you're the timid little shrew allowing them to do so without speaking up.
The numbers back it up. According to
Billboard
, global concert grosses and attendance each fell 10% last year, with concerts in North America alone drawing 6% fewer people than they did in 2011. Even
Billboard
admits the damage is likely far worse, as numbers have been much tougher to get since they took a nosedive in 2010 and companies such as
Live Nation
(LYV) - Get Live Nation Entertainment, Inc. (LYV) Report
cut back on reporting their attendance and income figures. Meanwhile, BoxOfficeMojo notes that U.S. movie ticket sales that peaked at 1.58 billion in 2002 dropped to as few as 1.28 billion in 2011 before hitting 1.36 billion last year. For perspective, that's roughly the same number of movie tickets that were sold here in 1996.
In 2011, the 16.6 million tickets sold for National Football League games was the lowest number since the league expanded to 32 teams in 2002. Even then, it managed to sell 16.8 million. Major League Baseball, meanwhile, saw attendance drop from a record 79.5 million in 2007 to 74 million this year. Even in theater, the 2012-2013 Broadway season drew 11.57 million people for its lowest attendance number since 2003-2004 -- and that year, it put up seven more new productions.
We know you really want to blame the economy right about now, but the economy isn't what's prompting folks to text through movies, keep phone ringers on during plays and act like damned fools during live performances. Ask comedian Dave Chappelle, who had already taken time away from his career after
The Chappelle Show
got too hot almost a decade ago and nearly went back into hiding again after a bunch of drunks in Hartford, Conn., turned one of his standup shows
into an airing of grievances this summer
. Their primary complaint: They weren't hearing enough of themselves and Chappelle wasn't giving them enough attention. Chappelle might be all over the streaming concert startup LoveLive, which colleague Rocco Pendola says
says could be a huge boon for the concert industry in general
, but
about exactly why the hecklers went after him says a lot about the comments fields and reality programming behind their taunts.
You know that crowd feels lucky that they got to see me freak out. It's just like being at the expletive tiger show the night Siegfried & Roy got their throats bit out by the tiger. It's expletive up, but I know that's why you go to the tiger show. You don't go to see somebody be safe. You guys are thinking in the back of your mind, "This expletive might get bit. I'd like to see that for $35."
And that's just it -- they want the breakdown, they want the chaos and they want the spotlight for their rightful place in all of it. The comment field concern troll becomes the concert therapist. The professional troll starts shouting for Rick James every time Chappelle lets a joke land. The social networking addict get so accustomed to posting every experience as it's happening that it never occurs to them that a smartphone screen in a darkened movie theater or concert venue is basically an undirected flashlight -- no matter how clever a line it tweets out or how awesome of a blurry, shaky, fuzz-addled video clip it produces.
They want a cast member kicked out of their real-life version of the
Real World
or
Big Brother
house because that's the best part of each program. They want to vote a star off the stage because every broadcast talent show in the last decade has asked them to do just that. In every corner, their disruption has been validated and their every thought has been declared worth hearing simply because it is true.
It isn't. Simply having a thought is not a justification for verbalizing it, especially in a communal setting where the people around you have paid to see the attraction in front of them -- not the distraction to their side. Think Fiona Apple isn't looking well during the whopping 45 minutes you've seen her out of her life? Write her people an email or, better, take some vitamins and feel questionably superior for a day. Think she looks high? Consider that James Spader and James Franco have looked similarly high most of their lives and have had thriving careers as adults.
Hate her twitching and muttering? Look up a
or
show on YouTube and see what an onstage fit looks like or, better, soak in
Kurt Cobain's headbutt-the-monitor performance of School
and ask yourself if maybe you haven't seen enough concerts in your lifetime to voice a qualified opinion.
As for you, retreating ticketbuyer, why are you letting these people ruin an experience you're paying so much for? From 1981 to 2012, the average concert ticket price rose by nearly 400%, compared to the 150% rate of inflation. In 2000, the average price of a concert ticket was $41, according to Pollstar. Today, it's above $65 and rising. In 2012, the average cost of a movie ticket in the U.S. was just under $8. In 1996, the last time this few Americans were going to the movies, an average ticket cost $4.42. On Broadway, the $74 average cost of a ticket for the 2008-09 season ballooned to $117 by 2012-13. Since 2006, the average price on an NFL ticket rose from $62 to $81, according to
Team Marketing Report
.
This all assumes you got tickets at face value and didn't pay more on the secondary market. That's an investment worth protecting and one that shouldn't be ruined by the thoughtless self-absorbtion of others. We're not advocating direct confrontation that would turn every event into a more of a strawman-building, insult-hurling, live-action message board than it already is. We're just suggesting that maybe you should help your favorite artists, performers and teams by getting event security to play moderator and expelling the offending party. It may take five minutes out of your event, but it beats wrapping things up a half hour or hour early because someone who had the self-restraint knocked out of them by technology didn't know when to keep his or her mouth shut.
If that fails, prepare to view every event through a rectangular, digital filter from this point on.
-- Written by Jason Notte in Portland, Ore.
>To contact the writer of this article, click here:
Jason Notte
.
>To submit a news tip, send an email to:
.
RELATED STORIES:
>>Why Tampa Bay Bucked NFL Blackouts
>>Hip-Hop's Golden Age Is A Moving Target
>>The United Playlist Of America
Jason Notte is a reporter for TheStreet. His writing has appeared in The New York Times, The Huffington Post, Esquire.com, Time Out New York, the Boston Herald, the Boston Phoenix, the Metro newspaper and the Colorado Springs Independent. He previously served as the political and global affairs editor for Metro U.S., layout editor for Boston Now, assistant news editor for the Herald News of West Paterson, N.J., editor of Go Out! Magazine in Hoboken, N.J., and copy editor and lifestyle editor at the Jersey Journal in Jersey City, N.J.