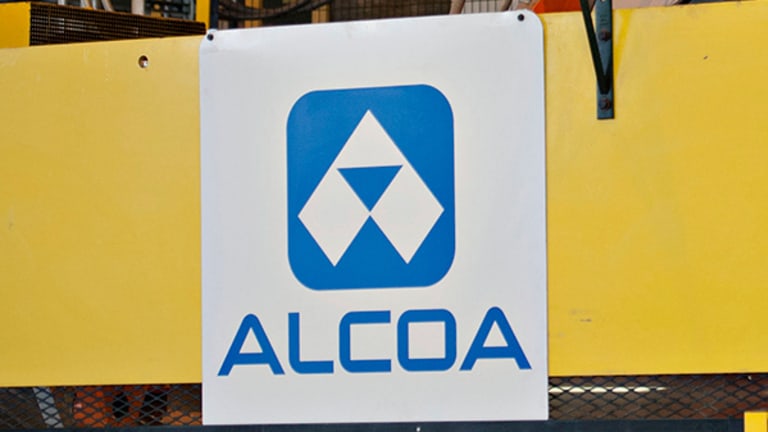 How Alcoa Will Haul Revenue and Earnings in Ford's Aluminum F-150
With aluminum prices up 10% year to date and growing, Alcoa will be hauling revenue and earnings for years to come. And smart investors will be riding shotgun.
NEW YORK (TheStreet) – Boosted by the outlook for Ford's (F) - Get Ford Motor Company Report new aluminum-body F-150, global aluminum giant Alcoa (AA) - Get Alcoa Corp. Report  is likely to shine with its third-quarter financial results Wednesday. 
Despite modest revenue numbers of late, Alcoa has a track record of impressive earnings. And if early indications are correct, both revenue and earnings will trend even higher. Investors should hop on now for the ride.
On Monday, the company received news it has been waiting for: Ford's all-new aluminum bodied F-150 truck, set to launch later this month, is getting great reviews and is certain to be a hit with consumers. That is great news for Alcoa and its shareholders.
Watch the video below for more on how aluminum makers could be big winners as automakers increase their use of the metal:
The stock closed Monday at $15.99, up 2.5%. The company has now gained 51% on the year to date, dominating the 6.3% gain in the S&P 500 (SPY) - Get SPDR S&P 500 ETF Trust Report .
Investors have made a lot of money, no doubt. But it's not yet time to cash in. Alcoa shares are heading to $20 in the six to 12 months. 
Management feels confident about aluminum prospects for the automotive industry, which it projects to grow fourfold by the end of fiscal 2015. Alcoa projects aluminum to grow tenfold in autos by 2025. And Ford will be a big driver of that growth.
Alcoa has placed enormous bets on Ford, which has embraced aluminum to make its trucks and vehicles more fuel-efficient and lightweight. And in its first batch of test drives Monday, vehicle critics drooled all over the new F-150.
Following its test drive, Car and Driver said of the F-150, "the lightweight metal is also an indicator of a better truck."
Then it was Detroit News, which said: "The result is a new truck that not only vaults Ford back to the top in the truck arms race, but it also likely changes the segment forever."
Truck Trend followed with: "The '15 model builds on the strengths that have made it a best-seller and adds a new measure of technology, sophistication, and efficiency."
All of this bodes well for Alcoa's aluminum prospects. But the company is no longer just a play on aluminum. Not only is Alcoa shifting its operation towards higher-margins business, the company is actively expanding and diversifying its products.
Alcoa moved into the aerospace industry with its recent acquisition of Firth Rixson, a U.K.-based maker of jet-engine components. And the company is expanding into other types of metals like titanium and steel.
Combining Firth's capabilities in isothermal technology, which uses no aluminum in its products, Alcoa is developing a type of product diversification that is unmatched by industry peers.
So with aluminum prices up 10% year to date and growing, Alcoa will be hauling revenue and earnings for years to come. And smart investors will be riding shotgun.
At the time of publication, the author held no position in any of the stocks mentioned.
This article represents the opinion of a contributor and not necessarily that of TheStreet or its editorial staff.