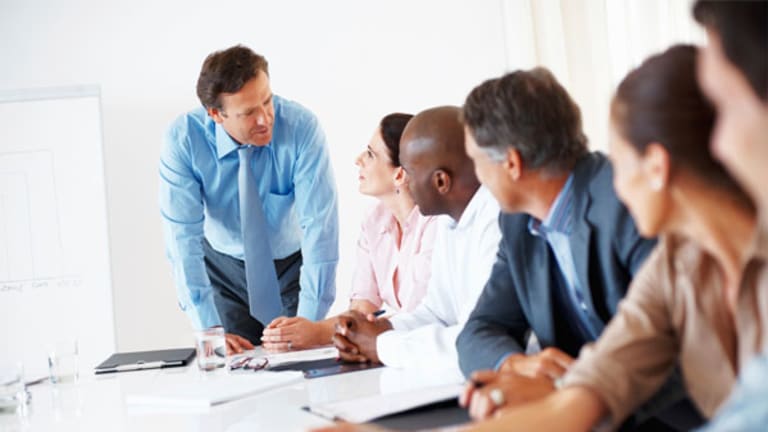 Houston: You Blew It on United Hub
United's Houston Bush hub is among the city's key assets, yet it is under assault from the city council.
United's Houston Bush hub is among the city's key assets, yet it is under assault from the city council.
HOUSTON (
) -- Houston, you blew it. You killed the goose that laid the golden egg.
Aesop's fable, written in the sixth century B.C., tells of a couple that had a goose that laid golden eggs. Thinking they could get more gold more quickly, the couple killed the goose and cut it open. But they found no more eggs. The fable has stood for 2,400 years as a tale of being rich, wanting to be richer, and losing everything in that pursuit.
This ancient lesson, unfortunately, was lost on Houston's city council, which voted 16-1 last month to enable
Southwest
(LUV) - Get Report
to build an
at Houston Hobby Airport, diminishing
United's
(UAL) - Get Report
hub at Houston Bush Intercontinental. There United operates the third biggest U.S. hub, with 650 daily departures to 177 destinations including 64 international destinations.
United's Houston hub is also the third most profitable major airline operation in the country in terms of profit margin, according to Scott Kirby, president of
US Airways
(LCC)
. The golden egg is the vast benefit it brings to Houston's economy. In a global world, cities have few assets more important than international airports with the reach to drive global commerce.
As John Kasarda, professor at the Kenan-Flagler Business School at the University of North Carolina, has said, in the 18th century the great cities were ports. In the 19th century, the great cities were railroad cities. In the 20th, they were cities with good highway access. In the 21st century, they are cities with non-stop international flights.
What misled the Houston council? First, it is far too easy to argue that competition is wonderful and solves every problem and government should never stand in the way. Also, the 2010 merger between United and Continental bred resentment because the hometown carrier closed its Houston headquarters. And who can resist the promise of lower fares to Mexico City and Cancun and San Jose del Cabo and the engaging charm of Southwest CEO Gary Kelly?
On top of all that, Southwest reversed an earlier position to say it would pay for the needed improvements at Hobby. Free money! If only life were so simple.
Houston, of course, is important - it's the home of the oil industry and the fourth biggest U.S. city. Nevertheless, Houston cannot possibly, by itself, support all the flights United operates there. Rather, 71% of hub passengers connect, coming from elsewhere to change planes. That is the highest percentage for United's hubs. At Denver, the next highest, 68% connect. At Dulles, 65% connect; at Chicago, 62%; at Cleveland 57%, and at Los Angeles and San Francisco, 52%. At Newark, the lowest, just 42% connect.
Statistics compiled by United show that among U.S. hubs, Houston ranks fourth in providing airline seats that exceed the number of local passengers. In other words, Houston has far more capacity than its residents fill. Charlotte, US Airways' biggest hub, has 5.3 seats per local passenger. Atlanta,
Delta's
(DAL) - Get Report
biggest, has 4.2. Dallas,
AMR's
(AAMRQ.PK)
biggest, has 2.9. Houston has 2.8, Detroit has 2.5 and Chicago also has 2.5. At the other end of the spectrum, Miami and Los Angeles have just 1.6 seats per local passenger. (Capacity includes all airlines, not just hub carriers.) Among the top 10 hub cities, only Chicago has two international airports.
In the hub system, you bring in passengers to connect. The more passengers you have, the more flights and destinations you can offer. Sadly, little margin for error exists in a historically unprofitable business where, too often, the last one or two passengers on an airplane provide the margin between a profit and a loss.
"Charlotte is truly the No. 1 case of how you can build a hub in a smaller city that drives jobs and benefits to the local economy far above what the local economy warrants," said Brian Znotins, United's managing director of international planning. "But Houston too has disproportionately attracted capacity. Since the merger, we've grown Houston more than any other hub. Houston was set up for success, but then something changed, because Houston said 'We will redo our aviation policy.'"
Now, United must respond. It plans to cut about 6% of Houston capacity, starting with its September schedule.
"We have a series of flight that lose money," Znotins said. "We knew they were losing money, but we thought we were going to grow in Houston. Now we know we won't grow, so those flights look like money-losing investments that won't get any better. Rather than fly them for two more years, we are pulling back."
Among the lost flights, the most prominent was showcase Houston-Auckland, New Zealand service, where Continental had planned to use a Boeing 787 seating 219 people. Only four of those 219 had Auckland or Houston as a final destination. The rest were connecting. But in 2013, Houston Bush will offer fewer connecting passengers. So why start?
Other planned cuts include one of three daily 737 flights to San Jose, Calif., one of four daily 737 flights to Baltimore, and one of two daily flights to Morelia, Mexico on a 50-seat regional jet. Some other flights will get smaller aircraft, while a small number of destinations, fewer than a dozen, will disappear, Znotins said.
Maybe it doesn't seem like much. But you take out a few flights here and a few flights there, and suddenly your hub isn't quite so powerful anymore.
The tragedy is that Aesop laid all this out two and a half millennia ago. The golden goose, the United hub, provides Houston with far more air service than it can support. That only made Houston want more, so it chopped up what it has in return for a few cheap flights to Cancun.
-- Written by Ted Reed in Charlotte, N.C.
>To contact the writer of this article, click here:
Ted Reed
>To follow the writer on Twitter, go to
.