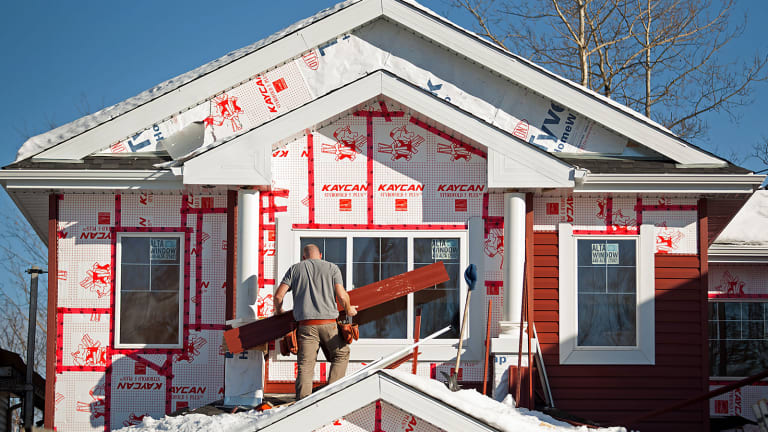 Housing Stocks May Provide No Shelter for Investors
Home Depot, Lowe's, D.R. Horton and Lennar have been top performers for most of the housing recovery, but their stocks seem likely to dip.
The other day, Barry Rehfeld, a freelance writer for TheStreet, penned a story about four stocks -- Home Depot (HD) - Get Home Depot, Inc. Report , Lowe's (LOW) - Get Lowe's Companies, Inc. Report ,  D.R. Horton (DHI) - Get D.R. Horton, Inc. Report and Lennar (LEN) - Get Lennar Corporation Class A Report -- to buy for the housing recovery. He went on to note that they were top performers for most of the recovery, and while their share prices were down lately, he felt they were still healthy.

All well and good, but when I come to look at an industry such as housing, I want to see the charts and some price history. Earnings can be adjusted and restated. Housing numbers are seasonally adjusted. But the price of the stock is not adjusted, and that is what I want to look at.


In the daily chart of HD above, we can see that prices have rolled over in recent months and broke key support at $124 Wednesday. Prices have broken below the declining 50-day moving average line, and rallies earlier this month failed at the underside of the now declining 200-day moving average line. Take a closer look at the movement of the on-balance volume (OBV) line. HD rallied to a new high in July/August, but the OBV line hardly budged. A price rally without a rising OBV line is a weak rally and tells you that buyers were never aggressive. The moving average convergence/divergence (MACD) oscillator moved below the zero line in early September for an outright sell signal.


In the weekly chart of HD above, we see both an impressive rally going back to $80 in mid-2014 and a rolling top formation the past 12 months. HD is below the flat 40-week moving average line. The weekly OBV line peaked in November last year, and while it is not overtly bearish, it shows that there has not been any aggressive buying of HD for a long time. The lower panel shows HD in a weekly MACD sell. I would look for HD to decline into the $110 to $115 area in the fourth quarter, and then I would want to look at the charts again.


It doesn't take a seasoned chart reading to come away with a bearish opinion on LOW when looking at the daily chart above. The three-month down trend in LOW started with a gap to the downside in August. Notice the heavy volume as investors sold aggressively. The 50-day and the 200-day moving averages are pointed down, so we know from math that the trend is down. Recently, the 50-day average fell below the slower 200-day average for what Japanese traders call a death cross. Yes, it is a negative signal. I would look for LOW to retest support from February in the $63 to $65 area.


Looking at the weekly chart of LOW above, you can quickly see how important the $65 level is -- prices have bounced off $65 a number of times over the past two years. When a price level holds a number of times, it is called support by chartists. Buyers will come in to buy shares at previous support levels until the level is broken. If LOW breaks the $65 level on a weekly basis, it opens the way to further declines to next support around $55.


The daily chart of DHI, above, turned more negative this week as prices slipped below the $29 mark, a sort of "neckline" on the chart. Notice how rallies from $29 since March have all come back to $29? Once DHI closed well below $29, it meant that everyone who bought DHI above $29 had a loss in their account. Similar to the other charts above, DHI is below the declining 50-day and 200-day moving averages. The OBV line just made a new low for the move down, confirming the price weakness with more aggressive selling. The OBV line declines when the volume of trading is heavier on days when the stock closes lower. Last, the MACD oscillator is in negative territory.


In the weekly chart of DHI above, we can see that prices are below the flat 40-week moving average line. The OBV line on this time frame has a slight downward cant. The weekly MACD oscillator just moved under the zero line for an outright sell signal. What is next for DHI? In my opinion, a decline to $26 or so.


Finally, the bears have taken control of the daily chart of LEN, above. The chart support at $43 was broken, the moving averages are trending downward, the OBV line is weak. There is support in the $38 to $41 area from January/February, but it is not that impressive.


In the weekly chart of LEN above, notice how prices have reacted to the $40 level. A weekly close below $40 is not going to be good, in my opinion. The 40-week moving average line is pointed down. The weekly OBV line pointed down, and the weekly MACD moved to an outright sell signal. A deeper decline to $35 on LEN doesn't seem out of line as a year-end target.
Employees of TheStreet are restricted from owning individual securities.