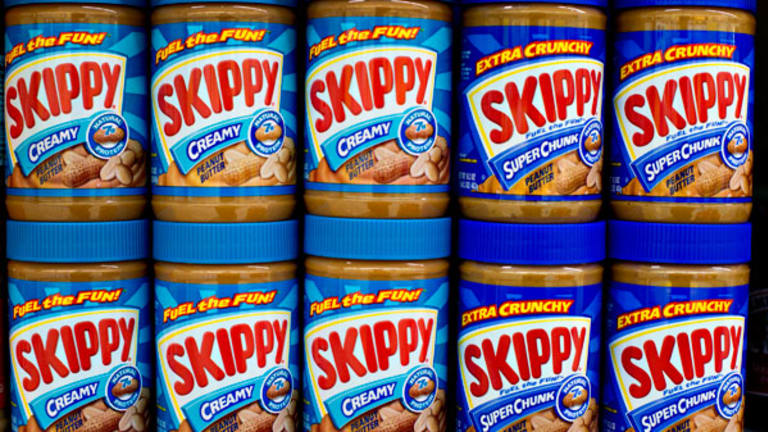 Hormel: Tremendous History, Uninspiring Valuation
Performance results will likely trail business results, according to the charts. Proceed with caution.
NEW YORK (F.A.S.T. Graphs) -- Minnesota-based Hormel Foods (HRL) is probably better known for its Spam product rather than its namesake brand.
Yet, this company carries an assortment of food products ranging from microwavable meals and chili to sausage, pepperoni and refrigerated entrees -- a stable of about 25 Hormel product offerings.
In addition, Hormel Foods has about 25 more brands under various names like Chi-Chi's, Del Fuerte, Farmer John along with the company's
of Skippy peanut butter.
I use my articles on
TheStreet.com
as a means to reveal an intelligent framework for making sound decisions that can keep emotions out of the equation. This means demonstrating the relationship between price and a company's historical operating performance via the
Fundamentals Analyzer Software Tool of F.A.S.T. Graphs
.
In this case I'd like to expand upon something Jim Cramer said recently on
Mad Money
.
about Hormel Foods that he "wasn't crazy" about the last quarter. "Why don't we wait to see the quarter? If it goes down, we'll buy it. Hormel Foods has a great long-term track record for dividends," he said.
I certainly agree with the dividend portion and believe we'll suggest a similar ideology with regard to what a Hormel Foods' investment would mean today. The
was actually quite good. Earnings beat the analyst consensus and the company
raised its dividend
.
In turn, the stock, which closed around $48 Tuesday, is about 7% higher than it was just a week ago. If Cramer wouldn't buy it around $42 last week, he certainly wouldn't be a buyer today. More than that, I would express great caution on this front.
Given the company's wide collection of brands, one might expect reasonable business results. This is generally what we see. In viewing the Earnings and Price Correlated graph below, one can see that Hormel Foods has been an exceptional company over the past 15 years. Operating earnings (orange line) grew by over 10% a year, while the dividend (pink line) increased every year.
In fact, Hormel Foods has not only paid but also increased its dividend for 48 consecutive years. Over the past decade these increases have come in at an average annual rate of about 12%, while the company is only paying out about a third of its earnings.
In addition to Hormel's dividend-friendly nature, the company has also shown a propensity to reward shareholders via a consistent share repurchase program. In 1999 Hormel Foods had roughly 293 million common shares outstanding as compared to the current mark of about 264 million. Further, the Hormel Foundation controls roughly half of these outstanding shares.
Thus taken collectively -- a strong operating history, a continued adherence to raising the dividend and a solid yearly reduction in share count -- one might expect a strong performance result as well. This is precisely what we see. A hypothetical $10,000 investment in Hormel Foods on Dec. 31, 1998, would be worth $55,938.75 today. In addition, one would have received almost $6,000 in dividends for an average annualized gain of 13% a year. Said differently, an investment in Hormel Foods would have provided yearly average returns that were roughly 9% higher than the
index over the same time period.
Moving forward, one might expect that the operating results of the underlying company could be quite similar to the past. However, expecting similar performance results could be a touch misguided at present valuations.
Below I have included the Earnings and Price Correlated graph for Hormel Foods. This is precisely the same as the first graph presented with two exceptions -- the price has been added (black line) and the normal P/E ratio (blue line). Here we see that price tracked earnings reasonably well over the past decade and a half. From 1999 until 2012, Hormel Foods had a normal price-to-earnings ratio of 16.8 and never traded above 20 times earnings or less than 13 times earnings. Today, Hormel Foods trades at a previously unseen 23.5 times earnings.
As depicted, it's easy to see that the price of Hormel Foods has become disconnected from the underlying earnings potential. Now such a run might be justified if earnings were expected to grow much faster than previously. However, this isn't what we see. Instead, earnings are expected to more or less be in-line with Hormel's past operating history.
Below I have included the Estimated Earnings and Return Calculator. As seen in the green box, 11 analysts reporting to Standard & Poor's Capital IQ are expecting a long-term growth rate of 11%. In addition, other sources such as
and
even the company's own Web site
report similar expectations. Certainly a strong growth rate, but surely nothing to write home about when compared to what the company has previously accomplished.
It's important to remember that this is just a calculator. But if one were to believe that the analysts' consensus estimate is reasonable and that five years in the future Hormel Foods would trade at 15 times earnings, this would indicate a 5.6% annualized return including dividends. While positive, it's clear to see that this would lag business results over time. In fact, if you expect Hormel Foods to trade at less than 23.5 times earnings in the future, performance results will likely trail business results.
Warren Buffett has a particularly applicable quote for this situation: "I don't look to jump over seven-foot bars; I look around for one-foot bars that I can step over."
Hormel Foods has been -- and likely will continue to be -- an excellent company, rewarding shareholders along the way. Yet, at today's valuation, Hormel Foods appears closer to a seven-foot bar rather than a one-foot bar. However, as always I encourage the reader to conduct his or her own due diligence.
At the time of publication the author had no position in any of the stocks mentioned.
This article was written by an independent contributor, separate from TheStreet's regular news coverage.
Charles (Chuck) C. Carnevale is the creator of
.
Chuck has over 43 years of financial experience and is the co-founder of the earnings and price correlated, powerful fundamentals analyzer software tool - FAST Graphs. Chuck holds a Bachelor of Science in Economics and Finance from the University of Tampa. Chuck's work stressing sound valuation has been widely published on numerous financial sites and blogs. Chuck is passionate about spreading the critical message of valuation and prudence in fundamental investing. So much so that regular readers have dubbed him "Mr. Valuation". Chuck is a Veteran of the Vietnam War and was awarded both the Bronze Star and the Vietnam Honor Medal.
Chuck believes that correctly assessing fair value is one of the primary keys of successful stock investing, and he has dedicated his more than 40 years of experience in finance to its pursuit. Chuck agrees with legendary investors such as Warren Buffett, who recognize how important it is for investors in common stocks to possess an intelligent framework for making sound decisions that can keep emotions out of the equation. With making smart stock selections, there is no room for fear and greed.
Chuck was fortunate to learn at an early age that earnings drive long-term stock prices, and that dividends, if any, will be paid out of a company's earnings. This led him to develop FAST Graphs, the fundamentals analyzer software tool that reveals the long-term relationship between a company's earnings and its stock price and dividends over time. Chuck is most interested in the business behind the stock.