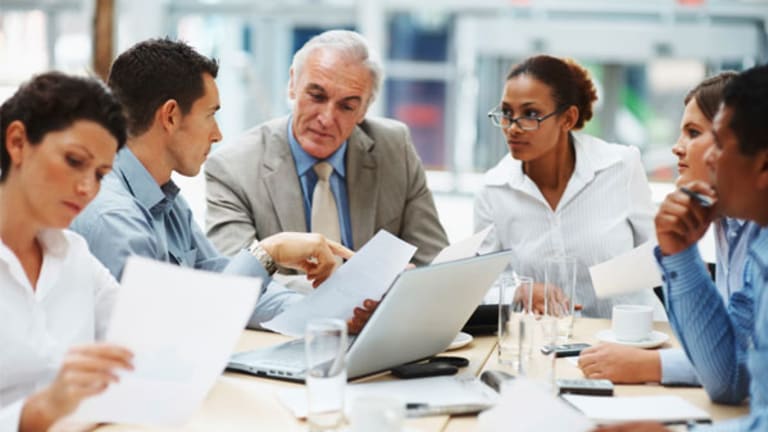 Hope and Change on Wall Street Is for Suckers: Street Whispers
Early signals from the Obama camp are we'll get four more years of a President who talks tough, while quietly kowtowing to the financial industry.
NEW YORK (
) -- Idea for hourlong television drama: Wall Street Hope, starring Barack Obama as a handsome idealist in rolled up shirtsleeves who struggles mightily to clean up the sewer of corruption and financial engineering that is the U.S. financial markets and restore the confidence of investors, retirees, yada yada yada.
But TV ain't real life, folks.
Early signals from the Obama camp are we'll get four more years of a President who talks tough, while quietly kowtowing to the financial interests that are so firmly in charge of our economy, our politics and our culture, that anyone who challenges them risks being labeled as a kook.
Obama's first pick for Securities and Exchange Commission Chairman--Mary Schapiro--was marinated in the same cozy atmosphere between Wall Street and its regulators that helped give us the 2008 subprime crisis. Prior to running the SEC, Schapiro was in charge of the NASD--a self-regulatory organization founded on the dubious idea that big securities firms like
Goldman Sachs
(GS) - Get Report
,
Morgan Stanley
(MS) - Get Report
and
JPMorgan Chase
(JPM) - Get Report
would police themselves.
So it shouldn't be a surprise that Schapiro tried to get away with the same minor fines against these big banks to which we had grown accustomed in the pre-crisis years, while allowing them to settle cases without admitting or denying guilt. Criticism of Schapiro became so fierce, from activist judges like Jed Rakoff and prominent stories in the press, that she eventually had no choice but to increase the fines a bit to something more substantial.
Everyone knew Schapiro had had enough, however, and would step down after the November election, so some hoped Obama might put a real attack dog in charge of the Commission. If former New York governor Elliot Spitzer--
of author and
Bloomberg
columnist William Cohan--was a bit far-fetched, at least Obama might have offered the job to someone with real reformist credentials, or a track record as an independent thinker.
Instead,
the President picks Elisse Walter,
an SEC Commissioner whose career is very similar to that of Schapiro. Like Schapiro, Walter worked at the NASD. Like Schapiro, Walter was general counsel at the Commodity Futures Trading Commission when the futures regulator was nothing but a sleepy backwater.
More important, of course, will be Obama's pick for Treasury Secretary. As we know from books like
Ron Suskind's "Confidence Men"
and
Neil Barofsky's "Bailout: An Inside Account of How Washington Abandoned Main Street While Rescuing Wall Street,"
Geithner defended the interests of big banks over ordinary citizens at every turn during the crisis.
But already we're getting bad signals from
Berkshire Hathaway
(BRK.B) - Get Report
CEO Warren Buffett, who has advised Obama from time to time during his presidency. Buffett told Charlie Rose he'd like to see JPMorgan chief Jamie Dimon as Treasury Secretary
"If we did run into problems in markets, I think he would actually be the best person you could have in the job," Buffett said, according to a transcript of an interview that was scheduled to air Monday on PBS. "World leaders would have confidence in him."
Let's hope Obama won't listen to Buffett this time around. We need a break from regulators and policymakers who think Wall Street's interests come ahead of those of everyone else. It seems doubtful we'll get one, however.
--
Written by Dan Freed in New York
.
Disclosure: TheStreet's editorial policy prohibits staff editors, reporters and analysts from holding positions in any individual stocks.