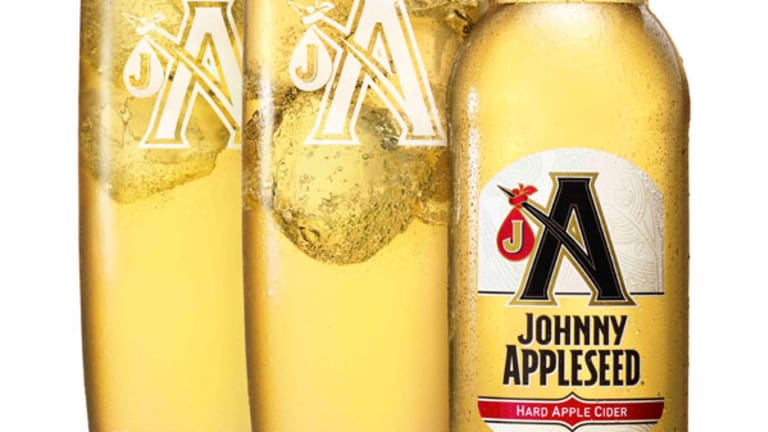 PORTLAND, Ore. (TheStreet) -- There's nothing more frustrating than some loudmouthed moron pointing out a problem without offering any sort of solution.
Especially when you're the moron in question.
Last month, we got all over the case of the folks at SABMiller-MolsonCoors (TAP) - Get Molson Coors Brewing Company Class B (TAP) Report joint venture MillerCoors and their competitors at Anheuser-Busch InBev (BUD) - Get Anheuser-Busch InBev SA/NV Sponsored ADR Report for branding and releasing hard cider for men. As Nielsen has made clear, the split between male and female hard-cider drinkers is close to 50-50, unlike the 72% male/28% female split for beer.
Since the big brewers are so engrossed in their demographic data and have been pushing light lager with a huge male audience for so long, their overcompensation on bro-targeted ciders such as MillerCoors' Smith & Forge and A-B's upcoming Johnny Appleseed is likely just a reaction to the male market share they're losing from their economy and premium beers. They want those young, departing guys to jump to another product in their supply chain, but know that drinking-age millennials will pick up a cider just as quickly as they'll go for a craft beer. It makes sense that the big brewers would want to target males specifically, but cider is rarely marketed by gender tropes and tends to draw a gender neutral audience even when it does.
So what should the big brewers do? Don't target men, just target beer drinkers.
Nat West alluded to that approach when we ran our "bro cider" story in early March. The founder and owner of Portland-based Reverend Nat's Hard Cider just opened a brewery and tasting room in North Portland and has a line of ciders that ranges from potent, hoppy varieties to more winelike blends. They reward a discriminating palate but, like their cidermaker, they don't discriminate.
If someone who loves sweet wines and bitter beers can find a middle ground in cider, should it be a huge surprise that a growing number of U.S. drinkers are doing so as well? According to market research firm Symphony IRI, cider sales in the U.S. increased 81% by volume and 84% by revenue in 2012. Before that, it made up just 1% of the overall beer market. Last year, it was up 103% through November. That's better than the low double-digit percentage growth of craft beer during the same span and far better than the overall beer market, which has declined in four of the past five years.

The product itself does a lot to help the conversion, but so do people like Nat West who see a lot of similarities between cider drinkers and beer drinkers. On Saturday, West opened the doors of his cidery and tasting room for a hopped cider festival that featured not only his hop-infused cider brands including apricot-flavored Hallelujah Hopricot and the hop-heavy Code Name Hopland 3 (hopped six times with 10 different hops at five pounds per barrel), but hopped ciders from throughout the Pacific Northwest and across the country. Citizen Cider brought its fruity, Nelson Sauvin-hopped Full Nelson all the way from Burlington, Vt., while Portland offered its own hopped ciders from Cider Riot!, Sasquatch and Square Mile -- which is owned by the same Craft Brew Alliance (BREW) - Get Craft Brew Alliance Report that owns Widmer Brother and Redhook and employs cidermaster Joe Casey, who we interviewed last summer.
The coup, however, was getting some of Vermont Cider's newly released Woodchuck Hard Cider for the hopped cider festival's first tasting of the day. A force in cider even before it was bought by Magners-owning Irish cider company C&C for $305 million in 2012, Vermont Cider is still the second-largest cider producer in the U.S. behind Boston Beer (SAM) - Get Boston Beer Company, Inc. Class A Report and its Angry Orchard brand. It's also become a bit more creative with its styles and has a free hand to develop ciders within its Cellar Series with an eye toward flavor instead of segment, demographic or gender.
As Symphony IRI points out, if hard cider were in the craft beer category, it would rank as the third-largest style behind IPA and seasonal. It also notes that 84% of cider drinkers also drink beer, which means a cider that could appeal equally to both cider drinkers and beer lovers could be a very powerful product in the right hands.
Beyond the liquid being delicious, this cider is reaching across the aisle, Woodchuck spokesman Terry Hopper said in a press release for Woodchuck Hopped Cider. Craft beer drinkers have a passion for trying new things, and this cider provides a natural crossing point in the river between beer and cider.

It also does so without having its Woodchuck mascot smash a can over its head, ogle women on the beach or drive a 550-horsepower muscle car through an orchard. Beer drinkers may have been deluged by chauvinistic, gender-specific ad campaigns for decades, but that doesn't mean they're idiots. If you offer them flavor they love in a slightly different format, they'll give it a try.
During the tasting at Reverend Nat's, hundreds of people streamed in and waited on quick-moving lines for samples of hopped cider. Unlike the Oregon Beer Festival, the Oregon Fresh Hop Beer Festival and many of the other beer festivals I've attended here, it was a near-even split of men and women not only on the tasting lines, but behind the taps and pitchers. Nat West's reluctance to genderize cider gave hip an event where gender wasn't a factor and drinks with fistfuls of hops in them weren't deal breakers. From young male and female soccer fans in their game-day Timbers scarves to older couples in more formal attire who looked as if they'd just stumbled upon the place after walking from a Convention Center hotel, the crowd in the garage-sized cidery was a plurality that big beer marketing teams only dream about.
Cider still has a small following compared to the beer industry's, but it has some outsized lessons to teach the big brewers encroaching on its turf. The most important is that they already have the tools to convert bored light lager drinkers into bubbly cider lovers. They just need to close down the He-Man Woman-Hater's Club and invest in better ingredients and a broader spectrum.
-- Written by Jason Notte in Portland, Ore.
>To contact the writer of this article, click here: Jason Notte.
>To follow the writer on Twitter, go to http://twitter.com/notteham.
>To submit a news tip, send an email to: tips@thestreet.com.
RELATED STORIES:
>>Why Do We Need Hard Cider For Men?
>>Nitro Battle Bursts Craft Beer's Bubble
>>Budweiser's Baseball Opening Day Holiday Plan Is Brilliant
Jason Notte is a reporter for TheStreet. His writing has appeared in The New York Times, The Huffington Post, Esquire.com, Time Out New York, the Boston Herald, the Boston Phoenix, the Metro newspaper and the Colorado Springs Independent. He previously served as the political and global affairs editor for Metro U.S., layout editor for Boston Now, assistant news editor for the Herald News of West Paterson, N.J., editor of Go Out! Magazine in Hoboken, N.J., and copy editor and lifestyle editor at the Jersey Journal in Jersey City, N.J.