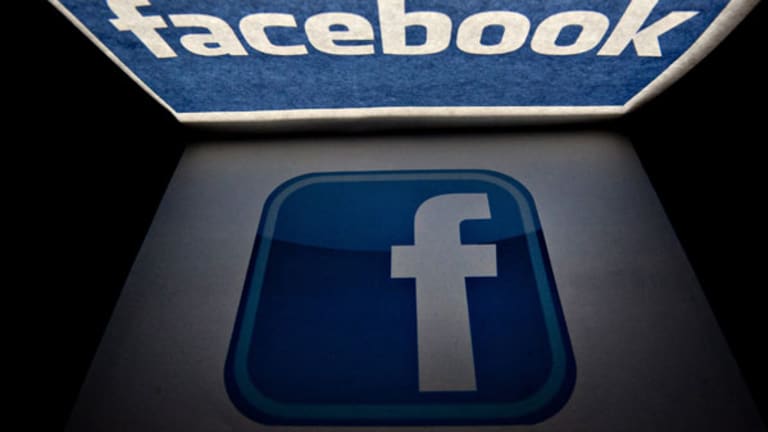 Hooray for Facebook -- and I'm Selling
It offered a big earnings surprise and splendid news for investors everywhere, but now may be a great time to 'sell the news.'
It offered a big earnings surprise and splendid news for investors everywhere, but now may be a great time to 'sell the news.'
NEW YORK (TheStreet) -- Back when I was a financial advisor, the seasoned stock market veterans would say confidently, "Buy the rumor and sell the news."
Perhaps the latest version of this adage is "Buy the scary rumors and sell the big upside earnings surprises." That's what I did lately with my shares of
Facebook
(FB) - Get Report
, and I won't be looking back.
Having purchased shares at $28.76 only to watch them fall below $23 didn't bother me that much since I had a
stealth 25% trailing stop-loss alert set up
.
If shares had fallen to around $21.57, I was going to act on my convictions and cut my losses. Thankfully, shares drifted higher before I hit that 25% trailing stop loss, and Thursday, July 25, they spiked 28% higher.
Normally I would have tightened my stop loss down to 15% to protect my gains, but I realized if I did, with the price at $33.68, and assuming it was a temporary top, I'd be stopped out below the price I paid for it. So I locked in my gains by selling.
My crystal ball is still at the repair shop and I don't know if FB shares are going higher from here or not. With shares now trading at a PE ratio of around 259 and the share price up almost 50% since the June 6, 2013 intraday low of $22.67, I chose to sell. If I owned a substantial position I would've only sold half.
Alas, my meager position wasn't large enough, in my estimation, to split, so I parted company with all my shares at $33.68. My premise for selling is based on Newton's Third Law of Motion.
Sir Isaac Newton may have been a stock market investor, but even if he wasn't, his Third Law of Motion spoke to me: "For every action there is an equal and opposite reaction."
Time will tell me if my instincts about Facebook were correct. If the stock keeps going higher, I'll be chastised by Newton's First Law of Motion, sometimes referred to as the Law of Inertia.
That law says that an object in motion will not change its velocity or direction unless acted upon by an external force as powerful or more powerful. That "force" may be FB's selling volume.
Thursday's trading volume by 2 p.m. EST was over seven times the average daily (three-month) volume of 37,580,200 shares. It may be nine times greater by the close. Volume accelerated when FB hit its intraday high of $34.
As the chart below corroborates, the share-price ride for FB shareholders during the past 12 months has been disturbing from a gastrointestinal perspective. Some days it was blamed for acid reflux.
data by
In the last quarter, sales at FB grew 53% to $1.81 billion from the year-ago same quarter. Sales profits were goosed by a big increase in mobile and local ad sales.
FB posted a profit for last quarter of $333 million, or 13 cents per share. Its mobile advertising business increased by 75% and was a big contributor to sales growth. It made up 40% of FB's ad sales.
It's hard to compare Facebook with other companies. The closest comparison might be
LinkedIn
(LNKD)
, which reports its latest quarterly earnings after the market closes on August 1.
LNKD shares are trading above $200, at a PE ratio of an astounding 793. That means the stock sells for approximately 793 times what it earns per share (EPS).
That beats
Netflix
(NFLX) - Get Report
, which trades at 604 times earnings. The chart below illustrates the one-year price movement of both stocks.
LNKD
data by
Visionary investors who purchased shares of LNKD last September have 100% plus gains. NFLX investors who may have purchased at the same time at around $60 a share have over 400% gains! Amazing!
Since I'm not one of the investors who purchased either LNKD or NFLX last September, I'm qualified to be one of those "drips under pressure" (ex-spurt) when it comes to whether to hold or sell Facebook.
Thus I encourage you to do what you believe is best with FB and don't do as I did just because I did it. There are scores of articles out there with opinions, statistics and biases to compare to mine.
All I know is what I read and heard from Wednesday's earnings call. FB's number of daily active users soared 27% from the year-ago quarter to nearly 700 million. It won't be long till that number hits 1 billion.
In fact, FB says that the number of monthly active users leaped 21% during the last quarter to an astounding 1.16 billion. Can you imagine the ad sales potential at FB in the quarters to come?
If shares of FB were to drift lower over this correctional stock market season -- which often goes through November -- I may be able to buy back my shares at more attractive prices.
Its next quarterly earnings call should be toward the end of October. Hey, maybe I'll get lucky, with another fiscal cliff looming and a debt-limit standoff between Congress and the White House?
How lucky might I get with a stock like Facebook? Perhaps a chance to buy back at $27 is certainly in the realm of possibility. FB might agree, based on comments made during the earnings call.
It threw water on expectations going forward, and even warned that next quarter it would face more stringent comparisons. Advertising for its main news feed channel began to significantly affect revenue in the second half of 2012. That will be what the next quarter will be compared against.
At the time of publication, the author was neither long nor short any stock mentioned in this article.
This article was written by an independent contributor, separate from TheStreet's regular news coverage.
Marc Courtenay is the founder and owner of Advanced Investor Technologies, LLC, as well as the publisher and editor of www.ChecktheMarkets.com.
Courtenay holds a Master's of Science degree in Psychology from California Polytechnic State University, and is a former senior vice-president of Investments for two major brokerage firms. He's been a fiercely independent investment "investigator" and a consulting contributor to the investment publishing world for over 30 years. In addition to his role as an investment publisher and analyst, he serves as a marketing consultant to the investment media industries.
In his role as a financial editor, he specializes in unique investment strategies, overlooked stock investments, energy and resource companies, precious metals, emerging growth companies, the prudent use of option strategies,real estate related opportunities,wealth preservation, money-saving offers, risk management, tax issues, as well as "the psychology of investing". Because of his training and background in Clinical Counseling and Psychology, he enjoys writing about investor behavior, the ¿herd mentality, how to turn investment mistakes into investment breakthroughs and the stock market's behavioral trends and patterns.