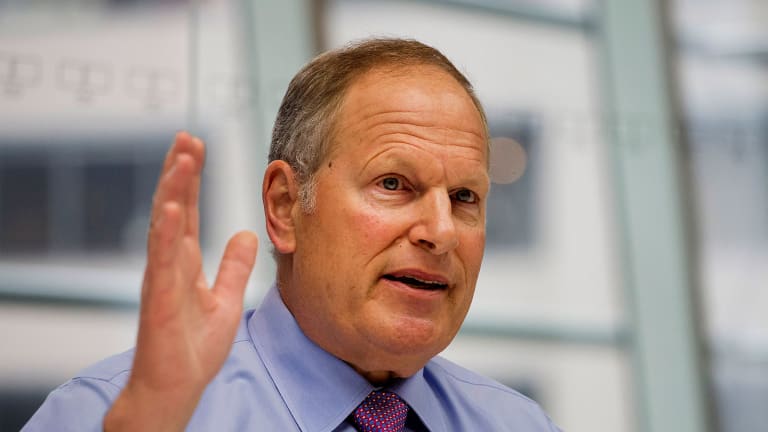 Honeywell CEO: Here Are the Three Things I Most Want to Be Remembered For
David Cote wants his legacy to be more than just that he led Honeywell's stock higher by 418% during his almost 15-year tenure -- although he's proud of that, too.
Updated from April 21 with details on Honeywell's first-quarter earnings.
Honeywell (HON) - Get Free Report has long been looked at as primarily a defense and industrial manufacturer, but it wants to be a major player in the internet revolution, too. 
Selling software, however, is a far cry from making products such as the T-86 "Round" thermostat, the iconic, yet simple gizmo developed by Honeywell in 1953 that generations of Americans have used to turn their heat up and down. And it's decidedly different from churning out airplane parts for the U.S. military, which has become a less lucrative business for companies such as Honeywell in recent years due to federal budget cutbacks.
In its just-reported first quarter earnings on Friday, Honeywell reported that sales rose 3% year-over-year to $9.2 billion, with earnings increasing 9% to $1.41 a share amid strong demand for airplane parts and products for commercial and residential buildings. The company also lifted its full-year earnings outlook to a range of $6.55 a share to $6.70 a share from $6.45 a share to $6.70 previously.
Honeywell currently is comprised of three segments: aerospace, automation and control, and performance materials and technologies. Last year sales of products such as jet engines and car turbochargers made up about 39.5% of the company's overall sales. Meantime, sales at the automation and control segment -- which provides software and services to commercial buildings, industrial facilities and consumers -- accounted for a slightly smaller portion at 37% of sales, but it's the fastest-growing segment and a key part of its future.
Today, Honeywell is heavily involved in developing software that helps to speed up download times for content by people on airlines, as well as allowing planes to land more safely in inclement weather. At the same time, the company has ventured into smart thermostats, pitting it against Google's Nest, and also pushing into technology that makes commercial buildings "smart."
"The Honeywell of the year 2025 will be just a lot more software offerings at all levels," said Honeywell chairman and CEO David Cote to TheStreet. 
Cote (pronounced Coat-ee), who has led Honeywell since July 2002, is the one responsible for driving the evolution of the company's portfolio, mostly via the acquisition of over 65 companies during his tenure, as well as the hiring of legions of software engineers.
Most recently, Cote attempted to pull off what would have been Honeywell's biggest deal ever in making a $90.7 billion bid for rival United Technologies (UTX) - Get Free Report . United Technologies ultimately rebuffed the deal, however, citing low valuation and anti-trust regulatory hurdles.

Honeywell Chairman and CEO Dave Cote has been pushing the company into fast-growing areas of technology.
It's the combination of Cote's acquisitions that have helped to diversify Honeywell's business, along with cost-cutting, that have led to strong profit and stock price gains through the years.
From 2011 to 2015, Honeywell's revenue rose a solid 6%, but net income gained an impressive 152%. Over the past five years, Honeywell's stock has increased about 89%, handily outperforming the S&P 500's 56% rise. Since Cote assumed the helm at Honeywell, the company's stock is up about 418% versus a 29% increase for rival General Electric (GE) - Get Free Report , the industrial giant where Cote once led the appliance unit in the late 1990s.
Honeywell's momentum continued in the first quarter amid strong demand for airplane parts and products for commercial and residential buildings. Sales rose 3% year-over-year to $9.2 billion, with earnings increasing 9% to $1.41 a share. The company lifted its full-year earnings outlook to a range of $6.55 a share to $6.70 a share from $6.45 a share to $6.70 previously.   
The stock rose 1% in premarket trading Friday to $116.
Since 2014, Cote has also served as a board member of the New York Federal Reserve, where he's tasked with sharing views to the government from a business community perspective.  His terms ends on Dec. 31, 2016. 
"Dave is the best there is -- he has created a tremendous amount of wealth, what a record," said Jim Cramer, TheStreet's founder and portfolio manager of the Action Alerts PLUS portfolio. 
Cote, who turns 64 in July and whose current contract with Honeywell expires at the end of 2017, recently appointed Darius Adamczyk to the newly created position of president and chief operating officer, sparking rumors of an approaching passing of the baton. But Cote says he's is in no rush to exit stage left.  
"I like what I am doing, but by the same token for all of us it comes a time when it's time to go -- I haven't sorted out when exactly that is yet," says Cote.
TheStreet talked with Cote ahead of the company's quarterly earnings report on Friday about his latest plans for Honeywell, what China is doing right that the U.S. isn't, whether he still would like to make some acquisitions and the three things he would most like to be known for when he leaves Honeywell.
What follows is a condensed and lightly edited version of our conversation.


Airplane technology is a key area of focus for Honeywell right now.
TheStreet: Honeywell sells digital thermostats like Google's Nest. You are also pushing into software to help improve the flying experience on an airplane. But Honeywell isn't typically mentioned in the same discussions as other tech leaders such as Google (GOOG) - Get Free Report and Apple (AAPL) - Get Free Report ? Why do you think that is?
Cote: I think this is a perception that will change over time. We have 23,000 engineers. About half of them are software engineers developing software. And that puts us in a very unique position as an industrial company because there is a major shift going on where we are only 40 years into the IT revolution, and I would say it has at least another 100 years to run. The industrial revolution was 150 years
The beginning stages of the IT revolution have been more focused on creating digital-to-digital experiences -- for example, connecting your iPhone to a website in order to buy stuff. With the internet of things, however, we are going to a physical kind of a phase in the IT revolution, and that's very different.
Just because you are very good at creating digital-to-digital experiences doesn't mean you will be good at addressing digital-to-physical issues. It requires a domain knowledge and understanding of how things work out in the real world. If you have a software bug in your digital-to-digital environment, sure, you can wait two weeks to fix it. But if your refinery goes down for 15 seconds, triggering a four-hour shutdown and a two-day startup, that was an expensive bug. We excel at engineering things that prevent this kind of stuff from happening.
We will do well in the tech space, and perception will change over time. Everyone looks at the IT companies and thinks they will stay successful and gobble up everybody. But I think they are going to find out pretty soon that there is at least one industrial company where it will go the
other way.
TheStreet: What do you think Honeywell will look like in the year 2025?
Cote: It will be just a lot more software offerings at all levels. I often say Honeywell has three levels of software. There is simulation, which allows a company to develop turbocharger or jet engines faster than ever before. There is product enablement, meaning a number of our products have software in them already. And third will be the service level, which is still under-developed for us but you will see more and more of it appear over time.
For instance, there's aircraft connectivity, which is what we have developed with JetWave in concert with Inmarsat. This will be huge because you will be able to download an entire two-hour movie in about two minutes on a plane, or live stream it if you prefer. If you look at this process today, and how people complain about the service they get on planes, you will be getting speeds that are 100 times faster and that cost about half. In turn, that will significantly increase passenger usage. Cybersecurity is another one where we excel in the airplane and processing industries.


The U.S. government needs to be doing more to spur growth, says Cote.
TheStreet: What other types of things do you have in the pipeline for the next few years that will change the flying experience for passengers?
Cote: The streaming one is going to be important. Surveys we see say that on a short 2-3 hour flight, wifi access is more important than a bathroom to passengers. That gives you a sense of how important it is to be connected. The second thing is how we use technology to improve the flying experience when it comes to weather. When you think about weather, avoiding turbulence is huge for passengers because nobody likes a bad flying experience. Turbulence is also expensive for the airline because of the additional maintenance required, or if they mistakenly run into a hailstorm.
To the extent you can start to create a relay team, because planes tend to fly in a long line, where the ones in the front show the rest what they are experiencing so others behind them know the conditions, you can skirt storms more closely, meaning fewer problems. The airline saves money on fuel, too. 
Third will be just how the airport gets managed. If you take a look at the system today in which planes are put into the sky and then land, it was really developed in the 1950s and still relies heavily on a visual aspect. But a lot of this can now be done with the avionics that we produce. In particular through something called GBAS, which will likely become a federal mandate. It allows you to more safely put more planes in the sky and have them land in [shorter] intervals than you have today, all done pretty safely. So for passengers, that means you don't spend a lot of time stacked up over LaGuardia or Newark.
Fourth is that we are continuing to make progress on allowing a plane to land at lower and lower visuals, which is helpful during fog, so that you are able to land safely. Our synthetic visual system addresses that, you can replicate conditions when you can't see out the window.
TheStreet: At your recent investor day, you talked about what developed countries are doing wrong post Great Recession, but things China is doing right. Can you elaborate on that?
Cote: What I am fond of saying is that economically, China clearly has more problems than we do and the rest of Europe does. There is no doubt about it. The difference, though, is that they do something about those problems. They recognize they have a problem, and then they act. And that makes a big difference over time.
If I take a look at the U.S. and Europe, they have done a good job on the monetary policy side, the central banks have been the adults in the room when it comes to making sure the liquidity is there and to support growth. But at some point government needs to do their part. It's not establishing austerity measures, it's making sure you have the right kinds of policies in place so economies can grow.
TheStreet: What kinds of policies?
Cote: I am talking about basic things. Like in the U.S., addressing the debt problem which yeah, nobody is really talking about now and doesn't even get discussed in the election coverage, but the next president will face it. That demographic bubble -- my baby boomer generation retiring and starting to get into their 70s with Medicare spending starting to increase, man that stuff is coming. We can talk about how deficits have been reduced, but they are going to start increasing again and every deficit you have adds to the debt.
Interest rates are more likely to go up than down, and given the interest bills on the debt we currently have, it will get pretty darn expensive. Math and science education is another one. We are going into this IT revolution era and we are not doing the things we need to do to prepare our kids for how to be successful here. 
Trade is another area. You see the arguments going on in the campaign about trade, and I keep saying we have learned this lesson from the Venetians -- trade ends up benefiting society. Yet, we are getting ready to have the same arguments on trade again as we have had in the past. It's too easy to make the anti-trade argument, it's tougher to make the pro-trade argument -- but by golly, we have to do it.
Immigration is another one. We have to have a rational immigration policy. These are some of the things government needs to be doing and they aren't.
TheStreet: What are some of the things you have learned from being a director on the board of the New York Federal Reserve?
Cote: I would say that despite how everybody likes to talk about the Fed, at the end of the day they are an incredibly responsible bunch of people who really take their jobs very seriously. They really do view themselves as on a mission to maintain the success of the U.S. economy. I found it quite impressive at all levels that they feel that way, and are really working to do the best they can do for the country.
TheStreet: Who has been your mentor in your career?
Cote: I wouldn't say I ever had a mentor that has been with me for a long period of time or that I looked at pretty consistently. I would say that I have tried to pick up ideas and practices from people that I have seen along the way. I always say my mom and dad were the most influential in my leadership style. I always had very good parents when it came to creating the right kind of perspective on how to look at things.
Neither one of them went to high school -- I was the first one in my family to graduate from high school. Yet at the end of the day, they did a lot to just provide the right type of values. Working in my dad's gas station taught me a lot about the significance of customer service and the value of hard work.


Cote's current contract with Honeywell expires at the end of 2017.
TheStreet: How long would you like to be CEO of Honeywell?
Cote: I like working, I wish immortality was an option. Unfortunately, it's not -- as much as I thought it was when I was a kid. I like what I am doing, but by the same token for all of us there comes a time when it's time to go. I haven't sorted out when exactly that is yet. But I am going to be 64 in July, and other than my joints aching from time to time I feel great. Mentally, I don't feel 64 years old. 
I take this job very seriously, and so does everyone else here. We tend to stay pretty hungry. And I always say that when a company starts to fail is when people start to think they are good because they are good, when in reality you are good because you stay hungry, you stay scared and you keep looking over your shoulder. I would say I do that, and so do most of the folks at Honeywell. 
TheStreet: Honeywell has been a frequent acquirer of companies over the years. Do you have one big deal left up your sleeve seeing as you could be nearing a transition?
Cote: I would say I have an insatiable appetite for good deals. That is where the rub always occurs because it's that little modifier -- 'good' -- that makes all of the difference. If we can see a big, good deal like we did with United Technologies -- we thought we could have delivered a lot of value to both shareholder bases -- then we'll do it.
If we can't find anything over the next two years that qualify as a good deal regardless of size, I would be OK doing nothing also. I like to say that you have to be opportunistic in this area, you got to have a lot of deals working -- we have over 100 things in our pipeline -- but you just never know what will come to fruition. Sometimes people just don't want to sell, which was the case with United Technologies. Other times they want to sell but the price doesn't make sense.
Then every once in awhile you have a time where someone is willing to sell and it's a good deal, like we did in 2015, where we did seven deals for about $5 billion in total. We had a lot of things hit at the same time. But the two years prior, we did almost nothing. You always have to be ready and have the firepower to execute.
TheStreet: What would you like your legacy to be after serving as CEO of Honeywell for so long?
Cote: Well, I will go back to 14 years ago when believe it or not, I was asked that same question. I said then three things that I would like to be remembered for, which still hold true today.
First, I would like anyone who was associated with me to say you know, I made a lot of money when that guy was running the place -- whether I was a supplier, customer, an employee, an investor, someone on the management team.
Second, I want Honeywell to be perceived as a place where other companies tried to get our guys because we were recognized as having good leaders. But by the same token, it was tough to get our guys because they really liked it here, not just because they made a lot of money but because of the career path and growth in personal characteristics they would get.
And finally, I would like to own a bunch of my shares 10 years after I leave and have them worth significantly more than when I left, because I set up the people and process in a way that allowed for things to just keep going well. I didn't want it to ever be something where people looked and said they did well when I was leading Honeywell, but it doesn't seem like anyone else could run the place. I want it be where they continue to make money because whoever my successor is, they end up learning how to do it the same way, so in effect Honeywell just becomes this machine and the team stays hungry.