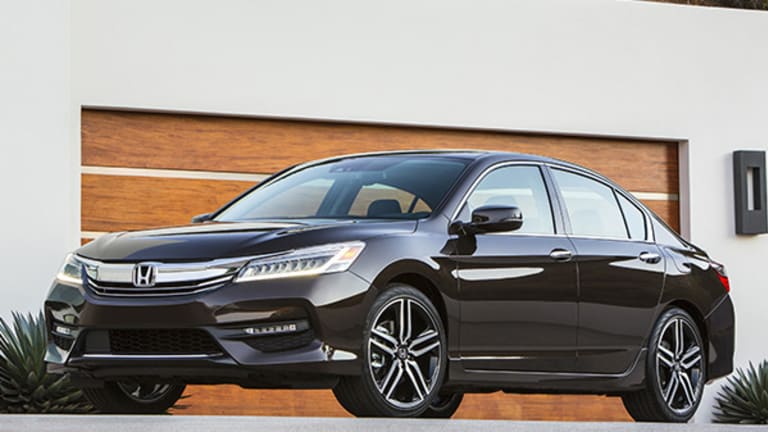 Publish date:
Honda, Seeking That Elusive Mojo, Shakes Up Top Management Ranks
The maker of the popular Civic and Accord is struggling with quality problems.
The maker of the popular Civic and Accord is struggling with quality problems.
Honda (HMC) - Get Report, in a bid to infuse youth and diversity into top management, retired several older executives and elevated several others to new posts, including the Japanese automaker's first female operating executive in its senior ranks. 
The new appointees will report to President and CEO Takahiro Hachigo, 56, one year after he was promoted from relative obscurity to replace Takanobu Ito, who had become mired in myriad quality problems, chiefly with defective Takata airbags. 
Honda's management rejuvenation will be aimed at recapturing the momentum and energy that once made it one of the most admired, studied and copied companies in the world. Currently, it is third in automotive sales in Japan and fifth in the U.S., with Nissan (NSANY) close behind. Nissan has passed Honda in total sales in North America. 
But prior to worrying about league tables, Honda must contend with yet a new calamity: Its U.S. operations are preparing to recall some versions of the eighth-generation 2016 Honda Civic, which was just introduced, to catch engine defects involving misaligned or omitted piston rings. A stop-sale order on the car was issued to U.S. dealers late last month. 
Civic, which contends neck-and-neck with Toyota's Corolla for top-selling compact sedan in the U.S., was just launched with new expressive styling, a departure from the more signature utilitarian look Honda has given its vehicles. The plucky vehicle was introduced in 1972, amid a global energy crisis, its CVCC engine a remarkable exercise in fuel-efficiency and clean emissions. 
Honda, like General Motors, Toyota and Volkswagen before it, is struggling through a period of soul-searching and confusion that seems to ensnare every global automaker eventually. The company is proud of its stubborn individualism, having defied early directives from the Japanese government to stick to motorcycles. It has eschewed V-8 engines, even as it has toiled for years to bring a corporate jet to market. 
Though Honda likes to portray itself principally as an engine manufacturer, its bread-and-butter remains cars and motorcycles. It's a formula that's worked from a financial standpoint: Honda is the only major automaker that has never posted an annual financial deficit. 
In the past month, Honda shares have sunk 13.3% on the Tokyo stock exchange, tracking the prices of other Japanese automakers. By comparison, the Nikkei 225 index declined 5.3% during the month. 
Honda's "quality problem is still going on," Koji Endo, an analyst with Advanced Research Japan told Bloomberg. "It's not just one person's responsibility; it's the responsibility of the whole organization. I don't know if just switching the top can solve all the problems." 
The management upheaval that began with Hachigo's appointment extended Tuesday to Honda's partnership with McLaren in Formula One racing. The automaker is replacing the head of its F1 engine program, Yasuhisa Arai, with Yusuki Hasegawa, another Honda engineer with F1 experience. The McLaren team, which uses Honda engines, suffered a disastrous season last year without a win due to slow and unreliable engines.
Doron Levin is the host of "In the Driver Seat," broadcast on SiriusXM Insight 121, Saturday at noon, encore Sunday at 9 a.m.
This article is commentary by an independent contributor. At the time of publication, the author held no positions in the stocks mentioned.